There are various ways to make sex more enjoyable. Among them is using furniture specially designed for specific sexual activities. For example, you want a piece of furniture that pushes your partner's ass up if you're engaging in oral sex. If it's penetrative sex, you want a piece of furniture that puts them in a great position for optimum penetration.
However, deploying sex furniture for sexual activities is not always a choice due to the high cost or (sometimes) unavailability of a piece of furniture. Thankfully, there are several creative ideas you can explore for DIY sex furniture. Whether it's transforming your old piece of furniture or making a new one, there's no shortage of low-cost choices.
In this article, we'll tell you all about fun ways to get yourself homemade sex furniture without visiting a store or spending a fortune. Let's get right to it!
What You Can Buy for Sex Furniture
Designing pieces of sex furniture is not always enough, you need to add some accessories to them to enhance your experience. Below are some things you can buy to make your sex furniture look the part:
Restrain kits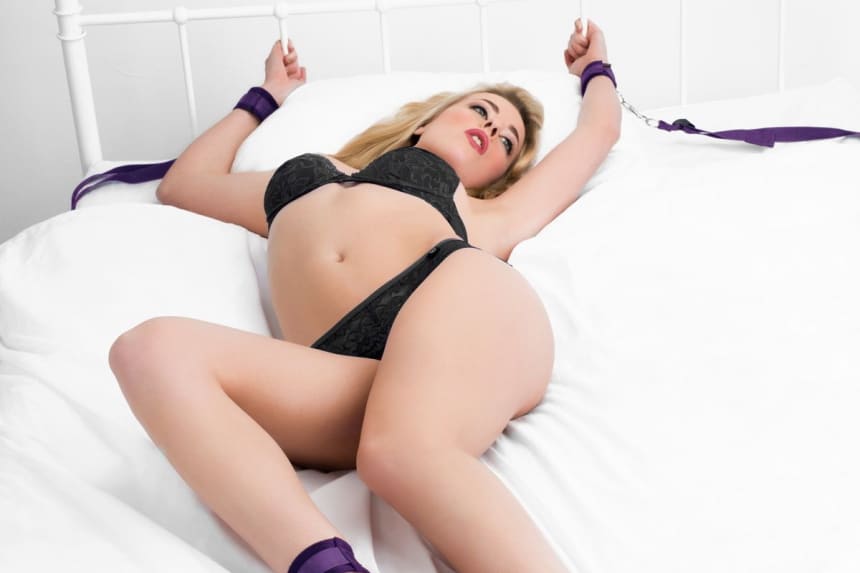 BDSM practice is typically not complete without the use of befitting sex furniture. The furniture provides a good space to attach relevant restraint kits for a complete bondage experience. Even if you don't consider yourself particularly kinky or into bondage play, restraint can still be exciting/erotic to explore.
Besides, attaching handcuffs to your DIY sex table can provide an erotic way to restrain your partner (or be restrained). Apart from creating an intimate sexual experience, using handcuffs with your sex furniture leaves the submissive vulnerable and improves deep trust in your relationship. Ankle cuffs also work wonders when attached to sex furniture.
If you want to have it all in one purchase, the Bondage Boutique Black Bound to Please Under Mattress Restraint is just the smart option as several reviews suggested. The restraint kit features cuffs that fasten with velcro and are adjustable for a comfortable fit. Plus, the cuffs restrain your partner's legs and hands, leaving them vulnerable to your magic.
With your partner restrained, you can either have sex with them or just masturbate them with a vibrator. Not many vibrators deliver quite as the Pillow Talk Cheeky Rechargeable Wand Vibrator according to most people who have used it. Made from silky-smooth silicone, this vibrator boasts multiple speeds and a run time of 120 minutes.
Additionally, you can buy high-quality BDSM ropes for your sex furniture.
Suction cup dildo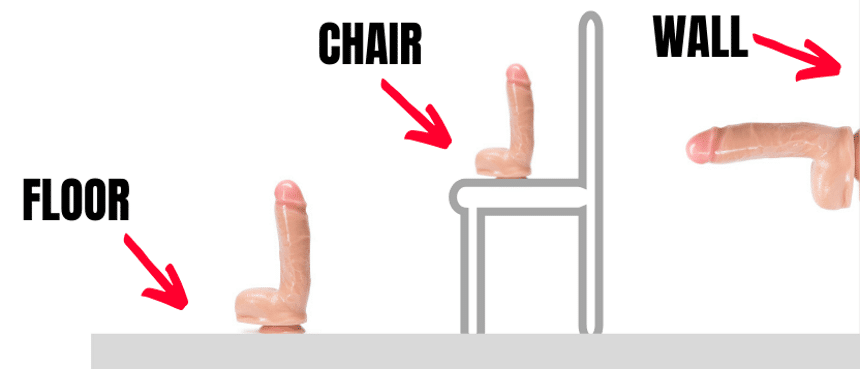 Dildos are great but suction cup dildos are even greater thanks to their added advantages, including hands-free masturbation. Attach a suction cup dildo to a regular plastic stool and you have a sex chair. This type of dildo stays glued to the stool while you sit on it in a cowgirl position.
Moreover, you can use a suction cup dildo with your partner too. If you want double penetration and you're not open to bringing a third party into your relationship, a suction cup dildo can help out. You can sit on it with your vagina and expose your ass for your partner to penetrate you from the back. Alternatively, you can let the dildo penetrate your anus while your partner takes you from the front.
Besides, there are numerous options out there if you want to buy a reliable suction cup dildo for your sex furniture. The Lifelike Lover Classic Realistic Dildo is a popular choice thanks to its realistic design. Featuring balls and a bendable shaft with a suction-cup base for lifelike solo or shared play, you won't find many suction cup dildos that are more reliable than this one.
No doubt, a suction cup dildo is a good buy for your sex furniture.
Wedge pillows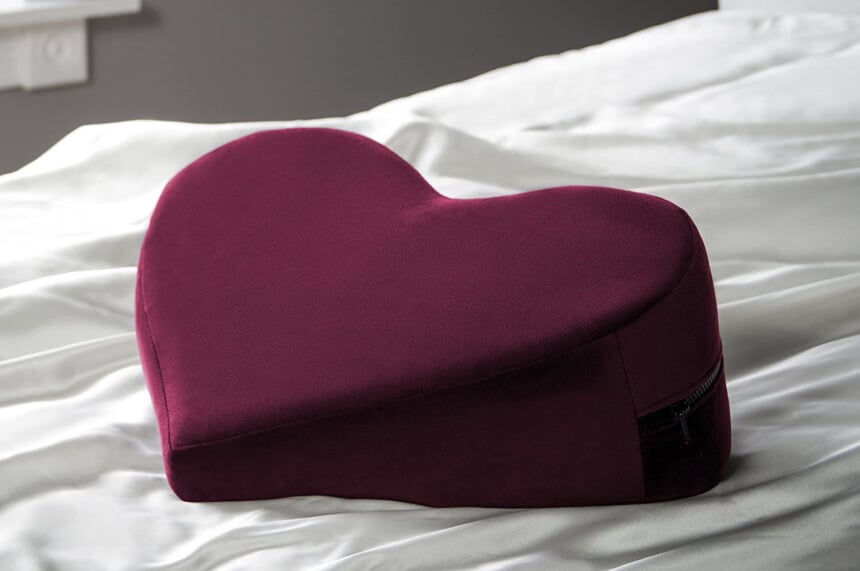 If you're thinking about adding some extras to your sex furniture, wedge pillows are great options. A wedge pillow is usually used to elevate the lower or upper body to improve circulation and relieve pressure on some areas. Also, it's typically made of polyester fiberfill and foam. Not only is a wedge pillow ideal for sleep, but it's also perfect for sex.
Moreover, there are different types of wedge pillows. For your sex furniture, you should be most concerned about flat bottomed pillows that feature a contoured or sloped top and a flat bottom. This type of wedge pillow provides a good incline to stack the hips in the perfect spinal alignment for penetration.
To get the best out of a wedge pillow on your sex bed, you can have your partner lie on their stomach in such a way that the pillow's contour pushes their ass up. You can then penetrate them doggy style. Alternatively, you can have your partner lie on their back in such a way that you can penetrate them in the missionary position.
Meanwhile, you must purchase the right wedge pillow for your sex bed. You should consider the pillow's incline degree, material, and price carefully before making your purchase. Ensure that you're satisfied with these factors and you have the ideal wedge pillow.
How To Build Sex Furniture
It's time to discuss how to build sex furniture as we promised earlier. Below, we'll provide sex furniture design plans that can help you build your piece of sex furniture. You shouldn't have much trouble getting the job done if you're a woodworker with the right tools available.
DIY sex chair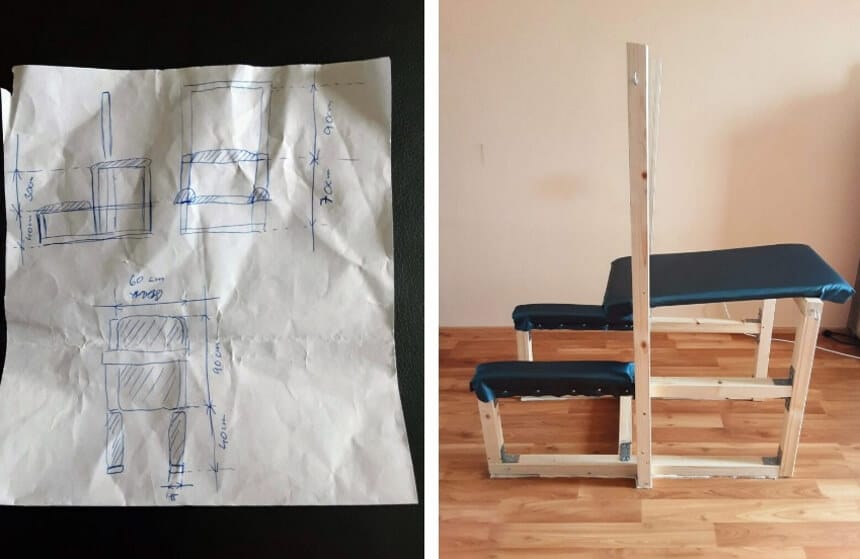 Below, we'll show you how to make a sex chair on your own if for any reason you can't purchase the best sex chairs on the market.
Materials Needed
Pocket hole screws
Flat reed splints
Wood glue
Wood Shaping tools
Finishing supplies (primer & paint)
Screwdriver
Hand scrapper
Wood filler
Drilling Machine
Measuring Tape
Pencil
Hammer
Lumber
Step 1 — Measure and Cut the Wood
Ensure that you use wood of good quality. Use the measuring tape to measure the chair's back legs, lower back stretcher, back seat stretcher, backrest, upper backrest, front legs, front stretcher, front seat stretcher, side stretchers, side seat stretchers, and center stretcher. Then, cut the wood according to the different parts and your preferred measurements.
Step 2 — Shape the wood
Use your wood shaping tool to shape the backrest, seat, legs, etc. Shape the wood on a workbench to stop it from moving while you work.
Step 3 — Drill and Glue
This step requires you to assemble the chair. You should mark the points on all four legs for the dowel holes. Then, proceed to mark them and use your drilling machine to drill holes compatible with your screws. Next, apply glue to these holes. Tighten the assembly with the screws.
Step 4 — Fit in the stands
Fit the pieces for the side seat stretchers and the side stretchers together and fix them up. Next, use the support to fix the four legs together.
Step 5 — Fix the seat
Drill holes of the seat's surface and fix the four legs into the seat using a hammer. You can add some glue to the seat's bottom.
Step 7 — Scrape off the extra wood
Scrap off the extra wood from the seat to smoothen the surface and get a good finish.
Step 8 — Attach chair's backrest and armrest
Get the pieces of the backrest, the upper backrest, the upper back stretcher, the lower back stretcher, and the back seat stretcher. Drill holes in all ends of the backrest and screw it to the frame of the chair. Repeat this process to fix the armrest.
Step 9 — Paint and Polish
Paint and polish the chair to suit your preference. You now have a DIY sex chair for yourself.
Interestingly, the sex chair has a royal history as British King Edward VII famously used a specially constructed "love seat" Trusted Source On the trail of Edward VII's sex chair for threesomes Edward VII's seat of love is still in active use. Sean Thomas is given a lesson in oral history www.theweek.co.uk when he visited the brothel, Le Chabanais in Paris.
DIY fuck bench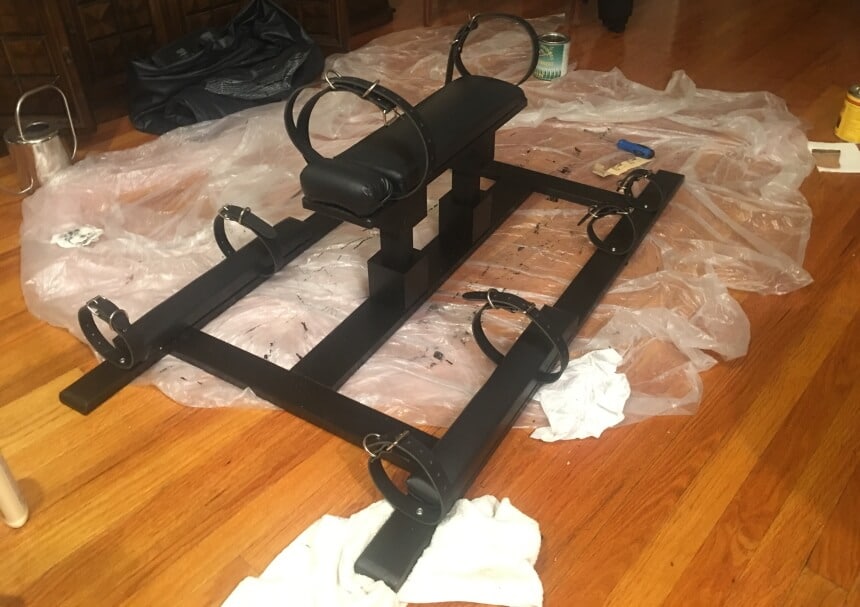 If you don't mind the challenging processes of the DIY fuck bench, we'll help you learn how to build a sex bench below.
Materials needed
Measuring Tape
Deck screws
Posts
Boards
Step 1 — Cut the boards
Pick up your measuring tape and measure the boards. Mark your preferred length and cut then accordingly.
Step 2 — Create the bench's frame
Clamp the outer boards together. You should pre-drill the boards before screwing them. Secure the outside of the seat and screw in the inside ribs as well as the outside ribs.
Step 3 — Put the bench slats across the frame
Place the bench slats across the frame and space them equally across the seat.
Step 4 — Attach the legs
Proceed to attach the legs and ensure that they're level. Clamp them to the bench's frame while you fix two screws on both sides of the legs.
Step 5 — Attach the leg bracing
Finally, put on the leg bracing and you have a DIY fuck bench on your hands.
DIY sex table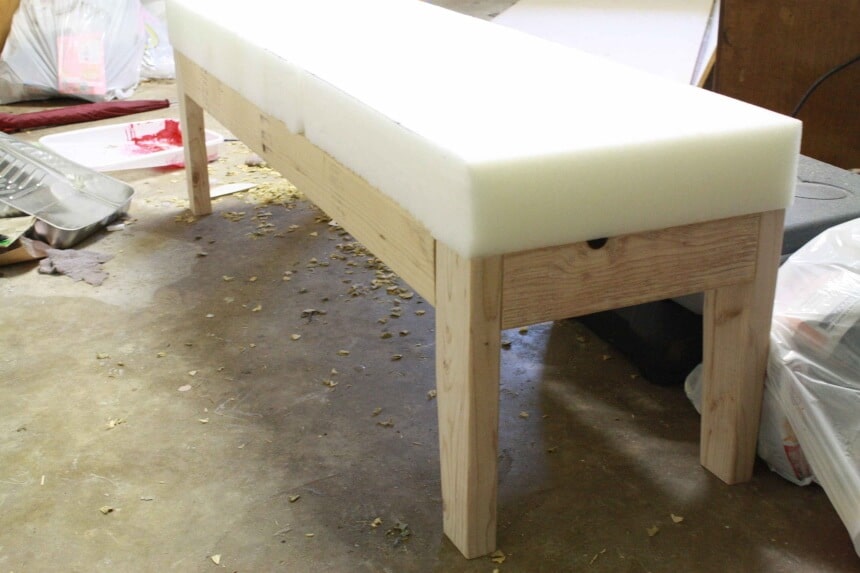 If you don't want to spend a fortune on a sex table, learning how to build a sex table can be the best option for you. Below, we'll take you through the process of making one for yourself.
Materials needed
Bar clamps
Miter saw
Drilling machine
Nail gun
Circular saw
Table saw
Orbital sander
Wood glue
Locking casters
Nails
MDF
Wood screws
Lumber
Step 1 — Cut the lumber
Firstly, cut the lumber to the needed specifications which include boards, table base, long supports (square both ends), bottom braces, top braces, middle uprights (connect the bottom and top braces), and MDF (for tabletop base).
Step 2 — Build the uprights
Lay one of the middle uprights on your work table and put a bottom brace against the upright in such a way that it forms the bottom of an L. Then, drill two holes into the upright through the bottom brace. Next, attach the upright and bottom brace using wood glue and two lag screws. Repeat this process to attach the uprights to the top brace.
Step 3 — Connect the Long Supports and Legs
Attach all ends of the long supports to the legs. Attach long support in the center, then flush to the top. Next, fix the other long support and flush to the middle uprights' bottoms. Use wood glue and lag screws to hold them together.
Step 4 — Attach the Casters
Get the bottom plates and the end of the uprights together using glue and screws. Then, attach the four locking casters to the bottom plates with screws. You're done with the table base.
Step 5 — Secure the MDF
Secure the MDF on top of the table base using glue and screws.
Step 6 — Sand the Top
Sand the tabletop with an orbital sander and ensure that the smoothness is very pronounced.
Step 7 — Attach the Top to the MDF
Place the tabletop on the MDF and glue it in place. Then, screw them together using wood screws.
DIY sex wedge         
If you think the best sex pillows in stores are too expensive for you, maybe it's time you try a DIY sex wedge. Let's get you through how to make one for yourself.
Materials needed
High-quality foam
Glue
Lumber
Screws
Screwdriver
Chef's knife
Measuring tape
Step 1 — Create a frame
Cut the lumber into the necessary specifications. Use the measuring tape to cut the needed measurements. Attach the lumber pieces together using glue and screws so that the frame has a contour at the top and a triangle-like shape.
Step 2 — Cut the foam to size
Cut the foam into different sizes that can cover the frame. Alternatively, cover the frame with the foam and draw out the shape of the foam with a marker so that you can cut out the excess material with the chef's knife.
Step 3 — Attach the foam to the frame
Get the glue and attach the foam to the frame. Use a heavy item to press the materials together. You now have a homemade sex wedge.
DIY sex swing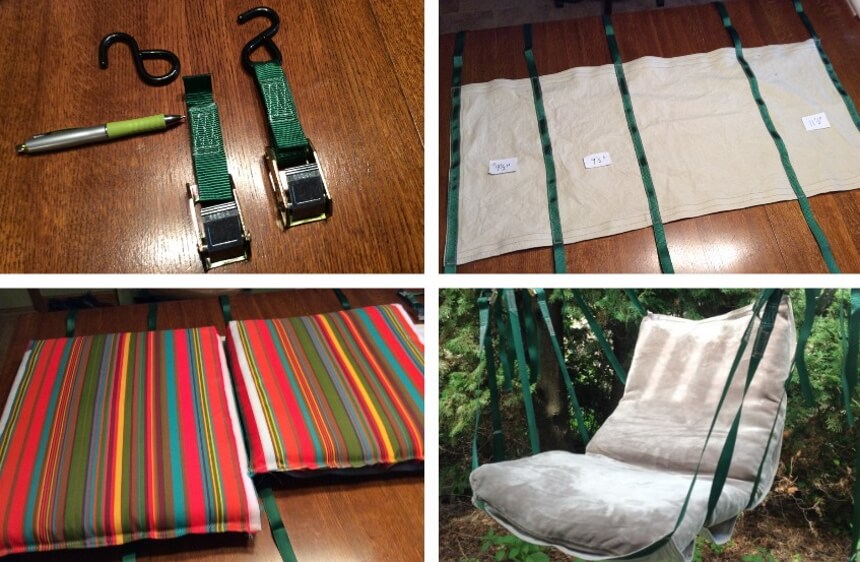 If you can't afford the best sex swings on the market, you can make one for yourself at home. We'll explain the processes involved below.
Materials needed
Hinges
2x stainless steel carabiner snap hooks
Painter's tape
Measuring Tap
Sewing kit
Mini chain
Leather/rope
Handcuffs
Drill
Step 1 — Evaluate the weight of the user
First of all, evaluate the weight of the person who will be holstered on the sex swing. The evaluation should determine the material you'll use and the infrastructure on which the sex tool stands. Be sure that your ceiling can hold the user's weight. If it can't, then you'll need to purchase a sex swing stand.
Step 2 — Anchor the hinges
You can anchor the hinges overhead on the ceiling or a sex swing stand. Alternatively, you can anchor the hinges at an angle, on the door or more preferably, on the wall if your door can't carry the weight. Drill small holes in the ceiling or walls and pin the hinges using some screws.
Step 3 — Prepare the seat
Use your sewing kit to make a comfortable and safe seat. Ensure that the seat is padded for convenient play.
Step 4 — Get a pulley system in place
Pair the carabiner snap hooks with some rope for a reliable pulley system. The system should help you adjust the swing's position from a lower to a higher point. In no time, you can have your DIY sex swing up and running.
DIY BSDM bed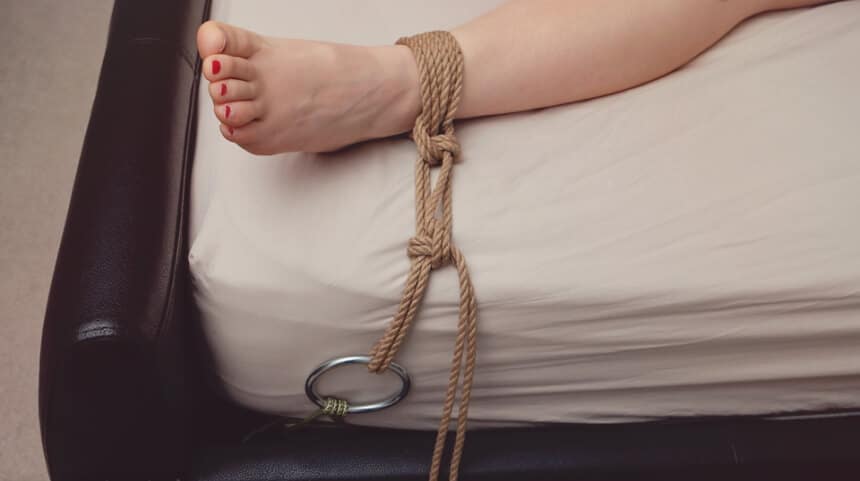 You don't need to create a new bed for BDSM. A good idea is to upgrade your bed by adding some rings to four sides (upper right side, upper left side, lower right side, and lower left side) of the furniture. All you need to attach the rings are a screwdriver and screws. The rings add kinkiness to your bed and get it ready for action. The attached rings can accommodate handcuffs, ankle cuffs, and ropes for exciting bondage play.
DIY spanking bench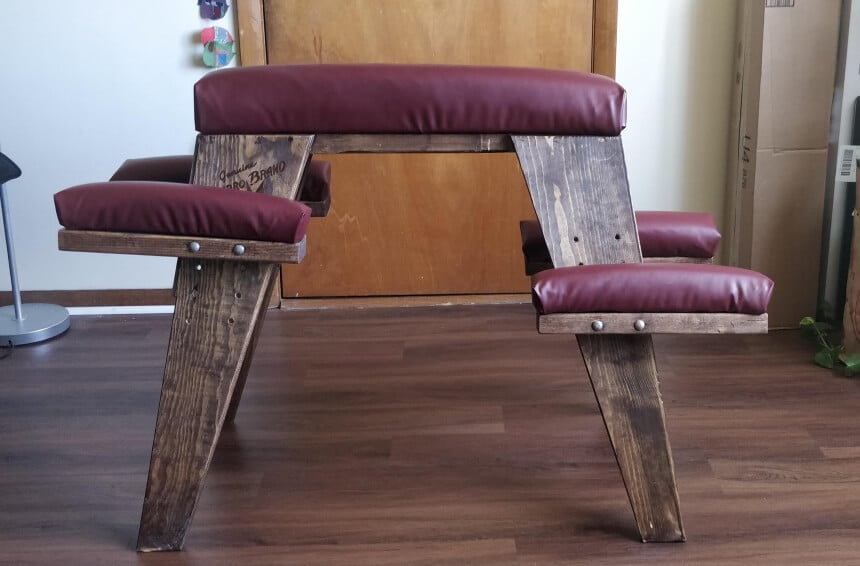 If you're a huge fan of BDSM, then you know spanking adds some excitement to bondage play. If you're willing to experiment, you'll also find spanking quite thrilling. Getting to spank your partner using a spanking bench can make things even more exciting.
Of course, you can find spanking benches in adult stores but if you don't mind building your furniture, you can come up with a homemade DIY spanking bench. Below, we'll mention the necessary materials and the processes involved in getting a DIY spanking bench done.
Materials needed
2×4 pieces of wood
Thin wooden planks
Hammer
Measuring tape
Saw
Nails
Upholstery fabric
Pads
Step 1 — Preparation
Before anything, you'll need to measure the length, height, and width of your spanking bench. The length should be able to take your sub spread over the bench and the width should be enough to make them comfortable. Also, we advise that you
Step 2 — Make Planks
Use the measuring tape to measure the planks and cut them according to the specifications you need to make the bench. Also, sand the planks to ensure that they're smooth enough for your sub to lie on.
Step 3 — Make the frame
Make the frame for the bench because it's going to hold the planks. Measure and cut the solid wood according to the measurements. You can decide to make the frame short enough to sit atop a table or a bed. Alternatively, you can make the frame tall enough to act as a standalone piece of furniture.
Step 4 — Add pads
Regardless of the bench surface's level of smoothness, it can't be comfortable enough, hence the need for padding it. You can use memory foam, old-fashioned foam, or cushions for padding your spanking bench. Additionally, the padding should be cut to fit the plank. With a comfortable bench, your spanking exercise can go on for as long as your partner can take.
Step 5 — Strengthen the frame
Add extra pieces of wood to the corners of the spanking bench's frame. With the extra bracing, you can prevent the bench from collapsing during one of your spanking sessions.
Step 6 — Finish up
It's time to add finishing touches to your spanking bench. You can attach hooks to the piece of furniture so you can hang your favorite bondage accessories.
Safety Advice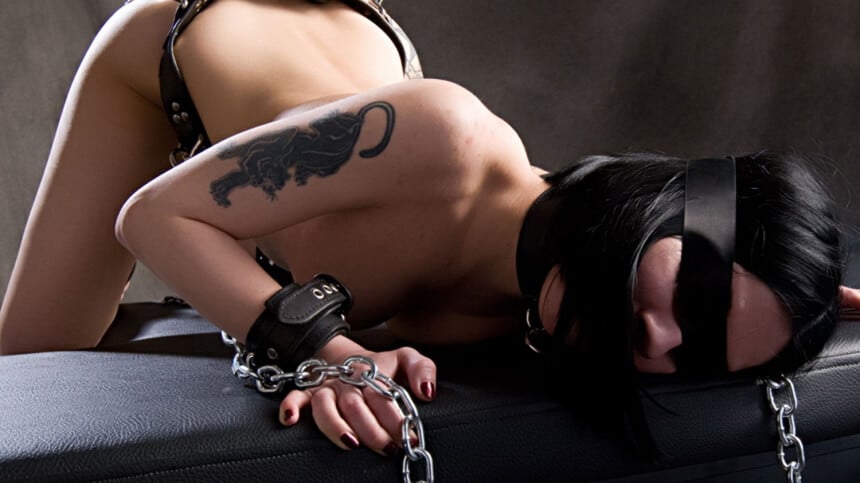 Even if you have woodworking skills, you can't rule out hazards. Below, we'll provide you with some very important safety procedures you must adhere to when building sex furniture.
Use reliable materials
Frankly, you can't afford to use unreliable materials for your DIY sex furniture. Using unreliable materials puts you and your partner in danger. For example, if you use low-quality wood to make a fuck bench, it will likely crumble in no time, hurting your partner in the process. Also, you need to use high-quality padding to keep the furniture's surface soft and comfortable for lengthy play.
Test first
Testing your homemade sex furniture is probably something you'll naturally do but we still think it's quite important to mention that you do it. The last thing you want is to have your partner on a poorly finished sex chair that could collapse suddenly. The best way to avoid this risk is to test the furniture before use. Check it carefully and test how it feels sitting down or lying down on it.
Use help
No doubt, making a piece of furniture on your own is not child's play. The process is so strenuous that you can't do it without help from a friend or even a carpenter. Such assistance saves you time and effort. Without help, you can develop back injury, sprains, and strains. Trusted Source Furniture manufacture Health and safety executive advice for the woodworking industry and allied trades occupational health and safety advice www.hse.gov.uk
Final Thoughts
No doubt, buying specialized sex furniture is usually the best option but what happens when you can't afford one or access it? You improvise! As you've seen in this article, making your own pieces of sex furniture is quite possible albeit tasking. Plus, you'll need to have woodworking skills to have a better experience. If you don't have the skills, you can use some help as we advised.
Additionally, DIY sex furniture provides you the chance to design your sex tool to your satisfaction. Besides that, it saves you some dollars. There you have it: your inability to purchase specialized furniture shouldn't stop you from enjoying the perks. Even your regular household furniture can come in handy.