There is a huge market for sex toys, with dozens of items for sale that give people a wide variety of pleasure options. Of course, if you enjoy using these toys, you can take that experience to a whole new level by becoming a sex toy tester. For many people, this is a fantastic opportunity to make some money trying out toys that they would be using anyway.
All that is required is for you to share your opinion about specific toys in order to gain any profits from these toys. Many companies even offer free toys in exchange for such reviews, so the benefits are even more worthwhile than you may realize. If you've ever wondered how to become a sex toy tester but aren't sure where to start, check out the following information for the pros and cons of this freelance job.
Can You Become a Sex Toy Tester?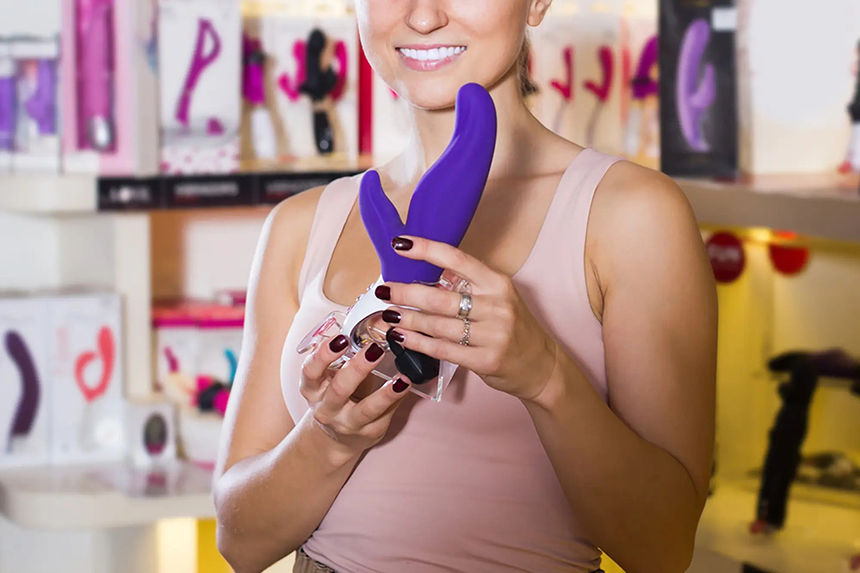 Though you likely haven't seen a lot of sex toy product tester jobs available, there are more of these opportunities available than you may realize. This is because these positions aren't advertised the same way as other jobs. Sex toy brands are somewhat more discreet, advertising such jobs on their websites or through adult content, so you need to know where to look. Of course, before you start applying for these jobs, there are a few things to consider to ensure that it is worthwhile to take on this type of work.
Will you be paid and how much?
Whether or not you will get paid to test sex toys depends on the type of position you've applied for and how much effort you put into the job that you accept. Some people can make more money than others, depending on how creative they want to be and how often they want to work. It also depends on the company you affiliate yourself with since some of them offer higher wages for their product testers than others.
As we stated above, you may also get other perks, like free sex toys. Though some of them may be on the less expensive side that you would have normally have no trouble paying for, there are more costly toys that you may get to try out for your reviews, with the bonus of keeping the toy when you're finished.
You can even try going it alone, offering featured reviews on your own website, blog, or YouTube channel in exchange for compensation. Of course, companies don't do this for everyone, so you may need to establish your online presence before getting any brands or companies to agree to work with you. As a freelance sex writer who is well-known for honest reviews, you can make a great deal of money without attaching yourself to a specific brand or product.
Skills you'll need
There are more skills required to become a professional sex toy tester than you may realize. The first, and most important, skill is the ability to communicate your experiences with these toys to those reading or watching your reviews. You need to be able to give in-depth information about the toy itself, how it works, and what it was like to use. Just saying it was fun and felt good isn't enough. You'll need to focus on all the details, such as materials used, texture, design, shape, any distinctive features, and anything else this toy has to offer.
Your review can't just include the good points, either. You'll also need to discuss any flaws with the toy. Honesty will help with your credibility as a sex toy tester since people could be buying the toys based on your reviews, so if you recommend an inferior toy, people won't take your advice for long.
You also need to be somewhat adventurous when it comes to bedroom activities. The more willing you are to experiment with new and exciting toys, the more of them you'll be able to review. For instance, there are only so many of the best dildos for virgins that you can try out but if you're willing to test anal sex toys or BDSM products, this will allow you to expand your audience for a wider online reach.
Having a partner who's willing to participate in product testing can give you even more products to choose from. For instance, a woman can describe the makeup of male toys, but they can't really accurately say what it's like to use one. So, if she wants to review something like the CB-6000S chastity cage, she'll need a man to try it out and tell her how this polycarbonate plastic cage feels to wear.
How to Start Sex Toy Tester Career
If you're interested in learning how to be a sex toy tester, first you need to learn how to get started. It's easier than you may think, even if it takes a while to really get going to the point where you're making a significant amount of money. How much time and effort you put into your new career will affect your results.
Affiliate with popular shops
One of the best ways to begin testing sex toys is by finding an affiliate to do business with. Many of the retailers and manufacturers of these types of toys offer free toys in exchange for an honest review of their products. You may not always get any monetary rewards but you may get to keep the toys you test. Some of these are expensive, high-quality items that you may not be able to afford otherwise, like the Realcock 2, which features Sil-Slide technology that includes sliding outer skin and floating testicles but costs a great deal of money.
Of course, there are other benefits to getting involved in working with an affiliate. The more products you review, the better you'll get at it, and the more likely it is that you'll be noticed by the company you're working with. This could lead to better offers, especially if you're professional, engaging, and full of confidence. You may end up with a more lucrative position, such as a full-time job as a product tester.
The following are just a few of the companies that you could contact when beginning your career as a sex toy tester.
Lovehoney
Lovehoney was founded in 2002 by Neal Slateford and Richard Longhurst, who decided to alter the experience of buying sex toys. This involved reducing the sordid, seedy aspect and turning it into a sex-positive and comfortable experience. Their company has grown in the last 20 years, with hundreds of staff members and almost 300,000 product reviews on their site.
To get started as one of their reviewers, you only need to create an account with them and start leaving reviews of the products that you've already bought and experimented with. These reviews need to demonstrate your ability to write detailed, unique opinions, and the more reviews you complete, the more likely you'll be viewed as a significant sex toy tester.
Once you've done several reviews, you can then create a wish list titled "Sex Toy Testers", where you can add products that you'd like to review, which the company may then send to you. The more consistent you are with your reviews and the more active you are on Lovehoney's forum, the more likely it is that you'll be chosen to test their products as well as products sold in their online shop, like the Lelo Soraya Wave, which is a rechargeable rabbit vibrator with a tapered tip, multiple settings, and 2 color options.
Dame
Dame is another fantastic sex toy company that sells high-quality items, plus they have an entire lab that is dedicated to sex toy testers. They call it Dame Labs and it was designed to ensure that their products were tested by real people who would normally buy such toys and give detailed descriptions about their actual experiences rather than just promoting specific items. This collaboration with other reviewers strengthens the company's commitment to their toys and gives them valuable feedback and input to help them make their products even better.
To become one of Dame Labs testers, you first need to sign up for their newsletter and take the surveys that are emailed to you. When you've completed this, the company will contact you with an offer for a toy that suits your tastes based on the survey results. You will also be required to sign an NDA and possibly a liability waiver if they plan to send you a prototype of a toy that's not yet for sale.
Treediride
Treediride was founded in Berlin in 2006, focusing on bringing joy and happiness to all types of sex. They have expanded their reach during that time, selling their products around the world and even winning a few trophies during that time.
This brand also has a sex toy tester program that is rather easy to join, using the dedicated page on their website. You only need to have bought and reviewed a single product on Amazon to be able to apply to their program. Then you go to their website tester program page, choose a product you're interested in reviewing from the list, fill out the contact form, and wait for them to reply. Keep in mind that this program is only available for products bought on Amazon, not their site.
WOW Tech Group
The Wow Tech Group includes companies like Womanizer and Wevibe, which are two popular brands when it comes to the sex toy industry. They also have a MasturbaTEAM service, which is their group created for sex toy testers and currently has over 1000 people signed up for the opportunity to become one of their testers.
To become one of them, you only need to sign up and wait for them to contact you about any product testing opportunities. If selected, they'll send you the toy and a survey to complete, plus you'll need to give them honest feedback about your impressions and experiences with the toy. When you're done, the company will evaluate the results of the surveys sent to them. The toy that you've reviewed is yours to keep.
Lovense
Lovense is a company that has varying options when it comes to sex toy testing jobs. You can do some BETA testing from their browser if you like, test their remote-controlled toys, or become an affiliate and earn a commission on any sale that results from your referrals. They also have a list of tips to ensure that you meet their standards as a tester, like educating yourself on all aspects of the toys, giving detailed reviews, and being honest, even when the toy doesn't perform as expected.
If you want to work for Lovense, the best way to do so is to email the company explaining who you are and what you do, as well as how you can benefit the company by becoming one of their testers. Don't forget to add your contact information to your email so they can respond.
Create personal blog
If you don't want to work for a specific company or are having difficulty linking up with one, you can always go it alone. This can involve becoming a sex writer, influencer, adult blogger, or vlogger Trusted Source Ultimate List of Blogging Statistics and Facts (Updated for 2022) Stay up-to-date on the latest blogging trends with our list of blogging statistics & facts. It's updated for 2021 so you have the info you need to optimize! optinmonster.com . This allows you to review the products you want, building a following over time. Eventually, if you can create quality reviews that give honest feedback about the toys you're testing, you can establish yourself as an expert in the market, which could lead to monetary compensation. The best way for this is through affiliate marketing, where you channel sales to certain companies by linking to them in your reviews. The amount you can earn varies, depending on whether the company offers a percentage of sales or a fixed price, though the more referral codes you use the more money you'll make.
Try for a full-time job
Another option for sex toy testing is by trying for a full-time job through an adult toy manufacturer. Most companies prefer to have their own professionals as their testers, so they usually stick to in-house workers rather than offering applications to the general public. These opportunities can be rare and hard to find, though you can often do a simple Google search to locate any companies that may be looking to hire sex toy testers or reviewers.
You may also want to follow the social media accounts of the major brands, retailers, and manufacturers of adult toys. They are more likely to post any job opportunities on their corporate accounts than anywhere else, so diligence is key to finding one of these tester positions.
Tips for Professional Sex Toy Reviews
If you've decided that becoming an adult toy tester is the path you wish to take, there are a few things that you can do to help ensure success in this industry. The following tips can get you started.
Choose your kink
The first thing to consider before becoming an adult product tester is what exactly you want to review. There are a wide variety of options available, from the small, gentle toys to the larger ones for more experienced users. The types of toys can vary as well, including dildos and vibrators, the best butt plugs, ride-on saddle-type toys, and so much more. There are also a wide variety of BDSM toys that you can test out for your reviews, from ropes for bondage, handcuffs, chastity cages, or even the best BDSM collar and leash set.
If you have a partner, you can even include them in the testing process and add their experiences to your reviews to make them a bit more in-depth. Be sure to stick to toys you're comfortable with at first before adding more advanced toys to your list to try out.
Choose article's tone
Though you want to make sure that your reviews are as detailed as you can make them, you still need to consider the tone of the article to ensure that it matches your target audience. If you're writing for a mainstream market, adding crude, graphic language could get your review removed, especially if those reading it complain. Those people likely won't want to read any more of your reviews, so your explicit language will have cost you part of your audience.
That's why it is important to be open and honest without offending anyone who prefers to read something a bit more tasteful.
Thorough research
To be a decent product tester, you need to know as much about what you're reviewing as you can. This means doing a great deal of research about the sex toy industry. As well as the types of toys available, what they're made of, and what they're designed to do, you should also look into legislation about the materials used and any safety certifications that the toys have achieved. Knowing how different brands and companies got started, their goals, and the toys they have to offer is also something to look into.
Copy write check
When writing reviews, you need some decent copywriting skills to ensure that your reviews are detailed, well-written, and give the right information to help your audience decide whether the product is right for them.
If you're not sure that your writing skills are up to the task, you can do some research in this area as well. There are a variety of tutorials, how-to articles, and online classes for you to try in order to hone your craft and learn the proper writing techniques to become a sex toy tester.
If you are planning on posting videos instead of written reviews, you can also check out online resources on video editing so that you know what you're doing in this area before you get started.
Clear images and videos
Images and videos are great visual aids for your reviews, though they need to be well-done for them to add a positive aspect. If you're adding photos, take several of them from a variety of angles to make sure that you have at least a few decent ones to showcase on your site.
For videos, you need to be a bit more careful before even turning on the camera. Make sure you have a decent space to work in that is well-lit and free of clutter. When you start the video to do your review, keep the toy in hand as much as possible so you can show off any features or interesting designs, as well as any flaws that you may have noticed. Be sure to edit the video thoroughly to keep it clean and free of repetitive or garbled areas. It should only be up to 5 minutes long when you're done to be sure your viewers don't get bored.
Check other reviews
Reading other reviews is another good way to ensure that you're not repeating what several other people have already said.
Of course, you should do this after you've already created the first draft of your own review. This way, you can check the details you've included against the other reviews while looking for any important details that you may have missed. You can also try to find something new that hasn't been mentioned in other reviews to help yours to stand out from the rest.
Make a table with specs
A table with the specifications of the products that you're reviewing helps to give your readers all of those technical details about the product, so you don't need to cover them in your review. This can include things like size, length, weight, materials used, colors, and whether the toy is battery-operated or rechargeable.
Doing so gives you more room in your review to cover the more important aspects of the toy, like its texture, how it feels during use, the noise level, and how stimulating any vibrations or patterns are. You can also include any extras that are included with the toy, such as charging cables, storage bags, remote controls, or app connectivity. Your review will offer much more in terms of what the toy is like to use rather than just focusing on the specs.
There should be pros and cons
A glowing review is great but you don't only want to tell your audience the good aspects of the toy. You also need to remember that every toy has a flaw or two, and sometimes several more, to consider before purchasing it. That's why having a pro and con section is a good idea. This tells your readers the best points about the toy, as well as any negative aspects that you've noticed that they should be aware of.
You also need to remember that just because you don't like certain aspects of a toy, it doesn't necessarily make it a bad toy. For instance, you may not like the color or you could find the motor a bit too weak for your tastes, but others may not have the same issues that you have. Remember to keep your pros and cons honest about the toy's makeup and performance, not about your preferences.
Edit and proofread
Sloppy writing full of grammar and spelling mistakes won't make you look very professional Trusted Source Guide To Flexible Work Schedules | Indeed.com Learn what a flexible work schedule is, how to manage flexible work schedules, the most common types and the advantages and disadvantages of participating in one. www.indeed.com . Editing these mistakes will help keep your writing clean and readable for your audience. You'll also want to check to make sure you're meeting any word count regulations for the employer or manufacturer that you're reviewing for. It should also suit the platform that it's being published on to make sure that it won't get removed for any graphic content or inappropriate wording.
Don't be afraid to start over
Sometimes, even after several hours of work, you won't be happy with the review that you've compiled. This is not abnormal since there will be times when you're not in the right frame of mind to write your review. When this happens, it may be a good idea to put it aside for a few hours or even a day or two, provided you aren't under a strict deadline that you could be missing.
Then, when you come back, you can look at what you've written with fresh eyes, removing the parts that don't work and adding new ones that say what you actually experienced with the toy. You may even need to scrap the entire review and start all over to get the best results possible.
Remember the Cons
Just like there are cons when it comes to the sex toys themselves, there are also downsides to becoming a sex toy tester that you may not have considered. They aren't necessarily deal-breakers, though you should think about what becoming a tester will entail from all aspects before taking on this type of work.
It's still work
Despite how much fun you may have trying out those sex toys, becoming a sex toy tester is still a job that requires more work than you may imagine.
The toys may not offer the pleasurable experiences that you are looking for or they may not be as comfortable as the manufacturer claims. You have to focus more on what the toy is like from a reviewer's standpoint rather than just enjoying the fun parts of using a new toy.
You also need to actually write or record your review, which takes time and effort to get the words right and cover all the necessary aspects of what the toy has to offer. You'll need to edit the review or video as well, add photos if needed, and do any formatting necessary when uploading your content. If you're running your own blog or vlog, you need to be consistent with your reviews to make sure your audience is getting new content all the time to prevent them from getting bored with your site.
Toys aren't free
Sex toys can be expensive, as anyone who has ever purchased them before can tell you. Dildos and vibrators can cost $100 or more while the best sex dolls can run into the thousands, due to the intricate details and high-quality materials used to create them.
Though some companies do offer to give you sex toys to try out that you then get to keep, this isn't always the case. You may need to purchase the toy yourself or pay for the shipping on the toys that you're receiving. If you're testing a prototype toy, you will also need to return it to the company for disposal, so there may be a return shipping cost as well.
You will get criticized
Those working in the adult industry always face some criticism for the choices they make in their careers. This doesn't just happen for porn stars or sex workers, either. Sex toy testers can also be looked down upon for openly discussing the use of various toys. Friends and family may take issue with your line of work, as can those online who discover your blog, vlog, or company reviews. You need to have a thick skin to work in this industry and be prepared to deal with some backlash from people you know and those you don't.
Public sex life
As well as criticism, you'll also need to be prepared to have your sex life broadcasted online. Those who test sex toys need to be adventurous and experimental in the bedroom, though they likely don't discuss those details with family or friends in most cases.
If you're reviewing products strictly for specific manufacturers or brands to help them improve their toys, then you may be able to keep your sex life private. Those with a personal blog or vlog with their name and image displayed won't have this luxury, so it everyone they know could somehow discover their job as a sex toy tester or reviewer.
You may also want to consider your partner if they are helping you test out some of the toys. If you're discussing both of your impressions and experiences with certain toys, both of your activities will be made public, so be sure they are aware of this before adding them to your posts.
Final Thoughts
Sex toys are fun to use, with a wide selection of toys to pick from to enhance any of the fantasies and fetishes that you choose to partake in. If you're already using these toys and have the communication skills for it, you can become a sex toy tester to take your love of pleasure devices to a whole new level.
Becoming an adult product tester isn't always easy and can have some downsides but there is also the possibility of free toys and monetary compensation for giving honest feedback or promoting your favorite products. You can affiliate yourself with a specific company or go it alone, whichever fits with the type of career you have in mind.