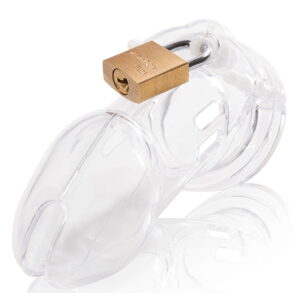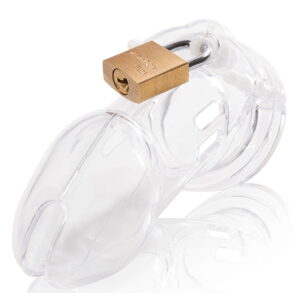 Features
Material: Medical-grade hard plastic
Length: 3.5 inches
Ring size: 1.5-2 inches
More features: 4 locking pins, 5 plastic locks included, side and urination vents
The CB-6000 chastity cage for men is crafted from transparent medical-grade polycarbonate. This material is not only durable but also hypoallergenic, ensuring a safer experience for users. The device comes complete with 4 locking pins and spacers, allowing users to find the ideal fit for maximum comfort.
Vented Design with Urination Hole
Especially suited for those keen on exploring chastity play, the CB-6000 effectively eliminates the possibility of an erection. The device boasts a vented design and includes a urination hole, making it optimal for prolonged wear. For those concerned about discretion or travel, the chastity cage comes equipped with plastic locks, ensuring no hassles when passing through metal detectors.
Our Experience and Verdict
The CB-6000, while on the higher end of the price spectrum, offers a high-quality chastity experience. Its hypoallergenic construction paired with various accessories aims for a comfortable and customizable fit. Though its price might deter first-time users, its durability and well-thought-out design make it a worthy investment for those looking for a premium chastity device.
What stands out?
Made of durable and hypoallergenic medical-grade polycarbonate.
Vented design with a urination hole allows for long-term use.
Comes with multiple accessories for a customized fit.
Travel friendly.
What cons did we manage to find?
Higher price point may not be suitable for first-time users.