Gone are those days when people saw the prostate as only a source of inconvenience to elderly men. Today, more people are getting to know the prostate—also known as the male G-spot—as a source of pleasure. With the help of a prostate massager, anyone who has the organ can stimulate it.
If you are looking to explore this pleasure zone, you will need to know how to use prostate massager properly. From setting the right mood to preparing the toys and lube, a lot of work goes into having a pleasurable experience with your prostate massager. Even after using the massager, you need to take specific steps to ensure your safety.
Hence, this article contains a step-by-step guide to tell you everything you need to know to achieve the desired results. Let's get right to it!
Is Prostate Massage any Good?
There's a good chance you don't even know what the prostate is and where it is in your body. So, before we answer that question, we will clear things up for you. The prostate is a tiny gland—about the size of a walnut—which sits between the base of your penis and the bladder. Plus, it sits just in front of the rectum.
While the prostate's primary job is to produce the fluid part of the semen, it's also known to deliver other health benefits and pleasure.
Sometimes, doctors employ prostate massage to diagnose specific problems (more on that later). Some studies have also proven this massage to help get rid of some symptoms. Even though you probably care about just the pleasure side of the prostate massage, we will discuss all the good things it offers.
Health benefits
You now know that a doctor might be inclined to use a prostate massage to diagnose a health condition. The aim is usually to collect some fluid from massaging the prostate. The fluid is then examined under a microscope for signs of a disease or infection. Not only does prostate massage has diagnostic abilities, but it also boasts treatment abilities.
As we hinted earlier, prostate massage can treat a condition like chronic prostatitis—prostate inflammation. The massage eases the swelling and pressure by releasing the fluids built up in the prostate. According to a study by the UCLA Medical Center and the Institute of Male Urology Trusted Source Use of prostatic massage in combination with antibiotics in the treatment of chronic prostatitis - PubMed Chronic prostatitis is often refractory to antibiotics, however biopsy and molecular data indicate persistent symptoms may be due to occult infection. pubmed.ncbi.nlm.nih.gov , about 40% of prostatitis patients, who were treated with regular prostate massages and antibiotics, saw their symptoms vanish entirely. Also, 21% of the participants experienced some improvements.
Furthermore, prostate massage can ease urine flow, thanks to the prostate's close relationship with the urethra—the tube that drains the bladder. Naturally, a swollen prostate can mess with your urine flow. But a massage can reduce the swelling, thus easing urine flow.
Pleasure
Just like women have the G-spot, men have the P-spot in the prostate. You can stimulate your prostate by playing with the perineum. That is the small area between the anus and the base of the penis. However, the best way to massage the prostate is to stick a finger or a massager inside the rectum. Some men have reported enjoying the stimulation of their prostate.
In fact, a 2018 study found Trusted Source Prostate-induced orgasms: A concise review illustrated with a highly relevant case study Current medical literature does not describe precisely the activation and mechanisms of prostate orgasms. This brief review describes what we know about the anatomy and physiology of the prostate and its involvement in reproduction and especially its stimulation for sexual recreation. It is illustrated with a highly relevant case history. onlinelibrary.wiley.com that prostate-induced orgasms are more pleasurable than penile stimulation. If you are not comfortable using your finger, there are many high-quality prostate massagers to choose from. Alternatively, you can shop for the best prostate dildos, which are also designed to find and stimulate the prostate.
How to Prepare for Prostate Massage
If it's your first time using prostate massager, you are in the right place to learn how to properly use prostate massager. But before we talk about the steps involved, we will discuss the preparation process for prostate massage.
Set the mood
Before anything, you need to set the mood for your prostate massage. Without the right mood, you cannot achieve the level of pleasure you desire. Essentially, your mind and body must be ready for the pleasure journey ahead. There are many ways to set the right mood, which are not limited to setting a relaxed ambiance and playing sexy songs from your favorite playlist.
Prepare toys and lube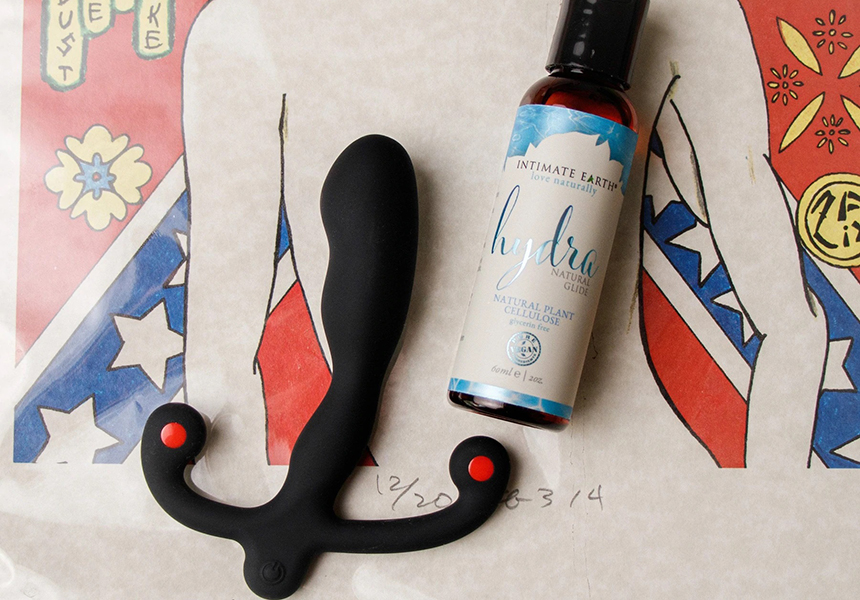 Once you set the mood for your prostate massage, the next step should be to prepare suitable toys. While prostate massagers are specifically designed to reach and stimulate the prostate, you can incorporate other anal toys such as butt plugs, anal beads, anal dildos, etc. When shopping for your toys, ensure that they have the right size and quality for optimum satisfaction.
For example, if you are not new to anal play, you can find the right fit in the njoy Pure Wand dildo. This dildo is curved for the precise stimulation of your prostate. Plus, it is weighted for firm pressure.
Also, buy a prostate massager made by a reliable brand. You probably already know this, but Aneros is the most popular prostate massager brand, thanks to its impressive quality. With our  accessible guide on the best Aneros prostate massagers, you will have no problem finding a suitable model.
Finally, make your favorite lubricant available since the anus does not self-lubricate. The lube should be body-safe.
Relax
After setting the mood and preparing the necessary toys, it's time to relax your nerves and muscles. Get comfortable and assume a position that gives you easy and convenient access to stimulate your stimulation. Whether you prefer lying on your stomach or lying on your back, do what works for you.
Start with finger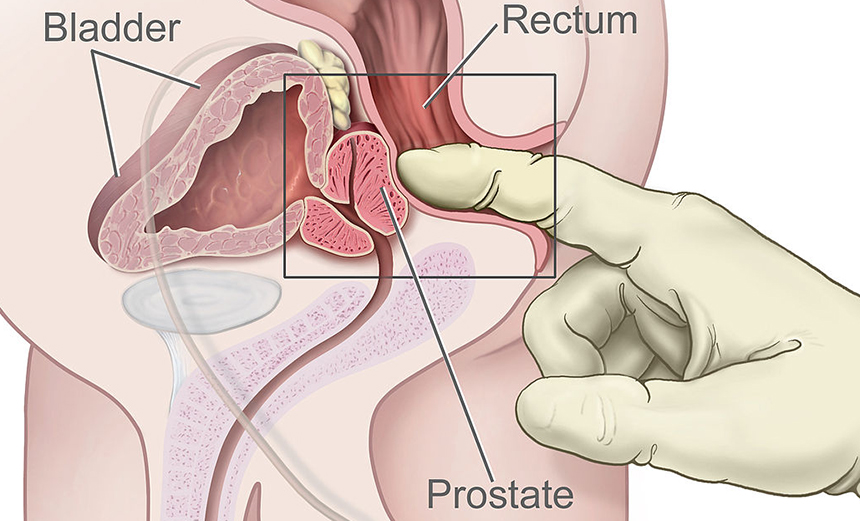 Before inserting your prostate massager or any other toy, try to work your finger up your ass first. Then, slide the finger an inch or two into your lubricated anus and hold it there for some seconds. That gets your sphincter muscles used to the sensation. Once you get comfortable, go deeper until you reach a rough bump. Now, rub the upper side of your rectum lightly in a "come hither" motion.
Trim your fingernail or wear a glove before you insert the finger for comfort and safety. Don't hesitate to remove your finger slowly in the case of pain or discomfort. If you're doing this with a partner, communicate well.
How to Properly Use a Prostate Massager
Everything we've been discussing since the beginning of this article leads us to how to use male prostate massager. Whether you want to learn how to use vibrating prostate massager, how to use Aneros prostate massager, or how to use 3 point prostate massager, we have the proper instructions for you below:
Lube the toy
First of all, lubricate your prostate massager and other toys you will be using. Apply a generous amount of lube to the toys to ensure smooth penetration. Also, add a little lube around your anus to ease the entry. Know that you risk tearing your rectum's sensitive tissue without proper lubrication.
Insert prostate massager
After picking out your favorite from the best prostate massagers available, the next task is to insert it. Angle the massager downward slightly at the end. Then, insert the end facing toward the front of your body. This direction is the easiest way to hit your prostate.

Go slow
Once you insert the prostate massager, there is no reason to rush. Relax your muscles and go as slowly as possible. Slowly insert the massager until you feel you've found the sweet spot.
Turn on the massager if needed
If you use a vibrating prostate massager like the We-Vibe Vector, which boasts ten functions and is remote and app-controlled, you will need to turn it on. Then, set it to your preferred vibration mode. Now, relax and leave your prostate massager to do its magic.
Stimulate the spot
When using a vibrating massager, it's easier to stimulate the prostate. You can just let the massager vibrate on the P-spot once you find it. However, if your toy does not vibrate, slowly push it in and out of your ass to stimulate the prostate until you are satisfied.
To make the prostate massage more exciting, stroke your penis as you stimulate the P-spot or have your partner help you.
Finish
Continue stimulating your prostate until you achieve an orgasm or are satisfied with the session. Once you are ready to get the toy out, relax your body. Then, grab the massager's handle and slowly remove it until it is entirely out of your butt.
Clean self and toy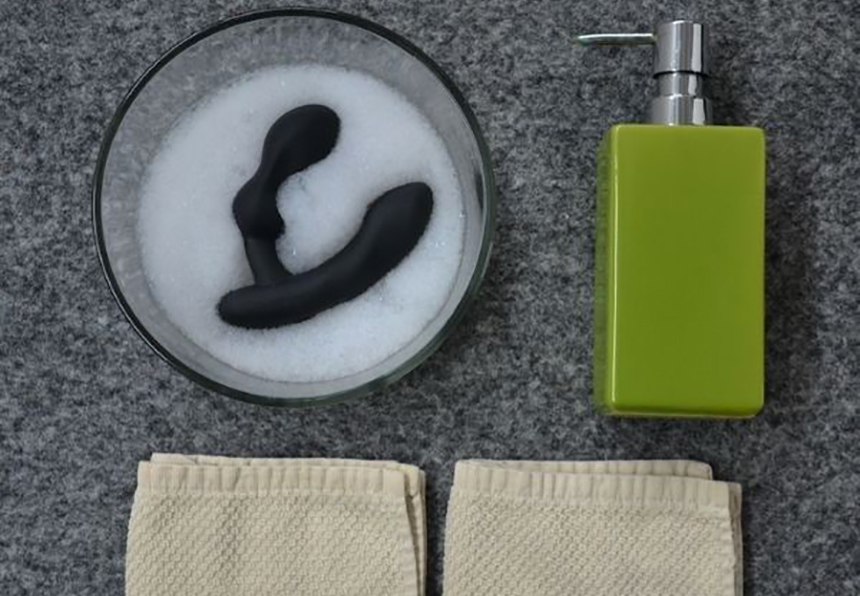 Your prostate massage session will likely create a mess. So, ensure that you clean your butt properly. Also, clean and disinfect your prostate massagers and other toys. Mild soap and water are enough to achieve a thorough clean.
Dry massager
Before keeping your prostate massager away for storage, ensure that you dry it thoroughly. If moisture remains on the toy, it may breed bacteria and create a risk of infection. So, only store a dry massager.
Final Thoughts
Before you can know how to use prostate massager, you have to know all about the many prostate massager instructions discussed in this article. Your mind and body must be relaxed enough to achieve a hitch-free penetration and stimulation. Also, you need to apply enough lube to ensure a smooth entrance.
For safety, only use a prostate massager that features a flared base that prevents the toy from getting lost up in your anus. The last thing you want is a weird trip to the hospital. Besides, remember to go slowly while using your prostate massager to enjoy a comfortable experience. Furthermore, clean and dry your toys properly to eliminate the risk of infection.
With this article, you have the right guide for learning how to use a prostate massager.