New sex toys have changed the game for the better –  women can try out a new type of penetration, allowing them to give their male what they've been getting for years, as well as letting girl-on-girl couples try out this type of play.
Of course, those who have never experimented with pegging before may not know how to get started. Luckily, we've discovered the best pegging positions for you to try out with your partner to keep everyone comfortable while giving them the stimulation needed to make these types of sexual activities well worth their while. You can try out all of these female-to-male pegging positions or stick to your favorites for the most enjoyable experience possible.
How to Prepare for Pegging
Jumping right into the pegging act Trusted Source What Is Pegging? Experts Explain This Sex Act - And How to Do It Safely You may have heard the term "pegging" used to describe a sex act, but what is it really? Pegging is commonly used to describe when a woman penetrates a man with a strap-on harness and dildo, but it's really just another word for anal sex. www.health.com isn't recommended, especially for those who have never experimented with any type of anal play before. Before you get started, there are a few things you should do to prepare yourselves to ensure a safe and pleasurable experience.
Massage butt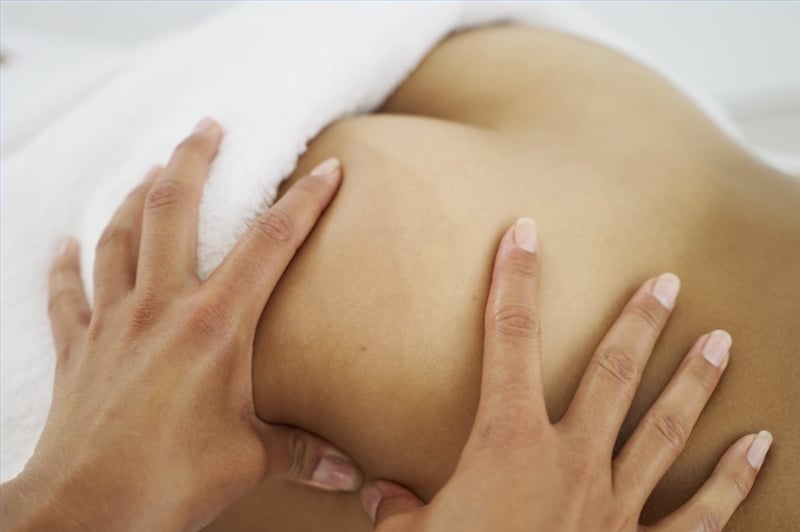 A good massage can help relax you when you're tense, so it's a great idea to give your partner one of these on their posterior region to get those muscles nice and loose. Take your time, talking to them during the massage to gauge how they are feeling and that they are enjoying the experience.
Relax anus
Relaxing the anus is another way to prepare for the sex positions for pegging that you want to try out. Your partner can try kegel exercises Trusted Source Kegel exercises for men: Understand the benefits Kegel exercises for men can help improve bladder control and possibly improve sexual performance. Here's a guide to doing Kegel exercises correctly. www.mayoclinic.org to help strengthen those anal muscles, which allows them to control them during intercourse. The more control he has, the more he can open yourself up when you are entering him for those pegging poses you want to try out.
He may also want to use an anal training kit, which will include varying sizes of butt plugs. He can start with the smallest one to familiarize himself with how it feels to be penetrated anally, then work up to the larger sizes. Take things slow to ensure he is comfortable and enjoying the sensations these toys provide.
Discuss dildo size
You and your partner should also discuss the size of the dildo you want to use once you are ready to begin pegging.
The sizes of butt plugs that were used can help since they will tell you how large of a toy he has experienced and is comfortable with.
There are several different dildo options to choose from, including strap-ons for pegging or strapless strap-ons to give you both some pleasure as you use them. A kit like the Lovehoney Advanced Unisex Strap-on Harness Kit comes with everything you need to get started, including a ridged 5-inch dildo and a curved 7-inch dildo, so you have a few options to choose from. You can work your way up from the smaller to the larger piece if needed for added convenience. Whichever size you choose, be sure he is in full agreement with the decision since he is the one taking the most risk with a toy like this.
Lube
Lubricant is a must when using any type of sex toy that will be entering the body, especially with this particular area since it is used to things exiting rather than entering it. You can use whatever type of lube that you like, provided it is safe for the body and won't damage the dildo you plan to use.
The Doc Johnson Rear Entry Desensitising Anal Lube is a popular choice, due to the high-strength anesthetic it contains, which helps to numb the anal area to make penetration more comfortable. Add some before to his backside area before beginning to ensure it has begun to work before you get down to business.
Sex Positions for Pegging
There are several different options available when it comes to good pegging positions, so you can start with the easy ones and work your way up to the more complicated poses or just stick with the ones you like best.
Classic doggy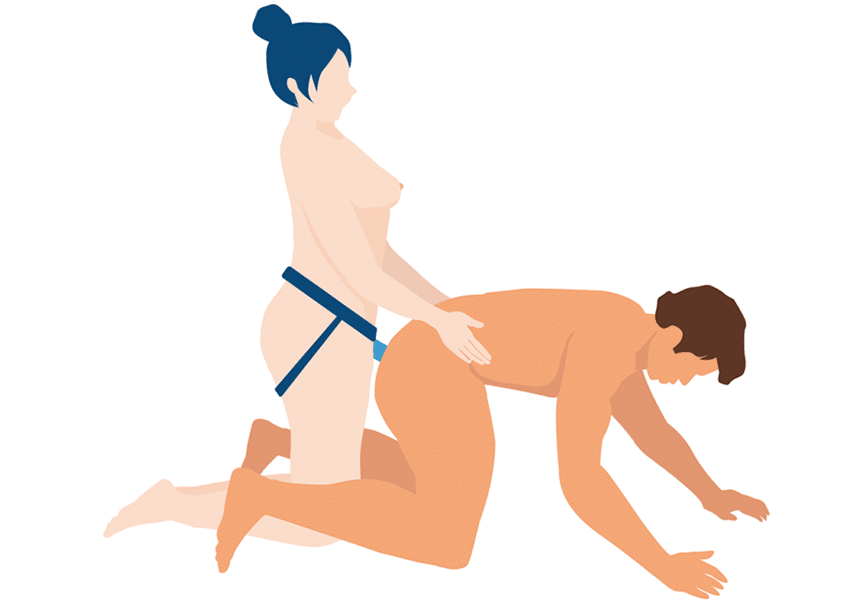 The classic doggy-style pose is one of the easiest and most common positions for pegging, especially for first-timers who need comfort more than anything else. To do this pose, the person on the receiving end should get on their hands and knees on their bed, couch, or floor. Their partner should then penetrate them from behind.
The best part of this pose is that it is quite sturdy for the person on all fours. They can hold themselves in this position comfortably, focusing on what's happening behind them without forcing themselves into an unnatural pose that takes their mind of the most important part of the interaction.
They can relax and enjoy everything, plus they can help guide their partner, letting them know how things are going for gentle penetration and whether they can move on to something a bit deeper or harder.
Cowboy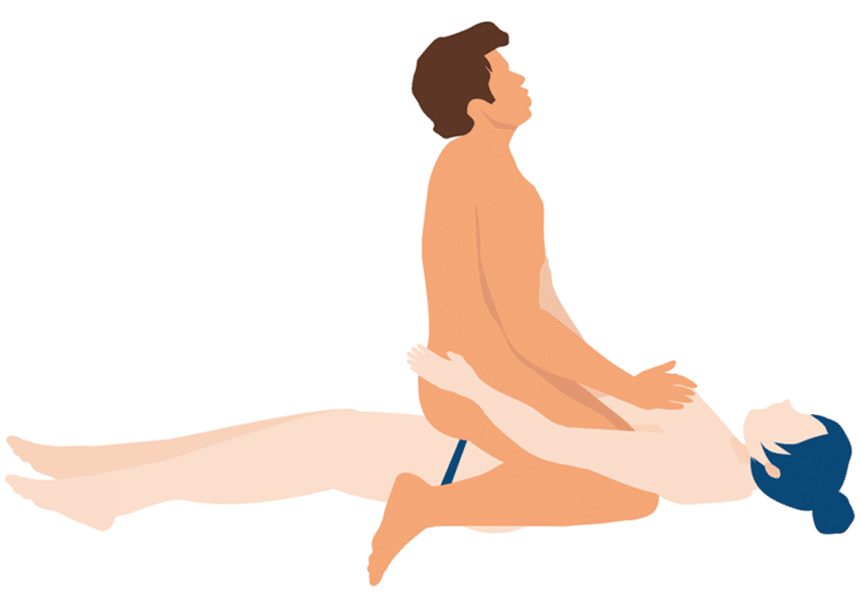 The cowboy pose allows the giver to relax while the receiver takes a bit more control, riding the dildo as he sees fit for some slow romantic pegging or something a bit more intense. It is easy to do and keeps both parties comfortable so they can enjoy the experience together.
For this pose, the female partner puts on the strap-on dildo of their choice, adds some lube to the toy, and then lies down on her back on the bed. She can lay flat or prop herself up with her elbows or some pillows.
The receiver then sits on top of the giver, seating himself over her pelvic area where the dildo will be positioned. Then he can slide onto the dildo, allowing it to enter him as much as he's comfortable with. The giver can even help guide his movements by placing her hands on his hips or she can lay back and let him move as he likes.
Bend over table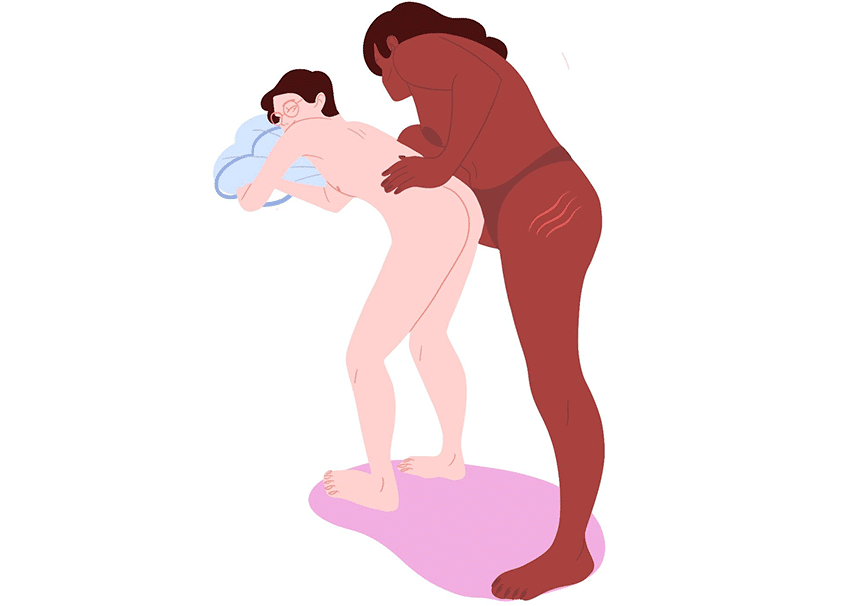 Another fun position you may want to try with a partner is the bend over table position. This allows the giver to take a bit more control, provided their partner is comfortable with allowing this and they don't take things farther than the receiver can handle.
For this position, the receiver stands in front of a table, desk, or another suitable surface, then bends over it so their torso is horizontal while their feet are still firmly on the floor. They can grip the other side of the table as the giver enters them from behind for some intense pegging. The receiver can also put one foot next to the receiver on the edge of the table for a bit more leverage, though this is not necessary. They can also touch and kiss their partner as they like during intercourse.
Spooning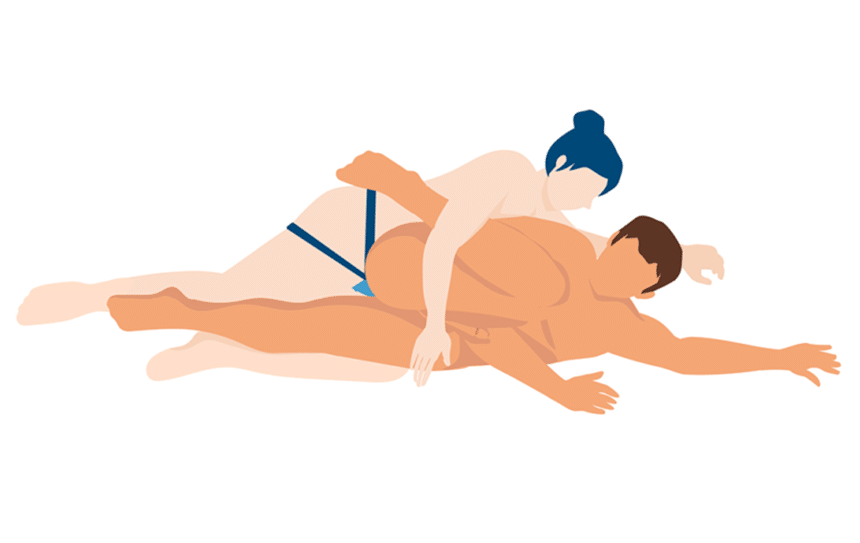 One of the best pegging positions is the spooning method. This is because this position is much more intimate than many of the others, allowing you to hold and cuddle each other and providing more skin-to-skin contact than you would get from most other pegging positions. You can connect emotionally as well as physically, so the receiver can relax, plus his penis is in full reach, so the receiver can offer multiple forms of pleasure.
For this pose, both partners need to lie on their sides on a bed or couch, with the female wearing the strap-on behind the receiver. The male can then lift his upper leg and arch his back to offer the giver full access to his nether regions. Once she's inserted the dildo, he can relax and let her pleasure him. He can even turn his head to kiss her as he's being penetrated for a deeper connection.
Seated
The seated position has the giver sitting on a chair or a couch in a relaxed, normal position. The receiver then sits in the giver's lap facing them. This gives the receiver more control over how far, fast, and deep the dildo is penetrating them.
This pose is a good one for those who want their encounters to still maintain the romantic aspect of love-making while still experimenting with some new and exciting techniques. You can kiss and touch each other as you see fit during your session or just gaze into each other's eyes.
Lying doggy
The lying doggy pose is similar to the regular doggy pose since the female is entering her partner from behind, though in this instance the receiver is laying down instead of sitting up on all fours. The difference is that this position offers deep pegging that you wouldn't get from the regular pose, so it should only be used when you are both comfortable with this type of penetration.
For this pose, the receiver lies face-down on the bed with his legs slightly apart. The giver puts the strap-on on and adds lube, then straddles her partner by kneeling or squatting over him. Once both are positioned comfortably, the giver slides the toy into her partner's backside. The receiver can also slip a pillow beneath his pelvis to allow his partner to thrust deeper for more intense thrusting.
Reverse cowboy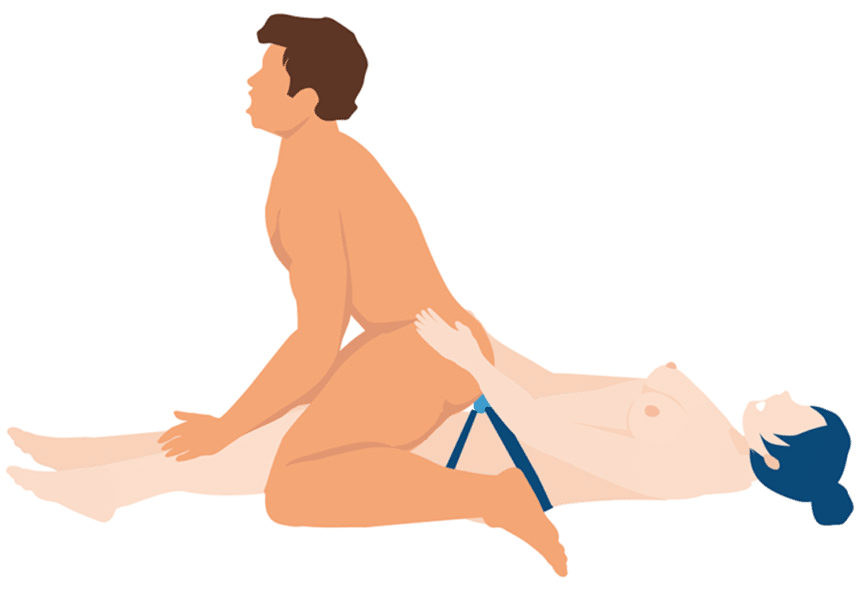 The reverse is almost identical to the cowboy, though for this pose the receiver turns around so they are facing away from the giver. This allows the male partner on top to adjust their position and thrusting angle to give them the best prostate stimulation and likely reach orgasm.
You would still start the same way, with the giver putting on their chosen strap-on dildo and adding lube, then lying face-up on their bed. The receiver then sits on top of them so that the dildo is positioned in the right place to enter them from behind. He can move as he sees fit for soft or hard pegging, plus he can stimulate his penis at the same time for even higher heights of pleasure.
Legs over head
This is also known as missionary pegging since it has the receiver laying on his back with his legs raised and the female on her knees between them. Then she penetrates him this way, watching his expressions to ensure he is enjoying what's happening or pulling back if he is giving her non-verbal cues that things are going a bit further or more aggressive than he wants them to.
The best part of this pose is that it keeps both partners' hands free to explore each other's bodies. He can stroke her chest and neck while she handles his private parts. He can also place his hands on her chest or hips to give himself more control over how he is penetrated.
Shower fun
Provided the dildo you're using is water-safe, you can take your pegging sessions into the shower for some enticing new experiences. You can try some standing options, though you do need to ensure that you're being as safe as possible.
This includes adding a non-slip shower mat or some stick-on treads for the floor of your tub or shower to keep your feet firmly in place while you enjoy yourselves. You may also want to install a grab-bar to ensure one or both of you have something to hold onto as you're getting down to business. Even a bath seat can keep everyone safe without hindering your play.
Restrained pegging
You can add some BDSM play to your pegging games if you like. For instance, you can tie your partner's hands to your headboard, provided you have the proper type or tie them to the table legs while they are bent over it. This gives you more control over what happens, forcing them to participate in what you decide to do.
This shouldn't be done without your partner's consent. It is important to maintain trust when performing these types of games, so be sure to discuss all aspects and any boundaries that you both don't want crossed before you get started.
Final Thoughts
Experimenting with different types of sexual play can be an exciting way to explore your wants and desires with your partner. Of course, not everyone is comfortable jumping right into every aspect of these types of games, so it is a good idea to discuss what you both are interested in to ensure that you're getting the most from your relationship.
If you and your partner want to try pegging, it's a good idea to prepare both mentally and physically for this new addition to your bedroom activities. Learning the best pegging positions is also a must so you can try out the poses that are safest and the most comfortable for both of you. You can also work your way through them, choosing the ones you like best for your future sessions.