The spreader bar is one of the many tools used by those in the BDSM community. These bars are designed with to be placed between the limbs to hold them apart until the bar is removed. Spreader bars are most commonly used between the ankles, though they can be placed between the wrists as well, depending on the type of play you have in mind.
One of the best things about this piece of gear is that there are a wide variety of BDSM spreader bar positions that you can try out with your partner. Spreader bar use can also be mixed with many of the toys in your collection for an even more satisfying experience. If you're wondering how to use a spreader bar but aren't sure where to start, check out the following tips.
Types of Spreader Bars
There are literally dozens of kinky sex toys Trusted Source Sex Toys Market Size, Share & Trends Analysis Report By Product (Vibrators, Penis Rings, Anal Toys, Dildos), By Type (Male, Female), By Distribution Channel (E-commerce, Specialty Stores, Mass Merchandizers), By Region, And Segment Forecasts, 2022 - 2030 The global sex toys market size was valued at USD 30.48 billion in 2021. It is expected to expand at a compound annual growth rate (CAGR) of 8.4% from 2022 to 2030. www.grandviewresearch.com that you can try out to add some spicy fun to your bedroom activities, one of which is the spreader bar. Spreader bars are one of the restraining toys, holding the legs apart to expose the genitals or immobilizing the wrists for some new and interesting restrictive play. There are a few different spreader bar types to consider.
Classic
The classic spreader bar has a fixed size, so it can't be adjusted. When purchasing one of these, you need to check the dimensions carefully to be sure it offers the restraint you're looking for while still maintaining your partner's comfort. Not everyone is the same size, so if you get one that is too small, your sub's legs won't be spread wide enough, while a spreader bar that is too large could cause a great deal more discomfort than you're anticipating and could even cause injury.
Classic spreader bars may not include cuffs, either, so you may need to purchase these separately. This does allow you to pick the cuffs you like best for both comfort and restraint, matching them to your partner perfectly, though it is also an extra expense. You may even need to buy extra carabiner clips in varying sizes to be sure the cuffs you've chosen can be attached properly to the spreader bar you're using.
Expandable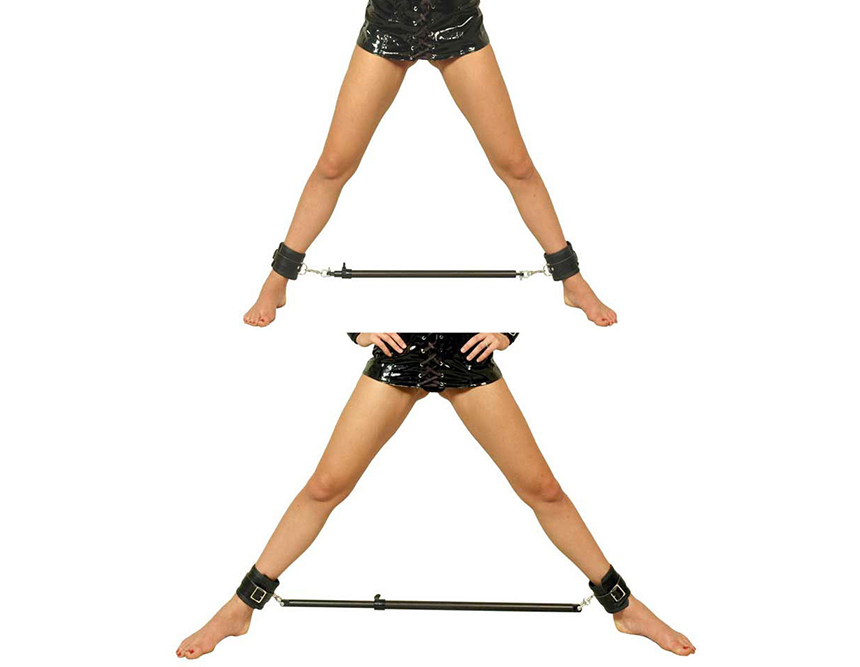 Expandable spreader bars are adjustable, making them more versatile. Not only can their size be altered to make them more comfortable for the person wearing them, but they can also be used for a wider variety of spreader bar sex positions, as well as other activities.
Of course, you also need to consider the quality of the spreader bar you're buying. Cheap expandable models may not stay securely positioned or could even fall apart. Not only does this make them frustrating to use, but there is also the risk of injury if they come apart or break during use.
Be sure to look into quality expandable spreader bar models to be sure you're getting one that will last and do exactly what it's supposed to. The Dominix Deluxe Expandable Spreader Bar is a fantastic option, with a range of 14 to 20 inches on the polished steel bar and plush leather cuffs that can be used on the ankles or wrists. Keep in mind that like the classic spreader bars, expandable models don't always include cuffs, so you may need to purchase these separately.
With cuffs

Though you can purchase a spreader bar and cuffs separately, it's much more convenient to get a set that includes both. Doing so ensures that you'll have all the necessary pieces to attach the cuffs to the spreader bar, so you won't need any special gear to get everything hooked up.
Some spreader bars have cuffs that are fully attached or removable cuffs that make it easier to get the bar off the sub in a hurry if they are feeling any discomfort or pain during your session. There are even spreader bars that include extra cuffs. The Bondage Boutique Extreme Expandable Spreader Bar with Leather Cuffs includes end cuffs that can be used on the ankles and two more cuffs in the middle of the bar that can be used to secure the wrists. This spreader bar is well made and adjustable, with faux fur lining on the cuffs and extra keys, plus it breaks down into 3 pieces for compact storage and travel.
As with the other spreader bar types, it's best to choose a higher quality item to be sure it won't fall apart or break during use, so you have a long-lasting item that is safe to use.
How to Use a Spreader Bar
Using a spreader bar may seem rather straightforward but it's best to look into how to use one properly before you get started. Go slow, maintaining open communication with your partner during the entire process to be sure they are comfortable and not feeling any pain. The following tips will ensure you are getting the most out of your spreader bar for the best experience possible.
Getting adjusted
One of the most important aspects of using a spreader bar is proper adjustment. If you have a classic model with a fixed size, you'll need to measure it carefully to be sure it fits your partner properly to avoid injury. Opening them up to the widest position possible may seem like a fun way to play but this can cause their limbs to press into the bar.
The more tired your partner gets, the more their limbs will contract. Even with the most comfortable cuffs, the edges of the spreader bar pressing into your partner's ankles will eventually become uncomfortable. That's why you need to be extra careful when making your spreader bar adjustments. Using an adjustable spreader bar is also a good option since you can test out different widths to see what works best for the person wearing it.
Using spreader bar

There are a variety of ways that you can use a spreader bar. The most obvious one is for sex, though there are more positions to use a spreader bar in than you may realize. We'll cover the best options for this below.
Before you begin, it's best to have a discussion with your partner about using one of these items. Open communication about what you are both interested in getting out of the experience is necessary to ensure everyone is comfortable with adding this type of bondage bar to your gear. Any boundaries and rules should be discussed before you begin.
A safe word Trusted Source Safe-words aren't just for spanking: A qualitative case study of four women in heterosexual BDSM relationships This article explores issues of consent in the context of BDSM. I argue that consent is a complex expression which must be thought beyond the 'yes means yes, no means no' that proliferates mainstream debates around consent education. www.academia.edu should also be decided on before any activities take place. This word or phrase can be used to halt any role play or activity if things are getting too painful or intense for either of the parties involved. Be sure the safe word is something that won't be mistaken for part of the game you're playing. You can use the name of a fruit, animal, constellation, or anything else that you and your partner are comfortable with and can remember.
Once you have all the rules, boundaries, safe words, and activities decided on, you can get down to business with your spreader bar ideas. You don't have to limit your experiences to sex, either. Such gear can be used for bondage play, humiliation games, or anything else you have in mind.
Safety advice
As we mentioned above, setting rules, boundaries, and safe words is a must to ensure a safe and enjoyable experience with your partner while you try out the bondage bar positions on your list. These are not the only safety precautions to keep in mind, though.
The person wearing the spreader bar needs to be able to communicate their needs and comfort level at all times. Though safe words help in this area, these aren't effective when a gag is used. If they can't speak, you'll need to take other precautions to be sure that they can tell you if the spreader bar, the position they're in, or the other toys involved are comfortable and not causing any pain. For those who can't speak, having something in their hand that they can drop or throw will help them let you know when things need to slow down or halt altogether.
Bondage spreader bar positions won't always include laying down. The person wearing the bar may be required to crawl or walk around. The spreader bar makes this tricky, though not impossible. Of course, there is always the risk of falling, so you do need to take precautions to limit this possibility. Remove any obstacles, like rugs, furniture, or anything else on the floor where they will be required to move around. Wearing heels on the feet or anything that could restrict vision near or over the eyes should also be avoided.
Combining with other toys
When you're first trying out a spreader bar, you may want to get used to this toy on its own before adding other toys and gear to the mix. Of course, once you get the hang of this device, adding other gear can make the experience that much more enjoyable for you and your partner.
There are several different types of gear that you can add to the mix. The best chastity cage is a good option for men wearing the spreader bar, preventing them from getting aroused while you tease them. The best anal hook can be worn by both men and women, with a variety of sizes and designs to choose from.
Gags, cages, dildos, and anything else you like can be added to your BDSM sessions and role-playing games to increase the intensity and stimulation.
Best Spreader Bar Positions
Whether you're new to the use of spreader bars or have gained some experience with these BDSM devices, you may be looking for some new and interesting positions to try out. The following spreader bar positions are the best options we've found, with something for every taste and experience level.
Vertical bar
As we mentioned above, you don't need to use a spreader bar between your sub's ankles to have a bit of fun with it. One option is to use it with a collar and wrist cuffs to keep your submissive vulnerable and hoisted up where you want them.
For this position, the collar and wrist cuffs should be put on first. For the collar, the attachment for the bar needs to be positioned at the back of the neck. When the collar and cuffs are on and tightened to a restrictive, yet comfortable position, you can attach the spreader bar. Run it behind the sub's back, linking the collar to the wrists, so the wrists are positioned on either side of the bar over the buttocks.
Your spreader bar also needs to have a ring or hook in the middle, which you can use to attach the bar to the ceiling, doorframe, or whatever else you have in mind. When attached correctly, the sub's wrists should be lifted, pulling the arms back to about a 45-degree angle.
When putting your sub in this position, be sure to communicate with them the entire time. This position will pull the collar tighter around the throat the more the sub leans forward, so if they start to tire out, you'll need to release them immediately. The arm placement can also become uncomfortable over time, so check with them to ensure they are feeling pleasurable discomfort rather than unenjoyable pain.
X-position
The vertical X position is an easy one to achieve, though you'll need to have a hook or ring placed in the ceiling or any other sturdy overhead point to pull it off. This position also holds your sub in place without causing too much discomfort, so they are vulnerable enough for you to enjoy visually and physically without straining them too much.
This position keeps their wrists bound, so they can't cover themselves, leaving them completely open to you, so be sure to discuss this beforehand to be sure they are comfortable enough to enjoy this. Best of all, you can perform all types of sexual activities with them in this spreader bar position.
For this position, attach the cuffs to the wrist and then add the spreader bar between them if it isn't already attached. The arms should be in front of the body when the spreader bar is put in place. Then lift the sub's arms and hook the spreader bar to the ceiling or any other higher point you have in mind. The sub should be able to kneel when the spreader bar is hooked in place.
There are some safety concerns to keep in mind with this position. Like other raised arm positions, this one needs to be used for a limited time. The lack of blood flow to the arms can lead to those pins and needles and eventually numbness. Some spreader bars can't hold a great deal of weight, either, so check the one you have before using it, just in case your sub becomes fatigued and uses the bar for extra support.
Standing dog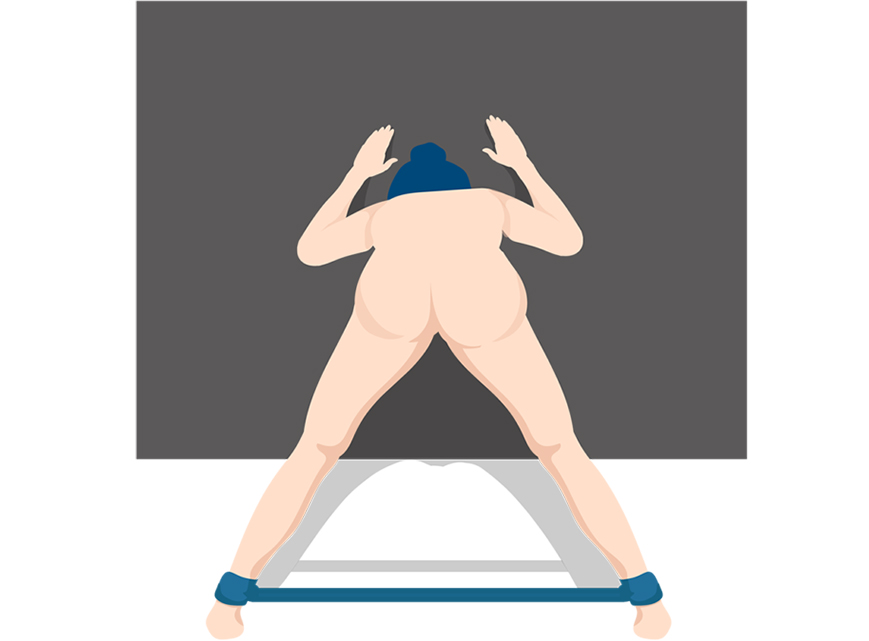 The standing dog position can be somewhat dangerous since the sub needs incredible balance to pull it off. There is also no way for them to brace themselves if they should fall, no matter which direction they are leaning, so you need to be somewhat careful with it, keeping a close eye on your sub, especially if they start to tire out.
For a bit more stability, you can place your sub next to a wall. Having them lean over a bed is also a good idea since they can rest their chest and head on the bed if they need a bit of a break, though they will need enough room to bend their arms at the elbows for this to work.
For this position, you need a spreader bar with both ankle and wrist cuffs attached. Have your sub stand with their feet spread apart wide enough to fit the spreader bar between them. Make sure they are sturdy and comfortable with this width before attaching the spreader bar. An adjustable spreader bar also allows you to alter the width if needed for the most comfortable standing stance.
Once the ankles are secured in the ankle cuffs, have the sub bend over and attach their wrist to the spreader bar as well. Keep in mind that good flexibility is a must for this position for the sub to reach the spreader bar comfortably and maintain this position for the duration of the session.
Double trouble
The double trouble spreader bar position requires two spreader bars, so you'll need these on hand before you begin. It's a fun position since it allows the sub to move around and change positions while remaining bound enough to maintain their vulnerability.
Attach the spreader bars separately, one binding the wrists together in the front and the other between the ankles. Once the sub is subdued, they can walk around or sit down. They can also lay in a variety of positions, so there is a great deal you can accomplish while the sub is bound with the spreader bars in this way.
As well as giving the sub a bit more freedom to move around, this position has the added benefit of less risk. The arms and legs can be moved to maintain blood flow, so the spreader bars can be worn for much longer than some other bound positions. You can also try several sexual positions using all of your sub's orifices for a more tantalizing and entertaining session for you both.
Leapfrog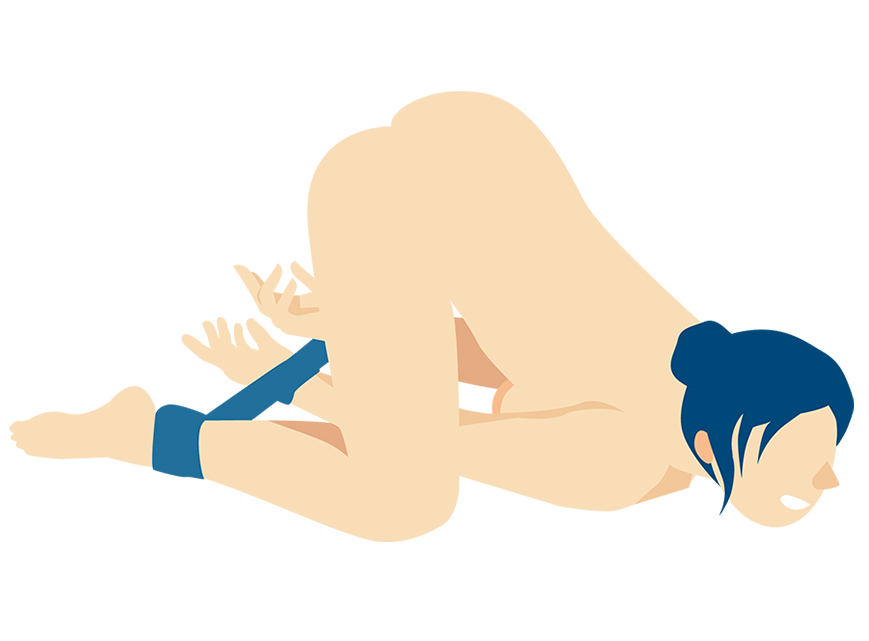 The leapfrog position is similar to the standing dog position in the way the sub is bound, though they end up on their knees instead of trying to stay balanced on their feet while you play with them. For this position, secure the cuffs to the wrists and ankles. Have the sub kneel, then attach the spreader bar to the ankle cuffs.
The sub will then need to reach between their legs at the front so you can secure their wrists to the spreader bar between their ankles. If they are having trouble reaching the spreader bar comfortably, you can use some type of tether to reduce the distance they have to stretch without altering the position too much. They will end up on their knees with their face on the ground.
The leapfrog position will place all the sub's weight on their knees, sternum, and face, so it's best to use pillows or a bed beneath them to increase their comfort and help them maintain the position for longer periods. Be sure that the sub can breathe easily and is as comfortable as possible.
This is one of the most popular spreader bar sex positions because the bound partner is completely vulnerable and on display at all times. The vagina and anus are revealed for you to access easily for intercourse or the use of any of the sex toys in your arsenal. When placed on a comfortable surface, this position doesn't cause any pain or discomfort for the sub, so they can maintain this position longer than some of the others.
Flat on belly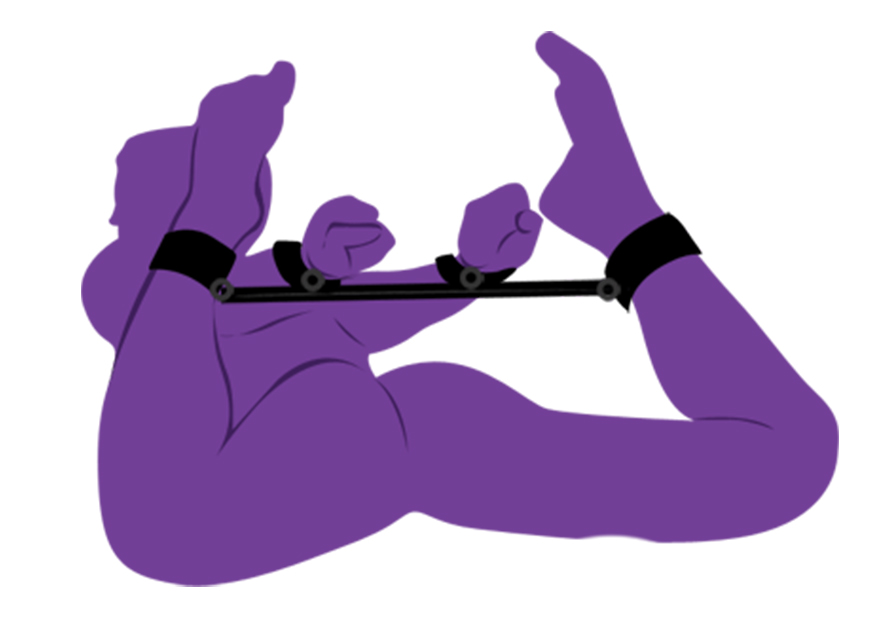 The right spreader bar is needed for the flat on belly position since the ankles and wrists need to be bound to it at the same time. It also takes some flexibility since your limbs will be connected at the back, so some stretching may be needed before your sub gets into position to be sure they can do so comfortably.
To start, consider where the sub will be positioned since they will be laying on their stomach for the duration of the pose. You may want to lay them on a soft surface, like some pillows or a bed.
Once you've got them where you want them, have the sub lay down on their stomach. Put the ankle and wrist cuffs on them and then attach the ankle cuffs to the spreader bar. The sub then needs to bend their knees and reach their arms behind them while you attach the wrists to the bar between the ankles.
If your sub finds this position too uncomfortable or painful, you don't have to give up this position completely. You can use a tether to attach the wrists to the spreader bar, giving the bound person a bit more room between their wrists and ankles. You can also use a separate spreader bar to secure the wrists behind the sub's back rather than attaching the wrists and ankles to the same bar.
Locked in cage
Whether you're engaging in pet play or just want to lock your sub up for a while, you can try combining a spreader bar with the best BDSM cage. There are a variety of sizes to choose from, so you can get the perfect cage to match the type of play you're interested in.
For this spreader bar position, you can get your sub's ankles secured to the spreader bar and then have them get into the cage. You can also put them in the cage first and then slide the spreader bar through the bars of the cage, though this may make it tricky to secure the bar in place, leaving this task up to your sub.
Once your sub is positioned how you like them, you can use other toys, like additional spreader bars, handcuffs, collars, and leashes, to put them in the exact position you want them in for the duration of their time in the cage. You can also give them a bit more freedom if you're feeling somewhat generous.
Some cages make movement difficult, so be sure to check on your sub regularly to be sure they are not losing circulation to any of their body parts, especially if they are in a position that severely limits their movements.
Door use
A door is a good way to punish your sub, keeping them exactly where you want them until you're ready to have some fun with them. You don't need to use an actual door, either, though you do need some sort of anchor point above the sub to maintain the prone position. A ceiling hook or beam or a closet rod will work, though they don't offer the same leaning point that a door has, so your sub will need to maintain their balance on their own.
For this position, you don't need the ankle cuffs unless you're going to put them to use later. Wrist cuffs are a must, though, so secure them onto your partner's wrists. You'll also need to attach a rope or strap to the door on one side, with the other end coming over the closed door.
Place your sub on their knees in front of the closed door and secure his hands to the rope hanging down. Leave some slack until you get the spreader bar in place over the arms and beneath the chin. You can secure the spreader bar in place using a collar. Then hoist the wrists up high until the sub's head is forced back as much as you like without causing the sub any pain.
Though this is enough to keep the sub in place, you can add extra restraints on the legs if needed. For instance, you can tie the legs to the thighs. Men can also have their balls tied to their ankles using a second spreader bar.
Squatted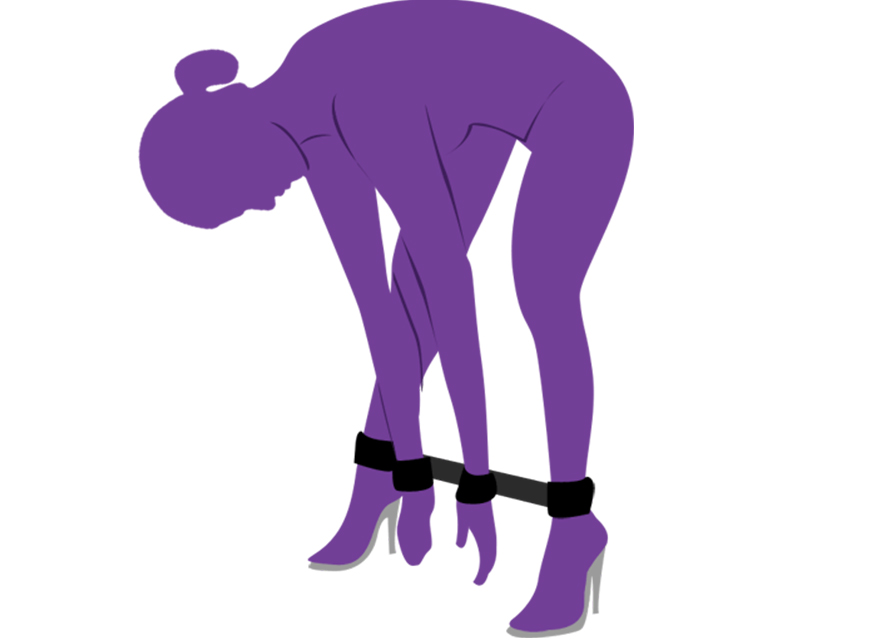 The squatted position is one of the high-stress spreader bar positions, so it shouldn't be used for long sessions or you could risk seriously hurting your bound partner. For this position, you'll need to place the spreader bar vertically, attaching the wrists to one end and the ankles to the other.
If the bound person is male, you can even tie his balls to the middle of the spreader bar using the center eye hook. The final result should have your sub slightly hunched, with bent knees. A more difficult variation has the ankles secured to one end but the wrists and balls swapped, so the balls are attached to the other end of the spreader bar and the wrists secured to the middle hook.
You can also add other gear to this spreader bar position. These can include gags, collars, butt plugs, and nipple clamps. The Basics Collar with Nipple Clamps is a budget-friendly option that combines a Velcro restraint collar and adjustable crocodile clip nipple clamps with chains in between.
On all fours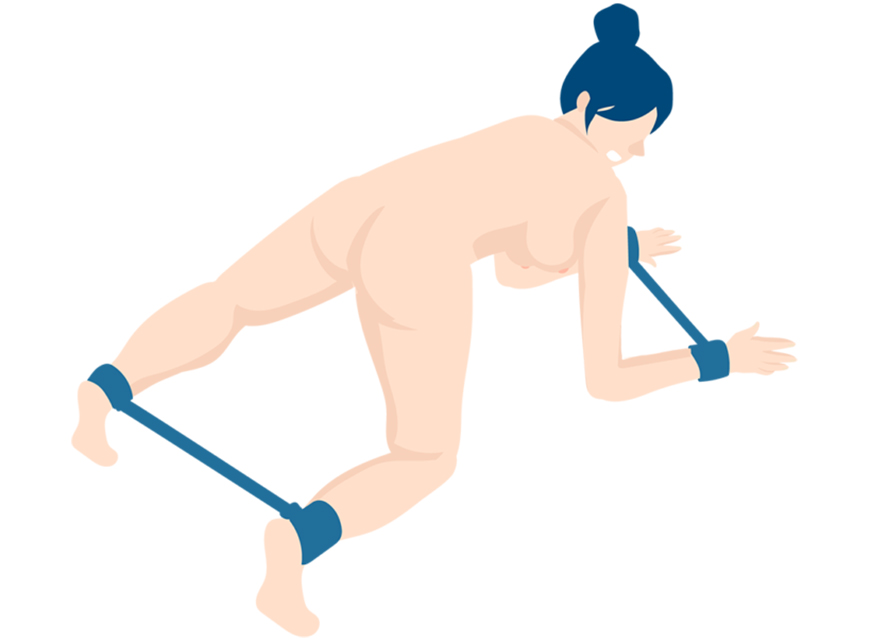 The on all fours position is another fun one that places your sub on their front, though this time they are on their hands and knees. When done right, you have full access to your sub's backside and what's between their legs. Keep in mind that you need two spreader bars for this position. You also may want to have some pillows, a sex wedge, or some other comfy support object to put beneath your bound partner.
For this position, secure cuffs to the ankles and wrists. Then use a spreader bar between the ankles and another one between the wrists. If you have adjustable spreader bars, you can use the lowest spread setting to reduce some of the strain on the sub, increasing their comfort while still maintaining the bound position.
When the spreader bars are in place, the sub can lay flat on their stomach with their arms above their head or positioned on their hands and knees. You can also shift their position however you like for the type of intercourse you have in mind. Your bound partner likely won't be able to hold the hands and knees position for too long, so a soft surface beneath them and frequent breaks will add to their enjoyment.
Final Thoughts
There are a ton of different sex positions you can try out with your partner, though you may get bored with the usual routine. Adding toys and other sexual aids can help spice things up. Whether you're just looking for some new experiences or willing to experiment with some BDSM play, there are several options available.
The above spreader bar positions are not necessarily for everyone and some of them are a bit more advanced for the bound person, so be sure to take things slow and communicate clearly with each other for the most enjoyable experience possible. Start with easy positions and work your way to the trickier options that you're comfortable with to bring new life to your bedroom activities.