Clamps, cuffs, and ropes usually come to mind whenever you think about bondage play. Interestingly, there are many other playthings like bondage tape to explore. Made of sleek PVC material, this type of tape opens up a wide range of bondage possibilities and is easy to use.
Even though you don't need the knowledge of complex knots to use bondage tape, using the restraint is not very straightforward. Learning how to use bondage tape involves understanding the necessary safety procedures and the various bondage ideas you can explore using the restraint. 
Whether you're looking to ease yourself into the BDSM lifestyle or you're a seasoned bondage player, using bondage tape takes your experience to a higher, more exciting level. Read on as we explore the world of bondage tape in this article. 
What Is Bondage Tape?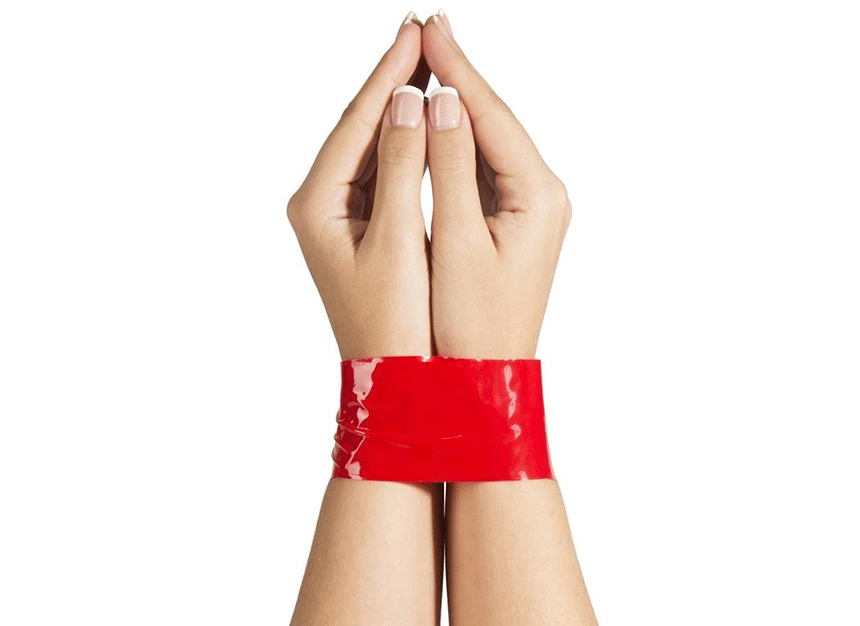 If you didn't already know, bondage tape is nothing like your everyday duct tape because it has no glue and it only sticks to itself. The tape is a thin strip/layer of PVC that you can wrap on your skin or hair without any fear of pulling out your hair or hurting your skin. It typically comes in a wide range of colors that set it apart from duct tape. 
Additionally, bondage tape is a cheap way to have some restraint fun. 
Is it better than rope?
Is bondage tape better than rope? Yes, based on certain factors we're going to discuss. Even though both restraint materials largely have distinct features, that doesn't stop us from picking a better option. Firstly, rope requires sound knot-tying abilities and a lot of time to be used for bondage play. Bondage tape, on the other hand, doesn't need you to learn any special skill to use it. 
Secondly, bondage tape is softer and friendlier to the body. Except you have a fetish for the harshness of rope, the tape's softer nature is a plus for comfort. Thirdly, bondage tape is safer to use than rope which is perhaps the most important factor as far as we're concerned. In case of a safety concern, you can cut off the tape more easily and quickly than rope. 
Overall, bondage tape just feels like a simpler, easier, and safer restraint tool than rope.
Is it reusable?
Yes, bondage tape is reusable. However, we don't recommend using the tape a second time because it tends to get dirty and sticky after the first play. 
Thankfully, the restraint tool is not expensive to replace. For less than $10, you can buy a high-quality model like the Lovehoney Black Bondage Tape which is comfortable to wear and remove. With 20 meters of tape per roll, you get to create as many restraints as possible.
Taped Bondage Safety
Like other restraint materials, bondage tape has its own safety rules. Below, we'll provide you with bondage tape tips that can ensure your safety: 
Get scissors
You should never play with bondage tape without having a pair of scissors within your reach. You never can tell when a restraint becomes too uncomfortable or unsafe for your partner. With the scissors around, you can easily cut the tape off and bring your partner to safety.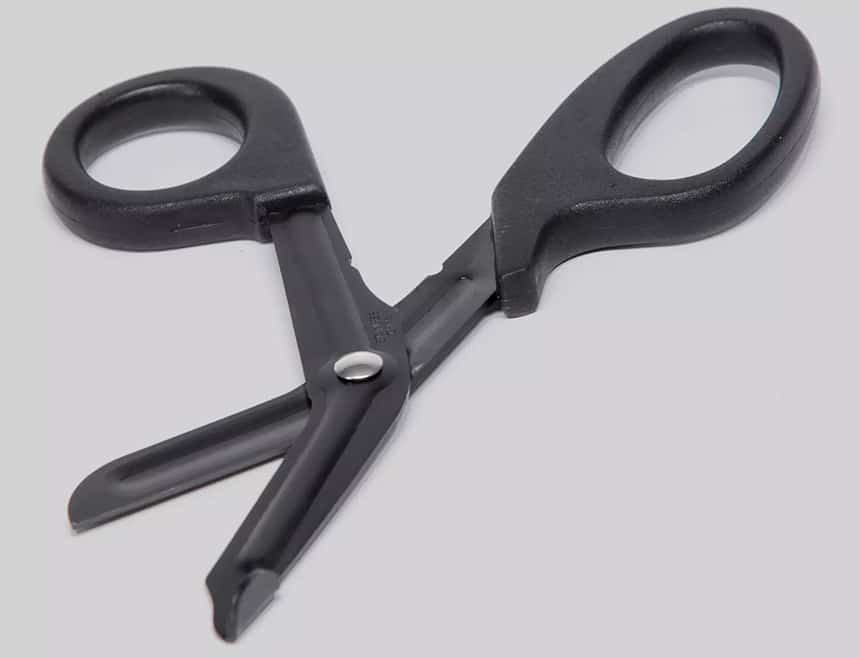 According to several positive reviews, the Ouch! Bondage Safety Scissors seem like the right option to cut off bondage tape with its blunt end. Featuring stainless steel blades with serrated edges, the scissors cut through tape easily.
No numbness
If you've ever tied any part of your body, then you'll be familiar with how numbing the tie can be. Bondage tape can also numb any part of your body and this condition signals a tight restraint that interrupts your blood flow. Hence, if your partner feels numb after tape use, get it off them immediately. 
Keep partner close
You should never tie your partner up with bondage tape and leave them unattended or you'll be jeopardising their safety. When you're with them, you can easily know when they're in trouble and rescue them. To make things easier, choose a safe word that can help your partner tell you it's time to get the restraint off their body. 
Leave breathing hole
If your bondage play involves gagging your partner with the bondage tape, you should leave a breathing hole for them and ensure that their nasal passages are clear to keep them safe. The last thing you want is your partner getting hurt from erotic asphyxiation. Trusted Source How safe is BDSM? A literature review on fatal outcome in BDSM play | SpringerLink A noteworthy number of people are interested in BDSM (bondage and discipline, dominance and submission, sadism, and masochism). Fatal outcomes while partic link.springer.com
Bondage Tape Ideas 
As we hinted earlier, there are several bondage tape ideas to explore and we'll be talking about them below: 
Pony play
If you didn't know, pony play is the kind of BDSM role play where the submissive is outfitted like a horse, and the dominant controls their movement.
Whether you're playing cart ponies or riding ponies, you can plaster bondage tape over your partner's face and create an elaborate harness out of the tape. You can then use the harness to restrict your partner's movement as you control their actions. 
Hostage play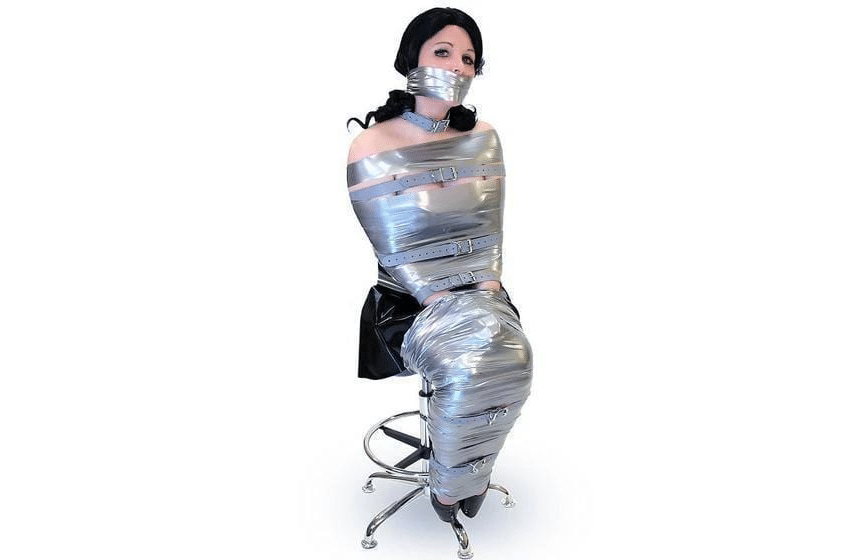 Hostage play gives all the power to the dom and it can be an exciting power play. With bondage tape, you can bind your partner's wrists to your bed, chair, or simply tape their feet or hands together. Regardless of the method you use, ensure that your sub is fully restricted to a true hostage position. 
To make the hostage play even more exciting, you can add more bondage playthings. These tools can include high-quality nipple clamps, safe ropes for bondage, well-designed anal hooks, etc.
Taped ankles
Another taped bondage idea is taping your partner's ankles together. You don't need to tape their ankles beside each other. Rather, move one of their feet behind or in front so that the bones aren't pressing directly against each other. This technique ensures that your partner is not subjected to unnecessary discomfort.
Taped wrists
Away from taping your partner's ankles, you can tape their wrists too. You're probably familiar with wrist-binding already, only that this time, you're using a bondage tape. That means no chaffing or pinching! Unlike the ankles, you'll need to apply a few more layers of tape on your partner's wrists because it's easier to wriggle out of the binding. 
Instead of the classic binding at the front, you can opt to bind your sub's wrists behind their back so that they can't easily get rid of the restraint. 
Taped clothes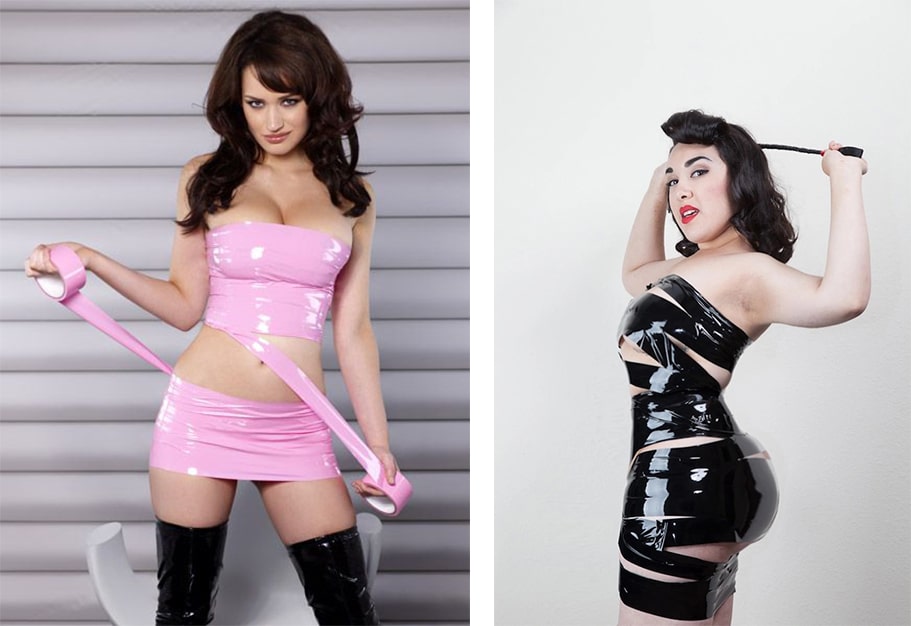 You'll probably be surprised by this but you can use bondage tape to create clothes. Whether it's a skimpy bondage bikini, a figure-hugging skirt, a bra, or stockings, the tape can do as you please. Simply wrap the tape around your partner's body to create the clothes on them. If not that the tape can get really hot, you can even wear it in public. 
Alternatively, you can use the tape above your partner's regular clothes depending on your preference. Trust us, it all adds to the excitement. 
Taped genitalia
Don't be surprised, you can use bondage tape on your partner's genital too. However, we don't recommend using it on bare skin because the sticky part can glue. You should only wrap the tape over your partner's genital through their panties.
Final Thoughts
Bondage play can provide a lot of excitement and even improve your mental health Trusted Source 50 shades of HEALTH: The surprising benefits of kinky sex | Daily Mail Online BDSM is a well-known sexual practice that could also be good for you. Sex therapists reveal the surprising health benefits including decreasing stress levels and improving mental health. www.dailymail.co.uk . With restraint objects such as bondage tape, there's hardly any limit to bondage play. Not only is the tape safer than most bondage objects, but it's also perfect for several bondage positions. Whether you're taping your partner's wrists or you're binding their ankles, there's no limit to bondage tape positions. 
As our bondage tape tutorial has established, learning how to use bondage tape is not complicated. Simply get acquainted with the safety procedures and practice any position you find exciting.