In today's sex positive culture, we are finding more acceptance to explore our kinks and fetishes. From a common fetish like a foot fetish to the more taboo such as scat fetish, people are feeling more freedom than ever to embrace their sexual desires. If you didn't know, scat fetish, also known as coprophilia, is the feeling of sexual arousal and pleasure involving defecation and feces. And you'll be surprised, there are many ways to explore scat kink.
While some scat enthusiasts are aroused by defecating on their partners, others are just excited by watching people make in their pants or on someone else. In some cases, scat players will rub feces all over their bodies, and may even want to consume it.
In order to properly guide one through the complexities of a scat fetish, it's important to understand the different factors that may cause people to develop a fecal fetish. If you've been thinking about trying it out, trust us to make it seamless and safe for you and your partner. We are here to be your guide on all things scat.
How Does a Scat Fetish Develop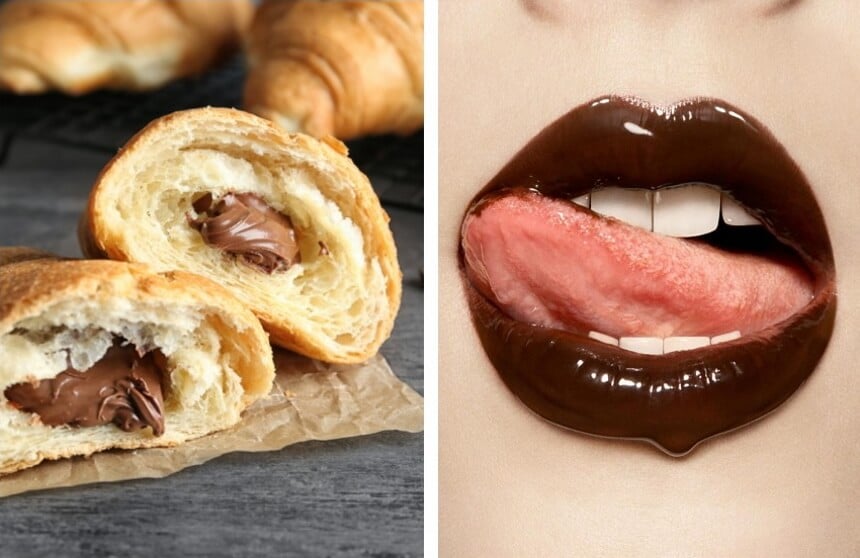 If you're reading this article you may be asking yourself: why do people have scat fetishes? Of course, people don't just wake up one morning and say "I'm turned on by poop", there are actually many factors that may trigger a scat fetish. Below, we'll discuss some of those factors to better your understanding:
Childhood events
Interestingly, a scat fetish can develop as a result of childhood events.  Children are naturally curious and growing up, many are taught that defecating is a 'dirty' activity that can't be explored and must be kept private. Throughout childhood we are taught the forbidden qualities that come along with defecating: don't talk about it, don't look at it, and don't touch it.
Naturally, curiosity of the forbidden leads some children to subconsciously have an increased interest in feces. Even if they don't act on their thoughts as children, they have all the freedom in the world to explore them when they become adults. In adulthood they may even realize that they have a scat fetish and are open to exploring it with other people.
BDSM experiments
You probably know that there are various exercises and scenes that can be explored in BDSM. People who are new to BDSM play typically do experiments to determine the activities that they fancy most. These experiments might trigger some interest in scat play.
After all, there's hardly any BDSM play more dominant than forcing your submissive to smell, touch, or even taste your stool—and almost nothing more submissive than allowing it. Interestingly, scat BDSM is not limited in any way, either by gender or by sexual orientation. So, if you have lesbian scat fetish, gay scat fetish, or femdom fetish scat, you're free to explore it.
Forbidden fruit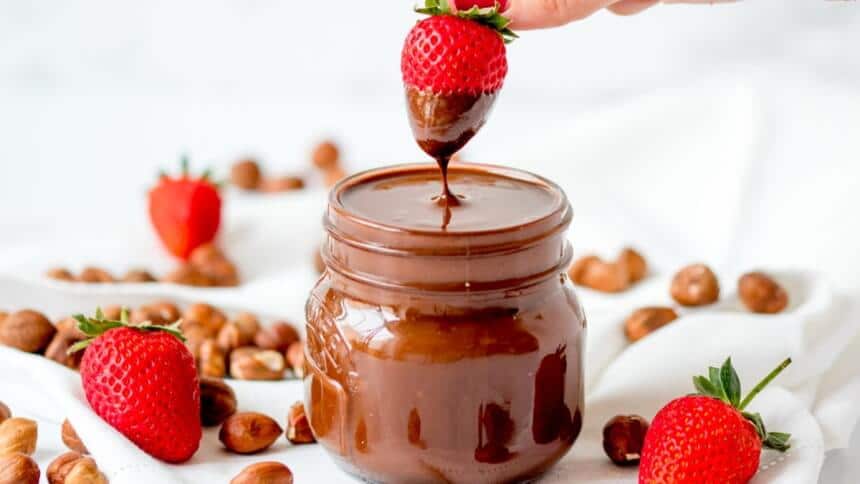 You don't even have to be told that touching or tasting stool is taboo. However, it is not uncommon for some people to get aroused at the idea of the forbidden. Breaking the rules can cause people to feel a thrill or a rush of adrenaline. In scat play, eating the forbidden fruit can create a powerful erotic feeling like they've never had before.
Is it common scat fetish?
Frankly, scat fetish is far from being the most popular fetish. When you ask people about their fetishes, you get the sense that scat fetish is not common. A study of 164 males in Finland Trusted Source Sexual behavior and social adaptation among sadomasochistically‐oriented males The present study explored the sexual behavior and social adaptation of a sample of male sadomasochists. www.tandfonline.com also points to the unpopularity of poop fetish. The research shows that 18.2% had engaged in scat play. While 3% practiced poop play as a dominant, 6.1% practiced it as a sub and 9.1% had practiced it as both.
Also, it's worthy to note that scat fetish is neither a gay nor a straight thing. Both groups practice the fetish. In the Finnish study group, 17% of homosexuals and 18% of heterosexuals had tried scat play. Although poop play is not mainstream, it still boasts an online community. For instance, there are dating sites for scat players.
Safety Advice for Scat Play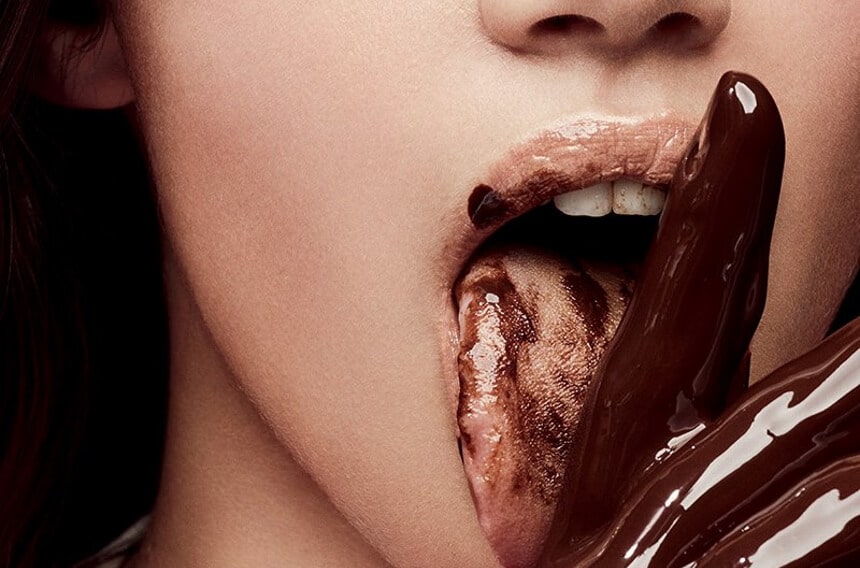 Scat play is nowhere near the safest kinky play. This is unsurprising given that it involves playing with feces. Below, we'll provide you some advice and safety tips to get started in your exploration of scat play:
Talk consent
The first thing you should do before engaging in scat play is to talk with your partner. Discussing kinks and fetishes with your partner is a must before any new exploration. Being open with your partner is important in scat play so both you and your partner know how you will be engaging in scat play, whether it's watching your partner defecate or if you want your partner to defecate on you. An open discussion also allows better understanding of any safety risks.
Get tested
The next thing we recommend before scat play is to get tested. Ensure that you and your partner(s) get tested for sexually transmitted infections (STIs). Also, you should test for hepatitis A & E because they can be transmitted through fecal contact Trusted Source Scat play — Is eating feces safe? I've always been fascinated with scat play. My question is this: is consuming (eating) your partner's feces safe? Or will it make me sick… or worse (is it poisonous)? goaskalice.columbia.edu . The last thing you want is to land yourself in a hospital because you've contracted an avoidable disease, virus, or infection.
Also, anyone who will be consuming feces should consult a doctor and confirm the strength of their immune system. If your immune system is not strong and healthy, it might struggle to fight off some potential infections. Essentially, ensure that you and your partner have the best health possible going into scat play.
Avoid vagina
When playing with feces, never let them touch your vagina or you might find yourself suffering from vaginal infections and Urinary tract infections (UTIs). UTIs are known Trusted Source Urinary tract infections (UTIs) Find out about urinary tract infections (UTIs), including what the symptoms are, when to get medical advice and how they're treated. www.nhs.uk to affect your urinary tract, bladder (cystitis), urethra (urethritis), or kidneys (kidney infection). We strongly advise that you protect your vagina from coming into contact with feces.
If your partner is the one who has a vagina, do your absolute best to avoid touching their vagina with feces. To be on the safer side, you can use plastic wrap to shield the vagina during scat play.
Use gloves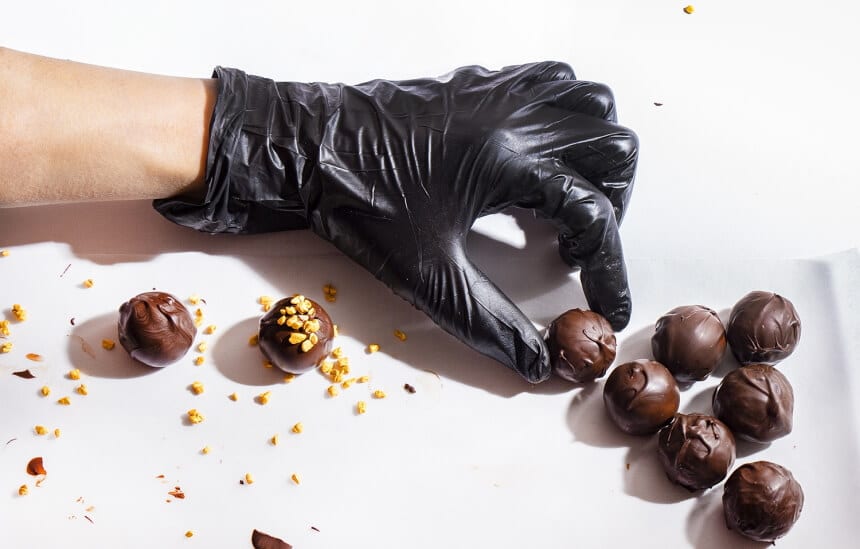 Another safety move for scat play is using latex gloves for protection. With gloves, you can protect your hands and nails from being in direct contact with feces. Hence, you can avoid contact with your eyes and mouth after you're done playing.
Thankfully, there are various high-quality latex gloves on the market that can help out. One of them is the Renegade Rubber Long Latex Fisting Mitten which many users consider to be of high quality. The gloves provide safe and scratch-free use and can also be incorporated into pet play scenarios.
Scat
consumption
Eating feces is unarguably the most extreme part of scat play, as it has significant health risks that are better avoided. While eating feces is generally risky, eating your own feces is safer than eating others. Eating someone else's feces can significantly increase the risk of developing bacterial, parasitic, or viral infections.
However, these health issues can be avoided.
The best way to avoid infections is to ensure there's no direct oral contact with feces.
Alternatively, we recommend the use of dental dams to keep you from ingesting feces. If you want direct oral contact with feces, ensure that everyone involved is healthy and has a strong immune system.
Scat Play Scenarios
Scat play offers a wide range of scenarios for its exploration. To give you and your partner a few ideas on where to start, we have listed some scenarios below:
Rimming
One scenario to ease your way into scat play is rimming—licking someone else's anus. In this situation, your partner might leave the toilet without cleaning up and you rim them clean. You can even add fecal sex to the mix by having sex with your partner while they have feces in their rectum.
Part of a game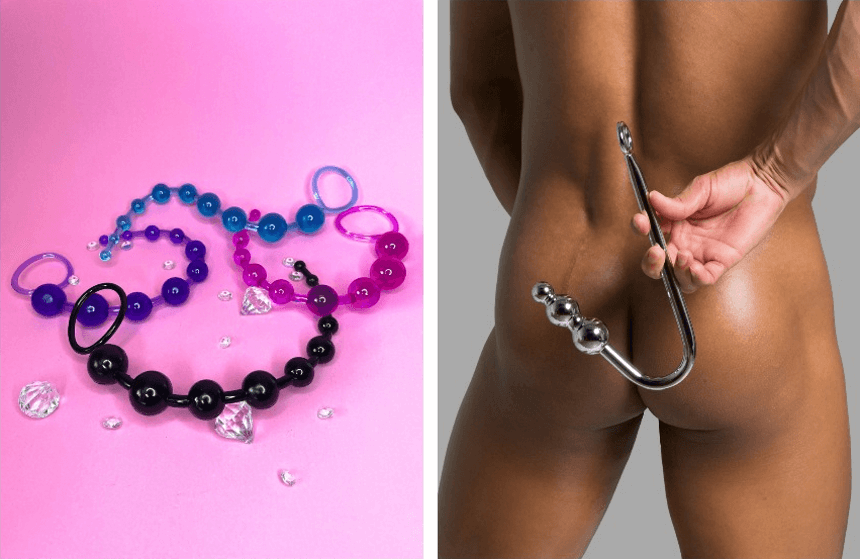 Scat play doesn't even have to be limited to this particular fetish alone, it can be a part of bigger scenarios such as pet play or primal play. The sub can act as an animal while the dom forces the sub to taste their feces or make the sub play around in their own excrement.
Alternatively, scat play can be a part of anal play. In this scenario, you can add a couple of toys to enhance the fun. With an exciting anal hook fitting into your partner's anus nicely or the best anal bead around invading their backdoor, anal play can be a blast. To level up your scat play, after removing the toy from your partner, you can even give the toy a taste.
Explorer
Another way to enjoy scat play is to be an explorer. Before you begin your exploration, we strongly advise that you discuss with your partner so you don't go off-limit and make them uncomfortable. You can sit on your partner's face or ask them to sit on your face while feces are still in the bum. You can even rub stool on their body or ask them to rub it on you.
Facial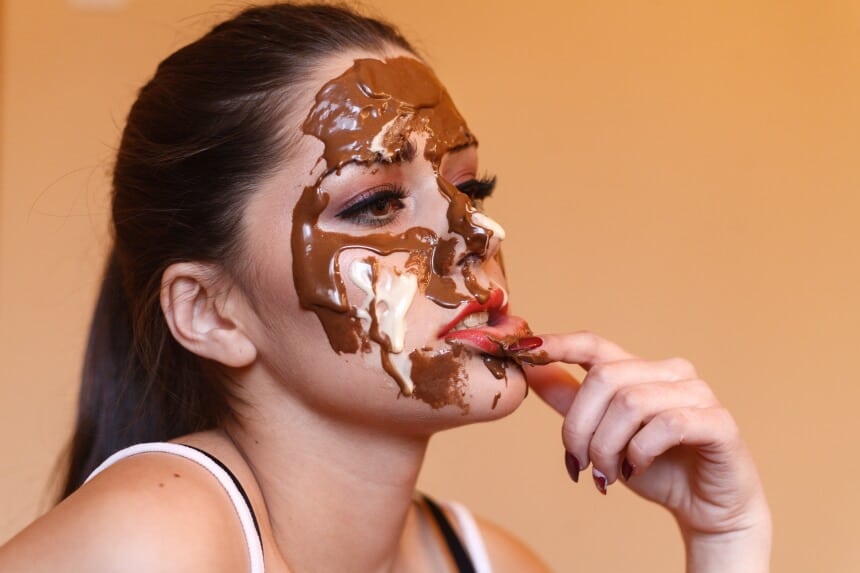 Have you ever had your partner ejaculate on your face? In scat play a facial can mean something different: think of having stool smeared on your face. Apart from feeling the warmth of the feces on your face, you're also extremely exposed to the smell of the waste. However, we advise that you wash your face clean within an hour after play in order to protect your skin, and remember to avoid contact with your eyes during play. 
Silent viewer
Who says you have to touch or eat poop to engage in scat play? A slow introduction we suggest is to watch your partner douche before anal sex. To go even further in exploring your scat kink, you can simply sit on a sex chair like the Bondage Boutique Sex Position Enhancer Chair and watch as your partner poop into a bowl or on the floor. Since the chair has four layers of wide & reinforced elastic and a strong metal frame with squishy foam for your comfort, you have all the time in the world to watch your partner empty their bowels.
If the sub is being made to be the silent viewer, you can stuff their mouth with a high-quality open mouth gag to keep them mute as they watch you defecate. Then later you might even make your sub play in it later on.
Baby bad
The last scenario on our list is the baby bad. It requires you to incorporate a diaper fetish. In the baby bad scenario, the sub isn't allowed to defecate in their diaper the whole day. However, they eventually break and are punished for their disobedience by smearing the stool on their face or making them eat from their soiled diaper.
Aftercare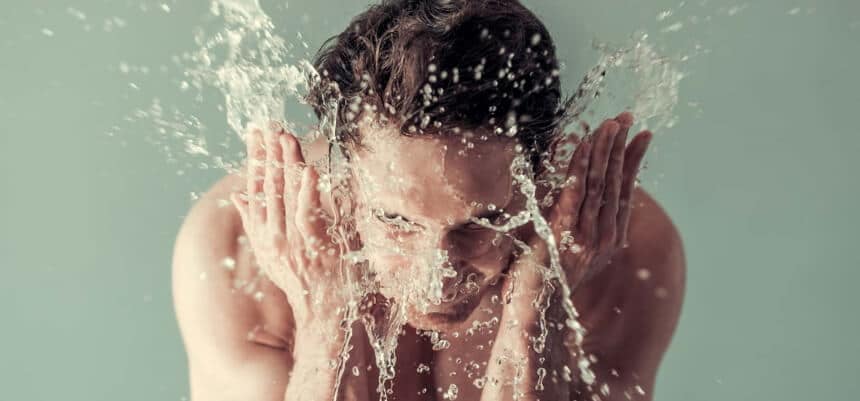 Never make the mistake of ignoring your partner or sub after a scat play, take time to ensure that they are feeling safe and content afterwards. Below are some tips for scat play aftercare:
Clean up
After you're done playing, shower immediately to ensure no scat remains on your body. Also be sure to wash any soiled bedding and any toys that were used. Cleaning up returns you back to a safe and clean environment. This will allow you to have a clean space for the next time you engage in scat play.
Doctor check
If you have consumed feces and feel unwell in the next two days, chances are the ingestion is having adverse effects on you. In this situation, pay an immediate visit to the hospital and consult with a doctor. Regardless of how embarrassing it might be, don't hide the truth when you're asked questions. When seeking medical advice it is important to provide your doctor with as much information as possible in order to be properly treated for any health concerns or conditions relating to the consumption of scat.
Final Thoughts
No doubt, some folks—heck many folks—may find scat play quite difficult to understand. However, scat fetish is a real kink and many people find it sexually satisfying. As you now know, scat fetish does have some health concerns that are important to consider before engaging in play. However, we've provided you with very important safety tips that can save you from an embarrassing visit to the doctor. 
When starting to explore scat play, remember to talk with your partner. Use some of the above scenarios to slowly introduce your partner to scat play and start to incorporate it into other forms of play. Through exploring you will find what kind of scat play works for you and your partner.