BDSM involves various exciting scenarios but none of them (likely) betters the sight of a woman with a spanking paddle in her hand as she dominates her bound submissive partner. Oh yes, that's Femdom! Trust us, with an excellent level of desire and a willing partner, that could be you too.
However, Femdom can't be enjoyed in a rigid relationship. Essentially, you'll need to learn several Femdom ideas that you can explore with your partner to keep things interesting and fun. Besides having the right gear, you must prepare yourself to be the ideal female dominant for your partner. Although Femdom involves activities that may hurt your partner during a scene, the hurt shouldn't turn to harm in the long run. Therefore, it's important to perform Femdom activities safely. In this article, we'll discuss numerous femdom scene ideas and other Femdom tips that can make your experience whole.
Femdom Explained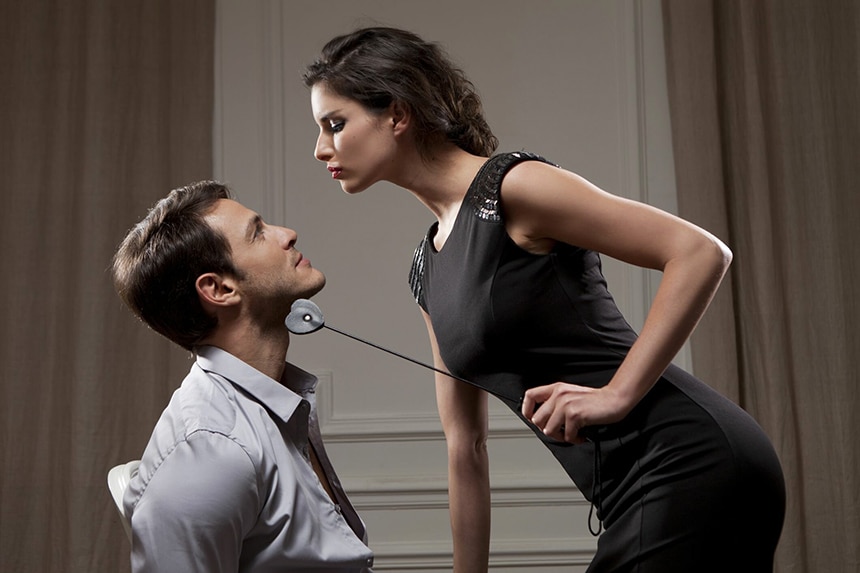 Yes, we know that we didn't give you enough information about femdom up there but we'll make things right below by telling you what you need to know about femdom and how to be one.
What is gentle Femdom?
As you might have easily guessed, femdom is an acronym that means Female Dominance. The term is commonly used in a BDSM relationship where the female has absolute dominance over her partner—a submissive who must adhere to everything she says.
Furthermore, a femdom relationship is a dominant woman and a submissive woman giving the middle finger to a patriarchal culture that sees the submission of women as the norm according to The Link Newspaper. Trusted Source Sex Editorial: Sexually Submissive Men Have Something to Say What is lacking about the mainstream depictions of BDSM is variety. thelinknewspaper.ca
Besides, Femdom can be anything the involved parties want it to be. For example, it can be about satisfying their wildest fantasy or fetish in sexual ways. Also, it can be about punishing a sub who has violated a rule. Essentially, Femdom can range from sensual to really severe activities depending on the agreement of the participating parties.
How to be a Femdom
It's not enough to decide that you want femdom to be your thing, you need to know how to be a femdom. This involves the type of behavior and gear to put on so that you can give your sub one hell of a show.
As a dominant, you can't be caught "slacking off"; you must let your sub know who the boss is by introducing various plays. These plays can include pegging, strap-on play, bondage, spanking, humiliation, masturbation, any other action that can be perverted to suit your fetish.
Make no mistake about this: you need the right costume to look the part. There are various costume items out there from which you can make your choices. Your gear can include leather, PVC, stilettos, rubber, catsuits, thigh-high boots, basques, seamed stockings.
For impact play, equipment such as spatulas, garden canes, rulers, spoons, flip flops, dowels, cat toys, fly swatters, and hairbrushes can come in handy.
Femdom Tips
Getting Femdom wrong can deny you and your partner satisfying results. Luckily for you, we have just the right tips to help you get a fulfilling experience:
1. Choose your role
Before anything, you will need to choose your role. Choosing your role requires you to plan a scene or scenes as the case may be in exploring your femdom. As we've mentioned a few times in this article, there are several ideas out there you can use to choose a befitting role. Your role may be about whipping your disobedience sub or about grooming your 'puppy' partner in pet play.
Regardless of the role you end up choosing, it should satisfy both you and your partner's fetish, kink, or fantasy. By choosing a role, you can also determine the right equipment for the scene. If you're planning to keep your sub in bondage, a dungeon is a perfect place to do so. Also, if you're doing a medical doctor and patient scenario, you want to dress as a doctor.
Besides making the activity realistic, using the right tools and environment adds to the excitement. Basically, there's no one way to be a female dom, so you have the freedom to explore different female domination ideas and stick with those that tickle your fancy.
2. Get the comfortable gear
We bet that you can agree with us that there's a huge difference between a female dom clad in a casual dress and another wearing a catsuit. While one gives the sense of a regular woman, the other signals a dominant woman who's ready to turn up all the fun.
Of course, you can wear anything you want when dominating your partner but the right appearance goes a long way in signaling to your sub who the boss is and boosting your femdom moves. So, we advise that you wear whatever makes you feel in control.
Moreover, black can be an ideal color for your outfit but that doesn't mean you can't try red and other colors. And the outfit can be made from latex, leather, or any other material that you find comfortable and won't distract you from the scene.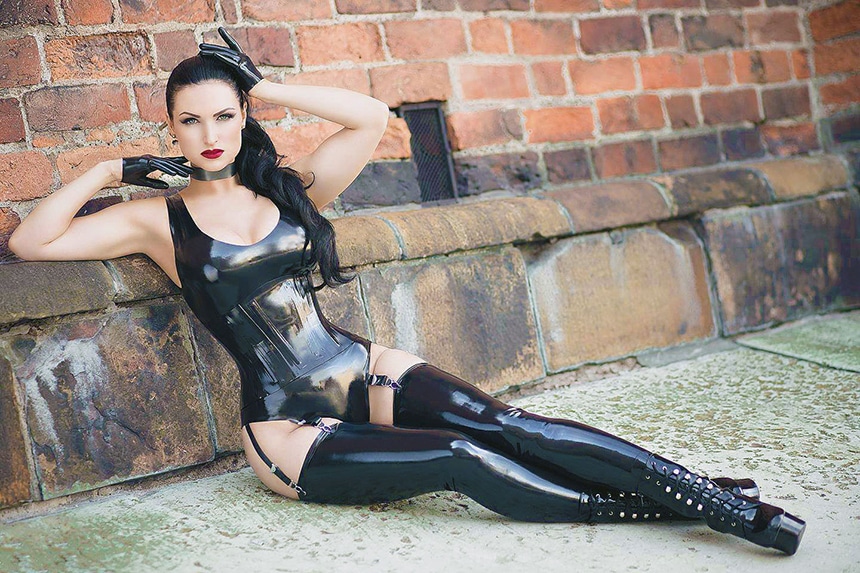 Besides, femdom costume ideas are not limited to those we gave earlier. You can also consider a pencil skirt, blazer, bodycon dress, button-down shirt, lingerie, stockings or fishnet, corset, and bodysuit.
3. Ask advice
There's a popular saying that goes thus: Experience is the best teacher. This saying has been proven to be right in various areas of life. For example, a beginner golfer is better placed to snatch victory over someone who's never played golf in their life. Although the beginner is believed to have limited abilities, they still have more experience than a complete novice.
So, it won't be a bad thing if you ask more experienced doms to give you femdom advice. Frankly, that won't hurt because the more experienced doms are better placed to offer femdom play ideas.
4. Always enjoy
Always remember that you're in control here and no one else is. So, you would be doing yourself a huge disservice if you couldn't do things that bring you only comfort. Specifically, don't try any scene or punishment idea that won't be comfortable for you. After all, there are many femdom play ideas you can choose from.
If you do anything uncomfortable, you may destroy the joy of being a dom. So, why not sit back, relax, and enjoy the experience of your dominant power to the fullest?
Femdom Scene Ideas 
We won't get tired of saying this: there are plenty of femdom scene ideas from which you can explore with your partner. These ideas range from sensual to the most extreme, so it's up to you to pick the one(s) that work(s) for you. Below, we will discuss our femdom list of scene ideas:
1. Cuckolding
What better way to assert your dominance over your partner than showing them that you can sleep with other people while they're forced to watch? Frankly, there are not many better ways to do that than cuckolding—the first on our list of femdom wife ideas.
Besides the fact that cuckolding can humiliate your sub—weirdly enough—it can also satisfy his/her fantasy.
Oh yes, some men find a weird satisfaction in seeing their partner being screwed by another man (bull). Some women in a lesbian relationship can also get turned on by the sight of watching a stranger screw their partner.
Moreover, there are various femdom cuckold ideas you can explore. You can up the ante by not letting your partner watch. Trust us, the thought of not knowing what is being done to you by a stranger can drive your partner crazy.
However, if you and your partner are not ready to open your relationship, you can opt for light femdom. Light cuckolding involves incorporating dirty talk into the play and pretending to text another guy while your partner watches. Also, you can mention some of your mutual friends who you think would make better lovers than your partner.
Of course, cuckolding should be your fantasy or something you'd like to explore for you to engage in it. Otherwise, you won't enjoy the excitement that comes with it so much.
2. Foot fetish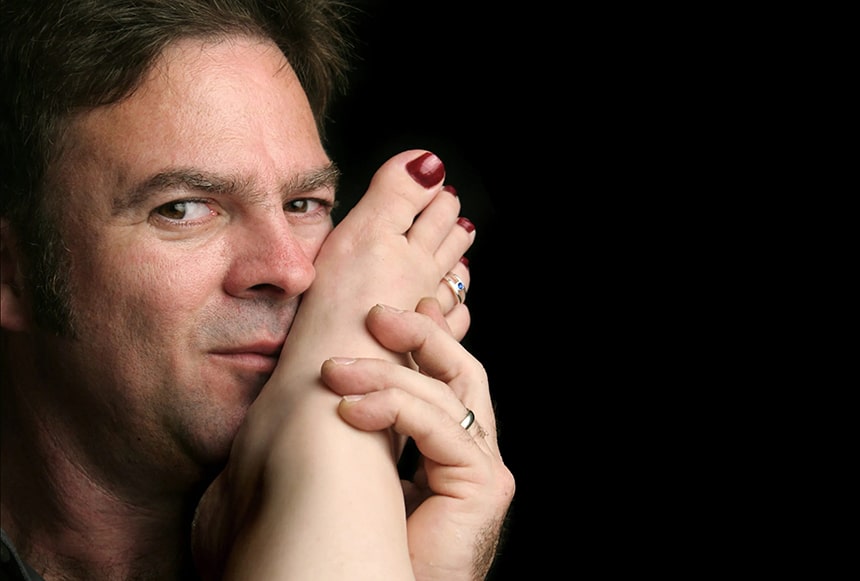 We can boldly argue that there's hardly anything more subservient than a submissive partner licking or kissing the feet of his Dom. The feeling of having your feet licked is out of this world and can heighten your pleasure significantly.
While there are men who have a foot fetish, others don't fancy it. If you want to be more sadistic, you can force your partner to lick your feet if he's among those people who don't like the activity. However, if he does fancy it, dangle your feet at him but don't allow him to touch them. For added effect, you can mock him for having an erection.
3. Spanking school
If you're a big fan of impact play, taking your partner to a spanking school is the perfect way to begin your adventure. Get yourself a well-designed spanking paddle to spank your partner's bare ass. This can be a perfect way to punish him/her for violating one of your most important rules.
Spanking your partner is not enough, ensure that you berate them as you spank them too. Also, twist their arm to stop them from shielding their ass cheeks. Let them know that you'll increase the intensity if they cry out too loud.
After you're done with the spanking session, make them sit somewhere for an hour or more to think about why they had to be punished. You can also do this before spanking them.
4. Public humiliation
Another scene idea for femdom is publicly humiliating your partner. Hit him/her where it hurts the most publicly. Of course, this course of action is not for the faint-hearted. However, it's quite thrilling if you're one of the people who have the nerve. You can force your partner to walk around a public park whilst dressed as a female. Besides that, you can make them wear embarrassing socks.
Ultimately, public humiliation is a great punishment for a rule violation.
5. Orgasm tease
Femdom play gives you the freedom to deny your partner an orgasm at the last minute. Orgasm tease—popularly known as edging—involves stroking his dick and bringing him to the brink of orgasm but refusing him the pleasure of releasing his cum. You can repeat the tease as many times as you want. You can flaunt your boobs at him and gently massage his head to add to the sensation.
Make sure to push him to his limits and make him beg you for his orgasm. By the time you decide to release him from the incessant tease, the orgasm can be mind-blowing!
6. Bondage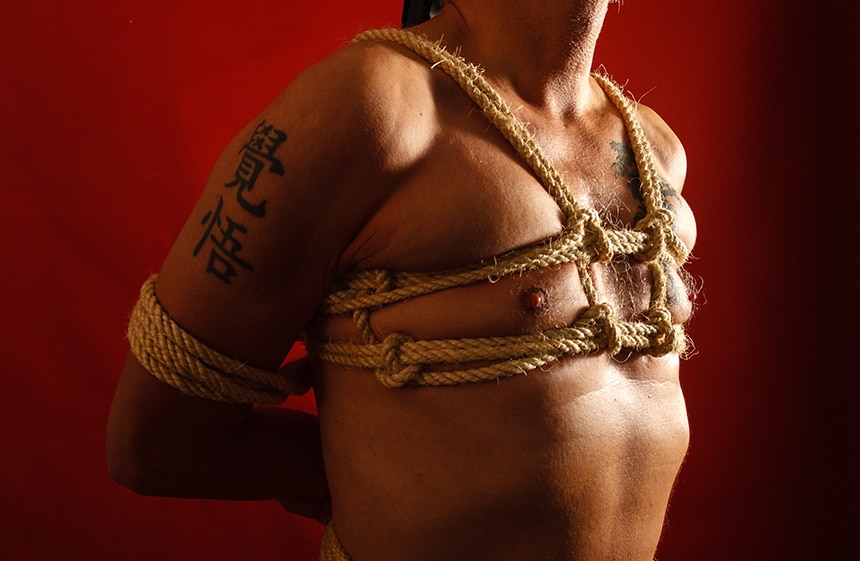 Bondage is exactly what it says. This traditional BDSM idea involves binding your partner as you do everything you want with them. Bondage play can include binding your lover's wrists or ankles with regular handcuffs or tying them to a chair with a rope.
We must note that there's no limit to femdom bondage ideas. Although a dedicated BDSM dungeon is the perfect place for this type of femdom play, you can still transform your bedroom into a wild, sexy dungeon with the right design.
Adding cost-effective equipment such as the BASICS Collar with Nipple Clamps to your bedroom collection can transform your experience greatly. Apart from getting all the functions of a restraint Velcro collar, you'll also get the adjustable nipple clamps that promise a comfortable and customized grip.
Besides collars, nipple clamps, handcuffs, and ropes, there are several more bondage equipment such as gags, blindfolds, ankle spreaders, shackles, etc. The feeling of vulnerability and helplessness can be a huge turn-on for your sub.
7. Slave
The slave play is all about you letting your partner know who's in control. This mostly involves impact play. You can decide to subject your man to embarrassing conditions that leave them vulnerable to you. You can ask them to lick your feet or make them bark like a dog for you.
In slave play, your partner doesn't have to necessarily violate one of your rules before you display your cruelty. You can decide—out of the blues—to whip them just because you think it can make you feel better. Whipping your partner can also be a way to motivate them to always be on their best behavior.
8. Torture chamber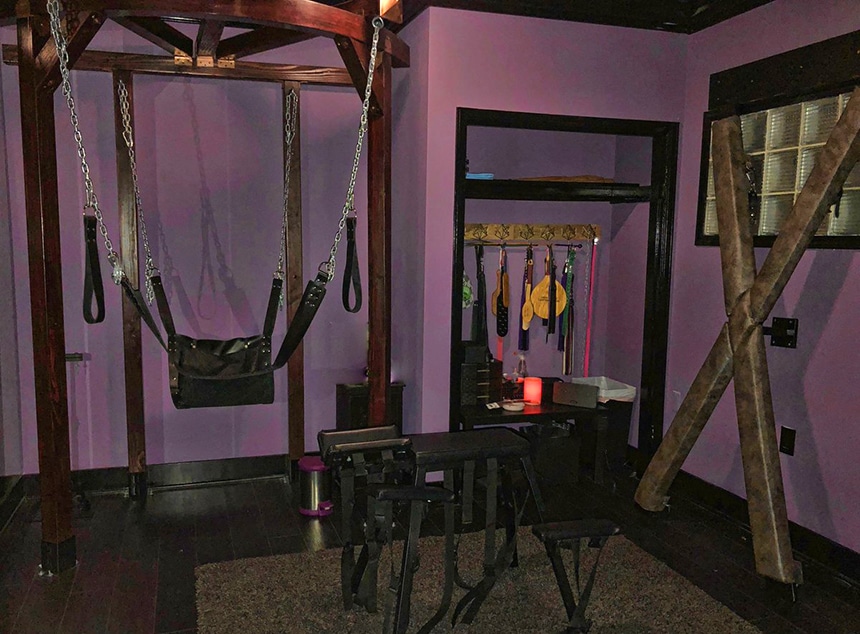 The torture chamber is exactly what the name suggests—a chamber where torture is inflicted. Or simply put, this is a room where severe pain resides. A typical torture chamber for BDSM boasts several torture pieces of equipment that offer you the luxury of trying out various methods to inflict pain on your partner.
Besides, you can opt to pour hot wax on their body but ensure that it's the type that melts at a low temperature to prevent burns (remember that the goal is to inflict temporary pain, not harm). Another option is to tie your partner's hands and whip him. Of course, you must stop the torture once the safeword is mentioned. You can opt for any of the several femdom torture ideas.
9. Sissy play
Sissy play involves submissive men who are treated as a female. This treatment requires these men to behave like a female and/or to be dressed like a female. Since the goal is to humiliate the sub, sissy play is more intense when the man hates to dress like a woman.
If your man is among the men who hate "sissification", dress him up in stockings, frilly underpants, and other woman's clothing to humiliate him. While at it, ensure that you let him know he's more good-looking in his girly image than his manly figure. You can also let him know he appears weak as hell if you're gunning to punish him. If you're not, you can as well compliment him.
10. Teaching manners
How about you teach your sub some manners? You can agree with us that this is an important thing to do because you want him/her to behave properly. For example, your sub shouldn't be heard calling you by name; he/she should be calling you by a special title. Such a title can be My Lady, Goddess, or Mistress. You should make him/her address you by that title for every request.
The manners' lessons do not stop there. Your partner shouldn't be touching themselves without taking permission from you and you should make that clear to them. You can also teach your sub the need to say thank you after every request that you've granted. Also, if he/she breaks one of your rules or messes something up, they must be taught to apologize profusely.
11. Golden shower
It doesn't matter if your partner has had his/her bath for the morning or not, you can decide to give them a golden shower—if that kink works for you. Oh, you don't what a golden shower is? It's a sexual act that involves peeing on your partner. You shouldn't really care if your sub finds the shower disgusting or not. If they find it annoying, the better.
Restrain your partner in your playroom and pee all over them. You can make the urine remain on their body as long as you want. Of course, they would want to clean up as soon as possible but make them earn their release through good behavior.
12. Oral play
Oral play is another femdom scene idea that can enhance your experience. Your oral slave—your partner—should always be ready to go down on you whenever you're horny. However, you shouldn't allow the man the luxury of touching himself. Of course, you will never return the favor because he's entirely at your service.
Besides, it's not compulsory that he eats your pussy, you can wear a strap-on dildo and make him suck it while on his knees. To make the humiliation worse, you can condemn his sucking skills and say the dildo is longer and thicker than his little dick.
13. Pet play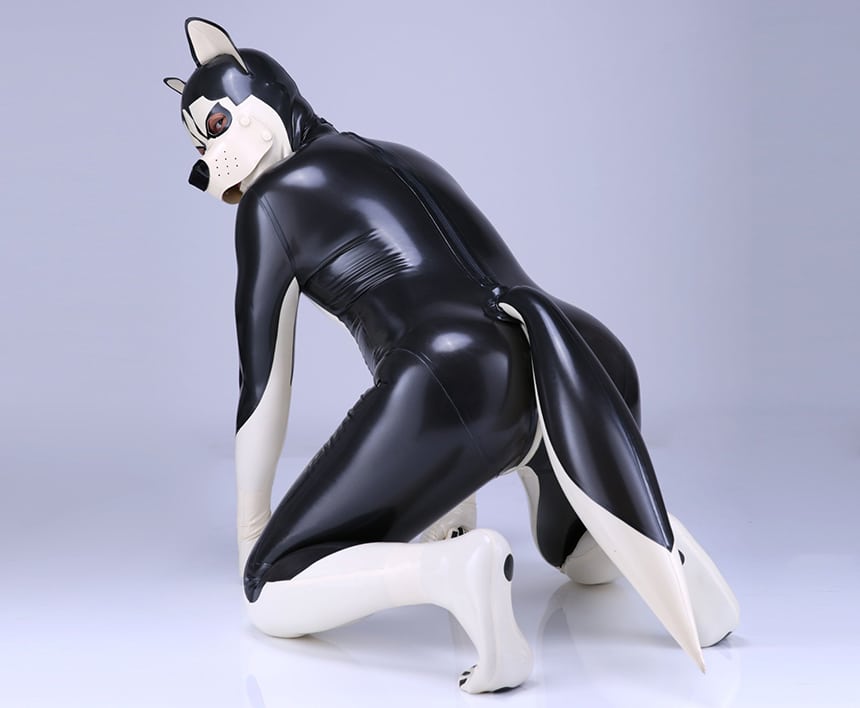 Pet play is becoming more common in the BDSM world every day. In a femdom setting, the sub is required to imitate an animal. As the dom, you can make the animal your pet and groom it.
There are various animal plays that you can make your partner choose. One is pony play but you must be armed with the right gear that includes crops, bits & harnesses, and blinders. You can sit on him and ride him around as he crawls on all fours but make sure he wears knee caps for protection.
If pony play isn't your thing, puppy play is an exciting alternative. You can get your man dressing and acting like a puppy. Make him wear a collar with a lease that allows you to lead him around the house. You can also get him to eat and drink directly from a bowl without using any of his hands.
14. Insults
Hurling insults at your man can be an exciting way to show and establish your dominance. Has he misbehaved? Don't hold back; let him know how disgusted you're by his behavior. There are different names you can use to insult him. You can call him a wimp, a pathetic pussy, or a weakling.
You can even up the ante by writing these insults on his body. Of course, the list is not limited to the insults we've mentioned. So, you should get creative and think of the harshest insults that you can think of.
15. Butt play
Butt play is exactly what you think it is—an activity involving the anus. You can introduce pegging into your femdom affair, allowing you to penetrate your man's butt wearing a strap-on dildo. However, be careful to use lots of lube here to ensure smooth and safe access; you don't want to harm your man.
Apart from penetration, you can introduce butt plugs or anal beads to the play. These toys can even help you stimulate your man's prostrate—a sensitive internal organ—through the anus, delivering extra pleasure to your partner.
Besides, butt play can be a bit humiliating for some men but it can still be pleasurable if your man gets off on the negative feelings he has about this type of activity.
16. Bathroom permission
Bathroom permission is another femdom scene idea that explains itself. Instead of going to the bathroom as he/she wishes, you can make your sub ask for permission to do something. This is quite ideal in 24/7 femdom relationships. We must note that it's not healthy to hold urine in the body for a long time. So, we advise that you allow your man to pee often enough to stay healthy.
17. Choking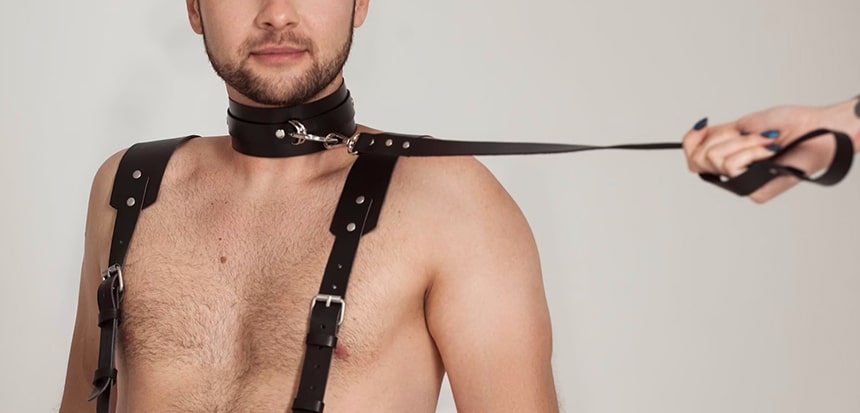 Choking your man can add excitement to the femdom play. With a BDSM collar, you have the right tool that can help you to choke him as you desire. Most collars are adjustable, giving you the chance to get the perfect fit—that's not too loose or too tight. Besides, the choking can be done while the sub crawls on the floor as you ride him.
We must mention that choking is not entirely a safe femdom activity, so restraint is quite important here and you should also anticipate the safeword.
18. Long-Distance
Who says femdom can't be explored over a long distance? Frankly, you can't be available for your partner 24/7. That may be because you have to work overtime or you have to travel for work. Thanks to the advent of a phone, your femdom relationship does not need to suffer as a result of distance.
With your phone, you have just the right tool you need to dominate your sub when you're not together physically. Force him to do some humiliating/embarrassing tasks over the phone. Here, there are several tasks or punishments to explore; you're only limited by your imagination.
19. Electricity
Electricity play involves the use of electricity on your sub's body to generate different sensations. It can be sexual or non-sexual. This type of play requires electrical toys such as TENS units, neon wands, violet wands, etc. Both violet wands and neon wands can help you deploy static electricity to produce a "shocking" feeling on your sub's skin.
On the other hand, TENS units use the electricity within your sub's body to cause involuntary muscular contractions. The feelings these devices create can range from tingling, vibrating, prickling, to buzzing. Electrical play is quite versatile and can be used in various femdom scenes to enhance the excitement.
Although this type of play is fairly safe overall, the electrical devices shouldn't be used near your partner's heart. Also, it shouldn't be used on your sub if they use a pacemaker or any other medical implants. Additionally, a safeword is an important addition to electricity play.
20. Medical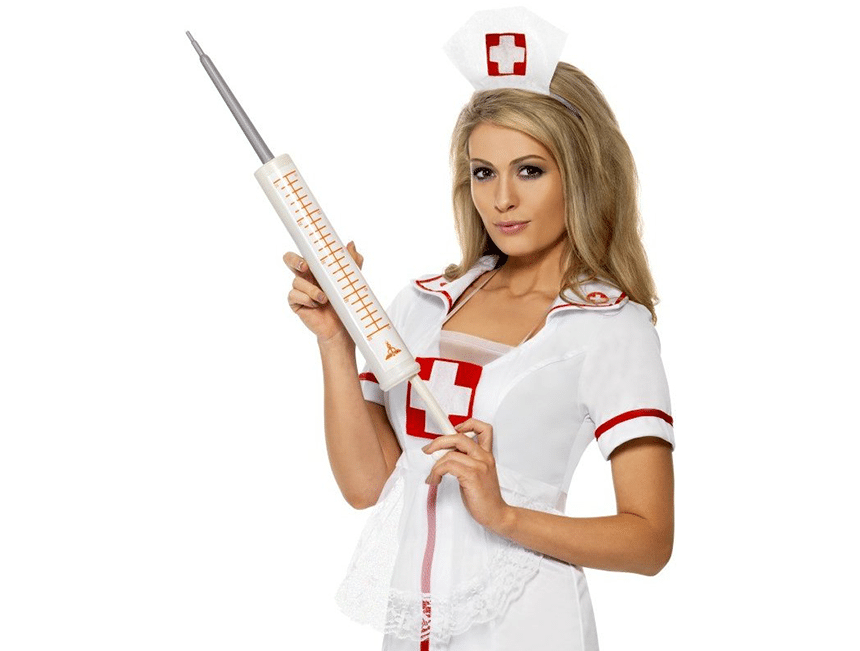 It's time for the sexy medical doctor to save the weak and vulnerable patient. You need to put on a show for this by wearing the right clothing and even having a stethoscope hung around your neck. Make your sub stay still on the bed as you tend to them. You can even bind them to the bed some extra excitement.
Besides, let your partner know that they are in good health because of you and so you deserve to be worshipped by them.
21. Milking
Milking is a pretty intense femdom idea that involves getting your man to cum multiple times in a short time by using a penis pump. Although penis pump is usually used to help men suffering from erectile dysfunction (ED) to maintain an erection ( according to a study Trusted Source Erectile Dysfunction in the Elderly: An Old Widespread Issue with Novel Treatment Perspectives Erectile dysfunction (ED) is one of the most common chronic diseases affecting men and its prevalence increases with aging. It is also the most frequently diagnosed sexual dysfunction in the older male population. www.hindawi.com , ED plagues around 5% of men over 40 years old and around 15% of men over 70 years old), it can be perfect for femdom play.
With a penis pump, you can make your bound man keep his erection while you milk him over and over again. By the time you milk him for the 4th or 5th time, he'll be in full torture.
Femdom Punishment Ideas
Punishment is vital in every bondage relationship without the exception of femdom. You can't have your partner behaving improperly, so the best way to keep them in line is to punish them. And we have for you just the perfect femdom punishment ideas to make your sub see that they've erred and need to pay for their "crime" or "crimes".
1. Cleaning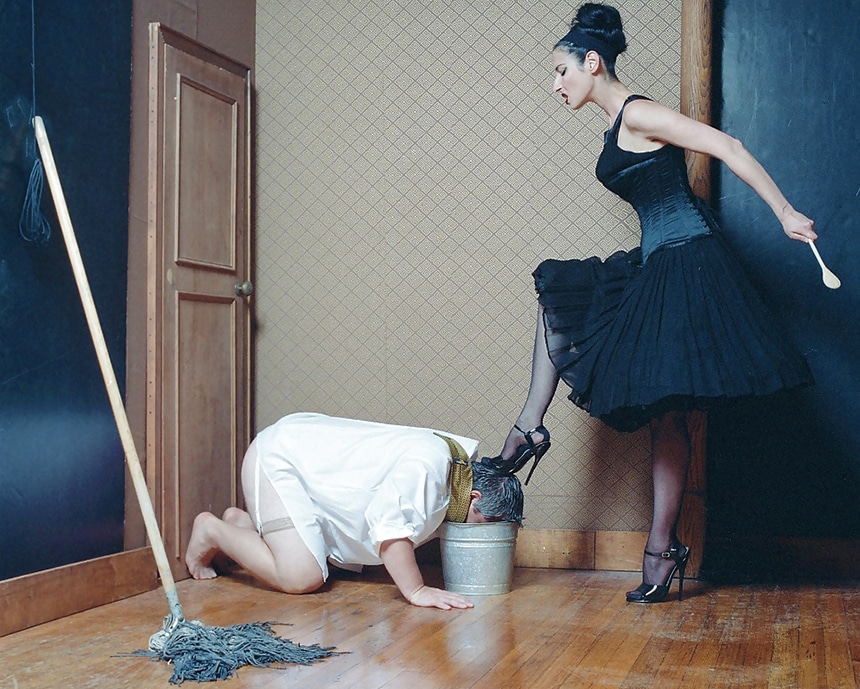 Has your partner refused to clean the house as you've instructed? Don't sweat it; now is the time to make their cleaning session even more complicated. Make a mess on the floor and get him/her to clean it up while cleaning the whole house. You don't know what mess to make? Here's one: you can get your sub to kneel while you climb over them and give them a golden shower and leave them to clean up.
The cleaning punishment is a great way to reassert your dominance and remind your partner that you're in charge.
2. Girly wear
Girly wear punishment is quite similar to sissy play. This punishment is more effective if your partner abhors dressing or behaving like a woman. You can humiliate him. Make him wear woman clothing (a dress, high heels, suspenders, panties, and full-blown stockings) and even apply makeup to enhance the girly look. Get him a mirror and let him see what he looks like.
Don't stop there: get your partner to behave like a woman. Let them know that if their performance does not satisfy you, you're going to extend their stay in the "woman body". While in his woman's clothing, tease him and call him a slut and let him know that you're enjoying his misery. This punishment idea ranks up there amongst the most intense femdom humiliation ideas.
3. Cold shower
A cold shower is another punishment idea that can make your partner know that you mean business. When he has failed to listen to your strict instructions, march him/her to the cold shower and subject them to the tingling sensation that comes with unleashing the cold water.
Of course, you should let your sub know why you're subjecting them to such a cruel fate. And make them promise to be on their best behavior henceforth or they would meet a worse fate next time they break a rule.
4. Chastity belt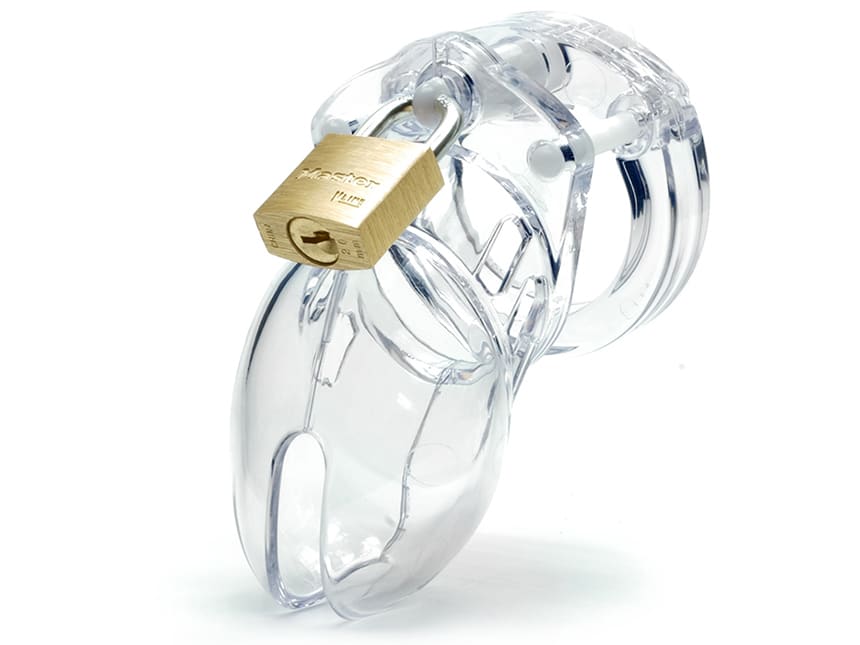 After instructing your partner to always ask for permission from you before he gets himself off, you've discovered that he has gone to do that before asking you if he could do it. Surely, you can't let such disrespect go unpunished or you would find your dominance weakening.
The perfect punishment for wanking without your permission is forcing him to wear a chastity belt that would deny him an erection. You can agree to a 3-day initial lockup but make it clear that this timeframe is not set in stone as only his behavior can earn him a release from your cock and ball bondage.
There's no need to struggle to acquire the right equipment for this punishment as one is within reach. According to several user reviews, the CB-3000 Male Chastity Cage Kit is well designed for comfortable wear. Also, the transparent cock cage is made from medical-grade polycarbonate for hypoallergenic play. And it includes 3 lockings pins & spacers, a brass padlock & key, a storage case, a lube sample, and 5 plastic locks.
5. Workout
Does your partner hate workouts? Get his unfit ass in the gym and force him to work out. Make him do as many pushups as you want. Let him know that laziness will make him start again. If he takes too much time doing the pushups, keep your word and let him start all over again. Such a move will let him know that he cannot mess with you.
6. Tied hands
Has your partner gone to take something without your permission? Make sure to tie (with a rope) those hands he's used to disrespect you. Make him apologize profusely for using his hands to disrespect you and let him promise to never go behind your back again. You can decide to untie his hands when you're satisfied that he's truly remorseful.
7. Spanking
You know about this already from the scene ideas and you also know it can be an excellent punishment idea. There are various tools at your disposal for spanking. While you can go the old way of using your bare hand to smack his naked butt, a spanking paddle, a whip, or a cane can come in handy.
When spanking him, you can either have him laying over your lap or have him stand in front of you so that you can easily access his naughty ass. If you can't find the specially designed spanking tools and you don't want to use your bare hands, make use of any household material you find befitting and safe.
8. Kneel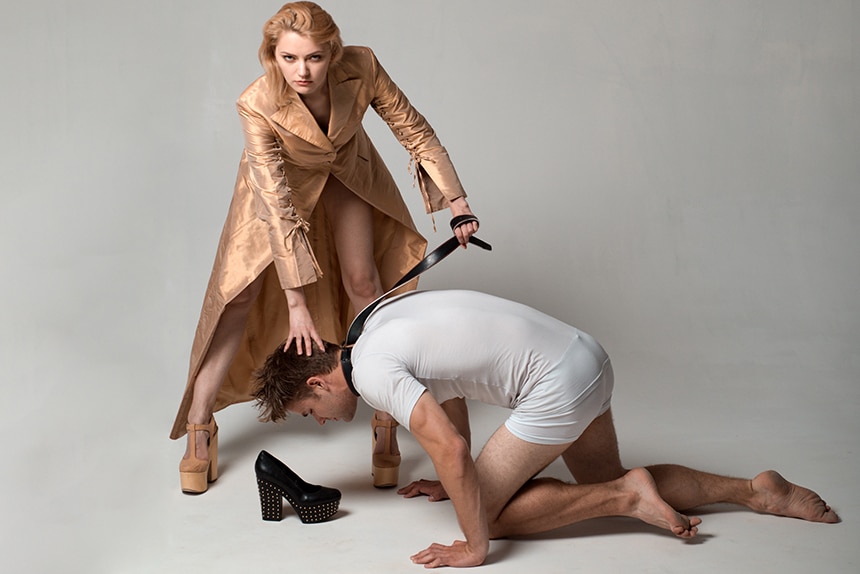 Making anyone kneel is a common punishment but you can make it even more severe for your disobedient partner. Don't let him kneel on the bare floor, instead, make him kneel on a narrow object such as a pencil, a pen, or an electrical wire. At first, it might not seem like a big deal but as he spends more time on the object, the more the exercise becomes excruciating.
As always, make the sub promise to never repeat his mistake again and release him once you sense genuine remorse.
9. Stand on toes
Another femdom punishment idea worth exploring is making your partner stand on his toes after he's broken one of your precious rules. An effective way to keep him on his toes is by binding his hands and attaching them to a rope that is secured over his head.
Besides, you should let him know that not staying on his toes can lead to an extension of the punishment.
10. Silent treatment
Trust us, no one likes the silent treatment or being ignored. You can use this treatment to punish your partner. Without uttering words, signal to them what you want them to do.
If they keep talking and trying to force words from your mouth, the befitting thing to do is to stop them from talking. Employing an expertly designed face strap-on or gag can stop them from speaking. Let them stay that way until you're ready to release them from their misery.
11. Nipple clamps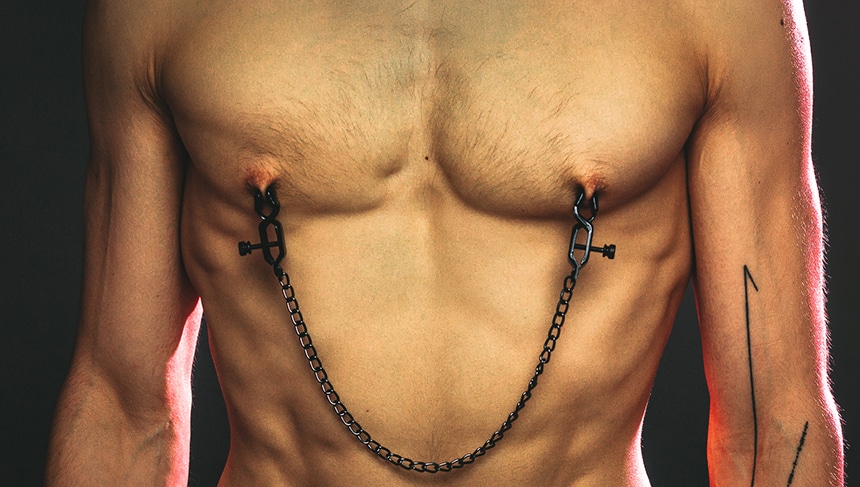 If you didn't know before, men have incredibly sensitive nipples that are easily receptive to both pleasure and pain. Of course, your goal here should be about triggering the pain portion. And nipple clamps are excellent tools for pulling  your partner's nipples and causing them pain.
Even though shopping for the best nipple clamps is the best option, cloth pegs can work too if your options are limited.
Femdom Positions
Away from scene ideas and punishment ideas, there are different femdom positions/femdom techniques that you can explore. Below, we will discuss many of them:
1. Lock and key
The lock and key position is the modification of the famous missionary sex style. Essentially, you won't be on top here but you'll still be able to maintain your dominance. You can lock your thighs and knees tightly around the man's knees, thus elevating your hips toward him and also giving you almost total control of the depth of his thrusts.
As he struggles to enter you deeply, you can make sure to make his efforts futile and show him that you're totally in control of the situation. The tease can drive him crazy as you enjoy the feeling of frustrating his efforts. And if you don't want all the struggles, you can order the man to remain still while you push yourself on his penis. This one is an act of total domination as the sub surrenders it all to you.
However, the lock and key position requires great strength to keep your grip tight and drive your hips upwards continously. If this were not a matter of domination, you would have just left the man to do all the hard work while you lay down, putting no effort.
2. Hot seat
Another position we have for you is the hot seat. This position is all about working, working, working. It doesn't give you the luxury of sitting back and relaxing your back. Here, your man lay on the floor and curls his back in such a way that his penis presents a seat for you to sit. Your job is to keep him in that position, using muscle and balance control.
Furthermore, you and your partner can both lightly clasp each other's forearms to support your movements. The keyword there is "lightly" so that you don't take away some of the major pleasure. Apart from vaginal sex, anal sex can also go on well with this position as you're in total control of speed and depth.
We must note, however, that the hot seat is not somewhere you want to take all your time because it requires great flexibility from your sub and extreme caution from you.
3. Bridge
Before we start our discussion here, we must mention that the bridge position isn't for everyone. It's for a very flexible man who can bend backwards into the bridge position. If your sub is such a man, lucky you! You can straddle him as he stays in that position. Move up and down his dick and take complete control of the depth and speed.
Even if your man is flexible, the bridge position can still be too much work as he struggles to maintain his upper body strength. As the hot seat position, the bridge position is one that you spend a limited time exploring. Also, your sub should be ready to call out the safeword at the first sign of trouble so that you can stand immediately.
4. Oral worship
Oral worship is simply oral play in motion. As the name suggests, your sub kneels and worships you—his/her mistress—by performing the oral play on you. Make him/her lick or suck your pussy to your satisfaction. You can use the spanking paddle on them to motivate if you feel they're not doing it enough.
Make them eat you to a wild orgasm while you sit, writhing in extreme pleasure. A comfortable sex swing can provide you the perfect seat for oral worship.
5. Cowgirl
The cowgirl position is probably one that you're familiar it—whether from porn or personal use—but we'll still discuss it here. Do you remember the lock and key style? The cowgirl position is its direct opposite. Instead of the man/woman being on top, you're on top here, calling the shots. Even though the lock and key position provides you control, it doesn't deliver as much as the cowgirl position.
With the man/woman lying on his/her back, you can straddle their hips and position yourself over their penis or strap-on. You shouldn't be sitting upright on top of him/her, rather, you should be leaning forward over him. Instead of only moving up and down his dick or her strap-on, try to gyrate in circles or back and forth. You can add some lubricant beforehand to enhance the pleasure.
By being on top of the man/woman, you have absolute control of the rhythm and depth of the thrusts. Additionally, the cowgirl position gives you the chance to look down at your man/woman, reasserting your dominance. It also provides you the chance to stimulate your clit more easily.
Since you're in control, it's up to you to make the position comfortable for you as much as possible.
6. Pegging mistress
By now, you know what pegging is—anal penetration by a strap-on dildo. The pegging mistress position requires your sub to get into a good position that gives you an easy access to their butt. You can then use your strap-on dildo to penetrate their anus until they say no more or you're tired. Remember to use a lot of lube to ensure smooth and safe penetration for this play.
Final Thoughts
Maybe you noticed or not: throughout this article, we've sought to note that the sub in femdom practices is not always a man—it can also be a woman if both players are lesbians. Regardless of the gender of your sub, there's no shortage of femdom ideas you can try on them as you've seen in this article. However, you must have the right gear to be able to put on a show.
Also, you need to ask for relevant advice from experienced doms for a seamless femdom experience. And you must prioritize the safety of your partner in any play you engage in. You can now go ahead to try out our numerous femdom scenarios for your femdom activities.