While there are many sex toys to try and enjoy, one may leave you feeling a bit perplexed. A sex swing is full of potential but if you have never been in one, you may just be wondering how exactly to use it.
The good news is that there are many amazing, best sex swing positions to try out. And, while the hard part may be in figuring out those positions, our handy guide will help walk you through the pughtrocess. We want to pass on some knowledge so you can find the sex swing of your dreams as well as understand which sex swing positions will work best for you. We hope you enjoy our sex swing position guide and can come out of it swinging to a whole new experience.
Door Swing Positions
There are two types of sex swings, those that are stand-alone devices and those that fit over the door. If you are short on space, a door swing is a great way to go. For example, the Bondage Boutique Soft Over-The-Door Sex Swing is easy to assemble and you can take it down when you are finished with it.
The big V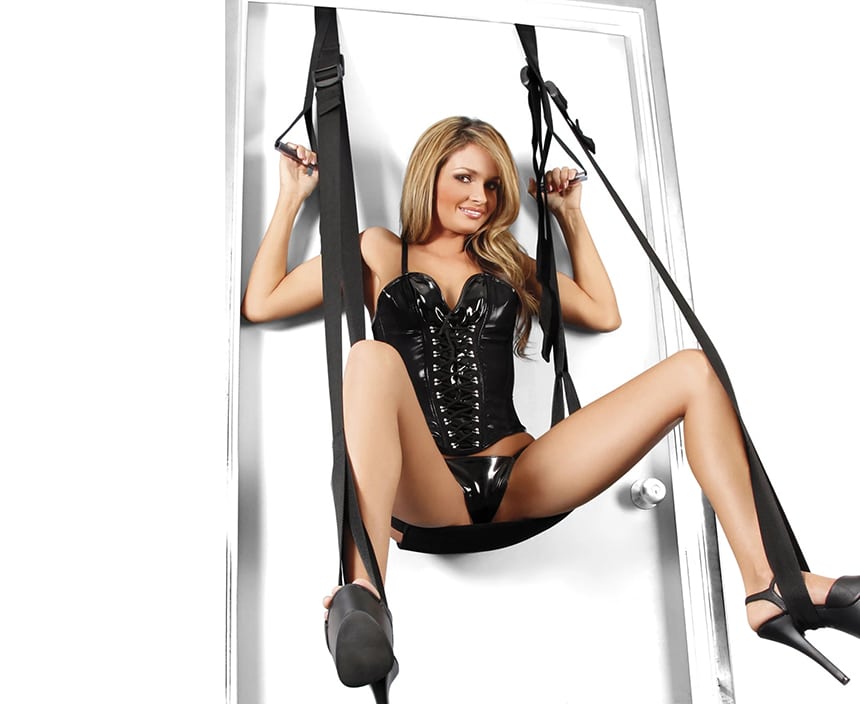 For this position, start with one person entering the swing. Check to make sure they are secure and comfortable. While this position requires a male standing, you can position either a man or a woman into the swing.
Have the person in the swing hold onto the harness with their hands and spread their legs wide, in a V shape. The man who is standing can then hold onto the other person's hips for optimal leverage.
This position works really well in a door frame because you can push your legs towards the door frame for more leverage while in the swing.
Solo number
Most of us have this idea that a sex swing is purely for couples, but that simply isn't the case. If you're ready for a bit of solo play, especially if you are a woman, then you can definitely still use a sex swing.
Start by positioning yourself in the swing, making use of side straps to hold your feet up. Essentially you want to be suspended in a spread-eagle position. From here you can simply use your hand or engage in all manner of toys and devices.
If you're having a hard time with this position, you might want to consider a sex machine. These are more stable and provide more options for stimulation, including the use of a dildo.
Sex Swing Position Guide
Now, whether you have a door frame sex swing or a stand-alone model, there are plenty more sex swing positions to try.
Missionary in air
Missionary can get a bad wrap sometimes, due to its simplicity, but if it works, there's no reason not to try it. While this is another position that typically has a woman in a swing and a man standing, you can also substitute a man for the swing position.
Have one person get into the swing, again making sure they are comfortable. They are going to want to lean back a bit for this, so make sure there is room behind the person. Hold onto the straps to create more resistance.
As for the man standing, simply get closer and have fun. If you can, position a set of straps under the person in the swing's thighs. Not only does this provide more support, but it allows the man who is standing to have something to grab onto.
Cowgirl
If you are a woman who likes to take charge, then a cowgirl position works really well. This time, have the man sit down in the swing. He should be supported enough so his feet remain on the ground as he will have to take some of the weight.
Then, have the woman slowly get on top. Because two people need to be supported, you may want to try this out ahead of time and always check the weight limits of your sex swing. However, most are made to support two people.
Now, if this doesn't quite work how you want it to, you may have more success with a sex chair. These are made to sit firmly on the ground and you can sometimes alter the position of them for a more comfortable feeling. With a sex chair, you can engage in the cowgirl and other sitting variations of it.
Sixty-nine
Those that are looking for a new, unique way to engage in oral sex will relish the Sixty-nine position in a sex swing. Again, this is commonly used with a man and a woman but can easily be altered for two men or two women.
Have one person enter the sex swing so that their back, bum, and legs are supported. The person will be fully reclined, so they need to be comfortable.
The other person who is standing will then have their genitals at the other person's face level. You will have to work on adjusting it so that everyone is comfortable, in particular the person who is standing as you don't want them to hurt their back and be unable to continue.
Doggy
For a variation on doggy style, the person in the harness must enter it so that their chest is face down. This may mean a bit of adjusting as you want to be comfortable and supported. You may want to try a sex swing such as the DOMINIX Deluxe Fantasy Bondage Swing. This product has hand and wrist cuffs as well as supportive straps, which makes it easier to try different positions.
Once the person is firmly in the swing on their stomach, the other person then falls behind them. Make sure the height is proper and you will probably have to make adjustments ahead of time for the right level.
Bouncy play
Who says sex has to be serious? Sometimes you want to let all your assets show in a playful, bouncy way. If this is the case, then this position is perfect.
First, note that one person, a man, needs to lie on the floor. If you have your sex swing over a hard surface, either move it or position a mattress underneath it. The swing will also be quite low, so adjustments should be made.
Once this is complete, the woman then gets into the swing, with two harnesses around her thighs. The object of the swing is to enhance the position so it is used a bit differently. The woman should be able to straddle the man and have both feet firmly on the ground.
Finally, the woman can then use the momentum of the swing to have a bit of fun and bounce around during sex.
Standing applause
Now, this position is not for everyone. You need both some experience with a sex swing as well as a limber, flexible body. However, we wanted to include it to give options to everyone.
To start with, one person needs to stand in the swing. Position the swing so your feet are properly supported as well as your thighs, and hang on to the straps for balance.
Next, position yourself so that your bum sticks out. This can be a bit awkward, so practice a bit for the right position. Both a man and a woman can stand in the swing.
Finally, a man stands at the back, holding onto the swing for more support. The swing should be at the right height so the person standing in the swing doesn't have to bend too much.
Safety Tips
Before you engage in any activities with sex swings, you will want to check the weight support.
Most swings will hold at least 300 pounds of weight, which could be for two people but might not be enough.
For example, the
Purple Reins Sex Sling
has a maximum weight capacity of 308 pounds.
While you may have an ideal weight number in your head, for this purpose it's important to be honest. If, however, the weight capacity isn't enough, it just means you need to try different positions, of which there are many.
Finally, always do a dry run first. Check to see where you head or hands may land so you aren't bumping into anything around you. And, if you are uncomfortable at any time, please stop and readjust so you can carry on. Sex is only fun Trusted Source Sex educator Samantha Bitty is on a mission to promote sexual health and demystify kink When I first started doing independent sex education," Bitty says, "I thought I had to sit in front of a plant, talk a certain way, and be academicized because that's what I saw. www.thestar.com if both people are where they want to be.
Final Thoughts
Purchasing a sex swing may be just what you need to spice things up in the bedroom, especially if you are into exploring sex kinks Trusted Source What It Means to Have a Kink vs. a Fetish: 8 FAQs Read on for an explanation on what qualifies as a kink vs. what qualifies as a fetish — plus insights on exactly how to explore potential kinks and fetishes. www.healthline.com . There are many swings to purchase, including those that go over a doorframe and those that are standalone. And, if this isn't quite what you are looking for, there are other devices such as sex chairs. Once you have your swing, the hard part is about finding positions that work for you and your partner. Take your time and have fun. Test things out fully clothed and be sure to adjust the straps for everyone's comfort. The best sex swing positions are those that make you feel sure of yourself so you can move and find the best pleasure possible.