Although Onahole is far from the most expensive sex toy, you may have your reasons for not investing in one and that shouldn't stop you from enjoying what it offers.
What are we saying? You can make an Onahole for yourself in the comfort of your room and satisfy your sexual urge. Of course, a lot of work goes into creating a homemade Onahole but it's not an impossible mission. All you need to do is acquire the necessary ingredients, learn the right steps to create the masturbator and watch every other thing fall into place. In this article, we'll help you learn the art of making an Onahole for yourself at home.
Original Onahole
Although the Onahole originates from Japan, it got its name from the German language. Specifically, the "Ona" in the masturbator's name refers to "onamie"—another word for masturbation in German according to Wiktionary Trusted Source onahole - Wiktionary Borrowed from Japanese オナホール (onahōru), a portmanteau of オナニー (onanī, "masturbation", from German Onanie) and ホール (hōru, "hole", from English hole) en.m.wiktionary.org . Essentially, the Onahole means a "masturbation hole".
Moreover, the hole is typically designed to mimic a woman's vagina and it typically features a clitoris and delicate walls that feel close to the real thing. Besides, the Onahole is just among several other high-quality male masturbators as we suggested earlier.
According to most reviews, the Blowmotion Male Masturbator is one of the most reliable options. Featuring a squeezable 3.5-inch canal, 6 vibration modes & 6 pulsation functions, and an automatic warming feature, this sleek silicone masturbator is just perfect.
Another top option is the Sue Johanson Head Honcho Male Masturbator which is reputed to deliver lifelike blowjob pleasure thanks to its 3 suction chambers with pleasure nodules, raised ticklers, and flexible sleeve.
DIY Onahole Using Potato Starch
Away from the original Onahole, let's discuss how you can make one for yourself at home using potato starch:
Step 1. Ingredients
The materials you need for a DIY Onahole include a part potato starch, a part cold water, a part hot water, ice cubes, a container (preferably a deep one), and a mold of your choice (preferably a long, cylindrical shape).
Step 2. Preparation
Pour the potato starch into a bowl with a suitable amount of cold water. Then, stir the mixture until it makes a smooth goop.
Step 3. Pour
Pour the mixture into the chosen container and add a suitable amount of hot water to it.
Step 4. Microwave
Then, put the container with the mixture in the microwave and let it stay until it becomes clear. After it becomes clear, wait for it to cool completely.
Step 5. Mold and chill
Pick up your chosen mold and gently press it into the container of the mixture. Then, place the mold inside a container of ice cubes or the refrigerator to fully chill.
Step 6. Remove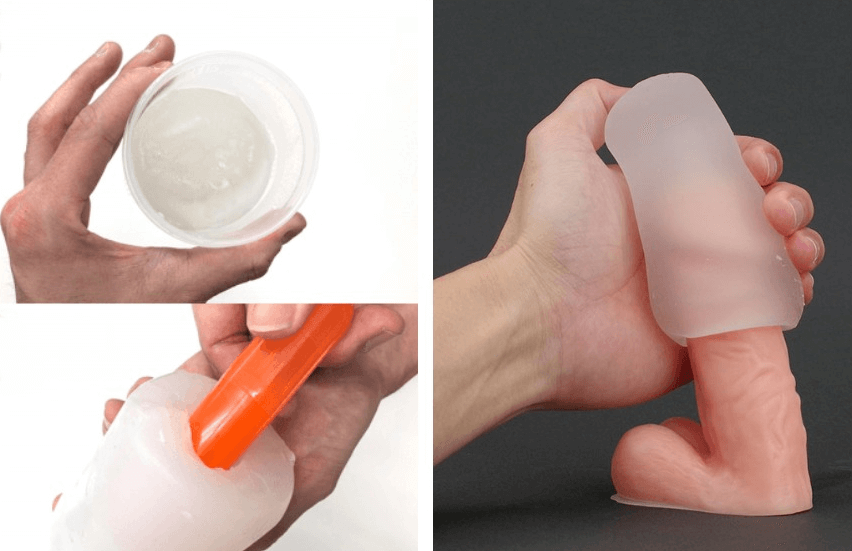 It's now time to remove the mold after it's properly chilled. Remove the container from the refrigerator and carefully get the mold out of it. You have to be gentle for seamless removal.
Step 7. Enjoy
Once you've removed the mold from the container, it's time to start enjoying your homemade Onahole.
How to Make an Onahole Using Gloves
Not only can you make an Onahole using potato starch, but you can also make it using gloves. Let's get you to learn how to make an Onahole using gloves below:
Ingredients
You'll need the following materials:
Process
Use the towel to create a long and narrow shape by folding it a few times.
Then, put the latex glove on the towel as the cuff hangs over the end.
Fold the towel over the latex glove.
Stretch the glove cuff that's over the towel and use the rubber band to hold the stretched cuff in place.
Ensure that the rubber tightly covers the hole.
Then, lube up the homemade Onahole and have fun. Remember that

9 out of 10 people found sex more comfortable

Trusted Source

How lubricant can transform your sex life

There seems to be an incorrect assumption that younger women do not need to use lubrication, and if they do, they have a problem. People use a variety of weird substances as lubricants, but the right kind can make a huge difference

www.independent.co.uk , pleasurable, and better when using lube according to a 2003 study cited by The Independent.
Final Thoughts
As you know, designing a homemade Onahole is not a difficult exercise but that doesn't mean that it's not tricky. Notwithstanding, it can be easily learned with the right level of attention. Also, you need to get the right materials together and know how to turn them into a masturbator.
Whether you're using potato starch or you're using gloves, making a homemade Onahole shouldn't be a problem. Thankfully, you have our concise guide to help you out. Even though a homemade Onahole won't deliver the same level of stimulation as the best Fleshlight for small penis or the best automatic masturbator, it's a decent masturbator to count on.