The iconic first scene in American Pie lives rent-free our minds. Jim might not have realized it, but he was crafting his own homemade Fleshlight. There are many types of Fleshlights available, but a homemade masturbator (or pocket pussy) can save you money.
We've got plenty of ideas for DIY Fleshlights. We'll walk you through how to make a Fleshlight. You'll learn the best ways to craft your own pocket pussy and we'll provide you with tips and best practices. Soon you'll be on your way to pleasure-town… no apple pie needed.
If you decide you'd rather buy a sex toy instead of making one yourself, check out our guides for the best male masturbators and best automatic masturbators available.
How to Make a Fleshlight at Home
There are many different ways to make a homemade Fleshlight. Whichever method you choose, we recommend that you use plenty of lube. We recommend System JO H2O, which is water-based so it won't cause irritations and is easy to clean up. You may also want to use condoms for easier cleaning.
In addition to lube one of the more commonly used items are latex gloves. Latex gloves are used as liners for materials that may otherwise be too rough.If you're allergic to latex make sure you use latex free gloves or jump to our suggestions for how to make a pocket pussy without gloves.
Essential Items For Your Homemade Fleshlight
You can definitely use items from around the house, but if you're missing things our sex toy tester compiled a list of their most important items for building the perfect fifi at home.
How to Make a Homemade Pocket Pussy
A pocket pussy is made to feel like a vagina for masturbation purposes. There are many you can purchase but you can also create your own. It should have an opening to insert your penis, a comfortable inside, and a way to hold onto it for a firm grip.
We'll talk about several types of homemade pocket pussies: latex glove Fleshlights, DIY Pringles Fleshlights, plastic bottle pocket pussies, fifis, and latex-free option made from cornstarch.
How to Make a Latex Glove Fleshlight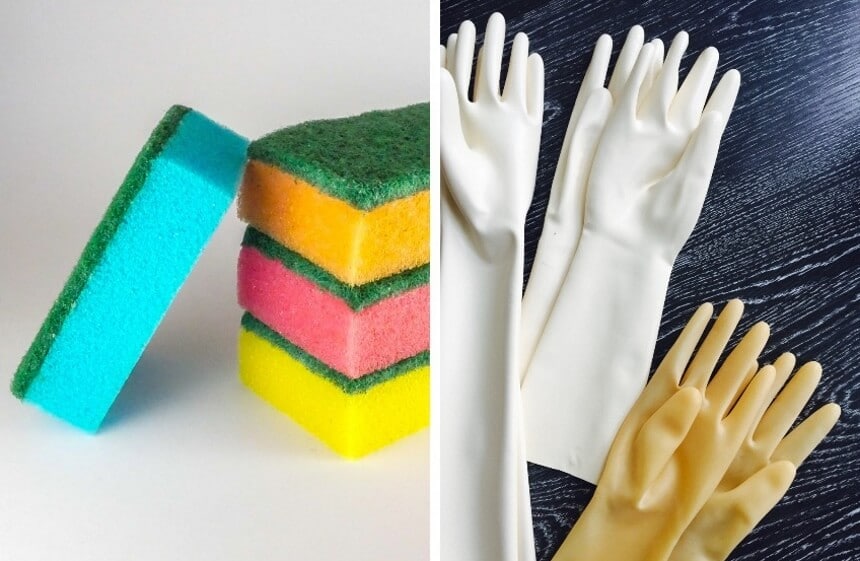 Using sponges and gloves you can make homemade pocket pussies. You will want to use a latex glove, preferably in a large size, so that you have lots of room to work with. If you are allergic to latex you can use a plastic or nitrile glove. Just make sure they are durable and won't break while in use.
You may need to try different types of sponges. You can use a thinner piece of sponge that can be rolled up and placed in a small canister. Or you can use pieces of sponge that are then packed in. There is no right way to use the sponge and you might end up trying out different methods to determine what you like best.
Making a pocket pussy from just a sponge and glove
Many of our recommendations use various containers to hold the sponge and glove fleshlight together. However, a container is not necessary: If you don't have a suitable container, you can use a piece of sponge wrapped around your penis. Either place a latex glove over your penis or use a condom for protection from the roughness of the sponge. Add lube and you're good to go.
DIY Pringles Fleshlight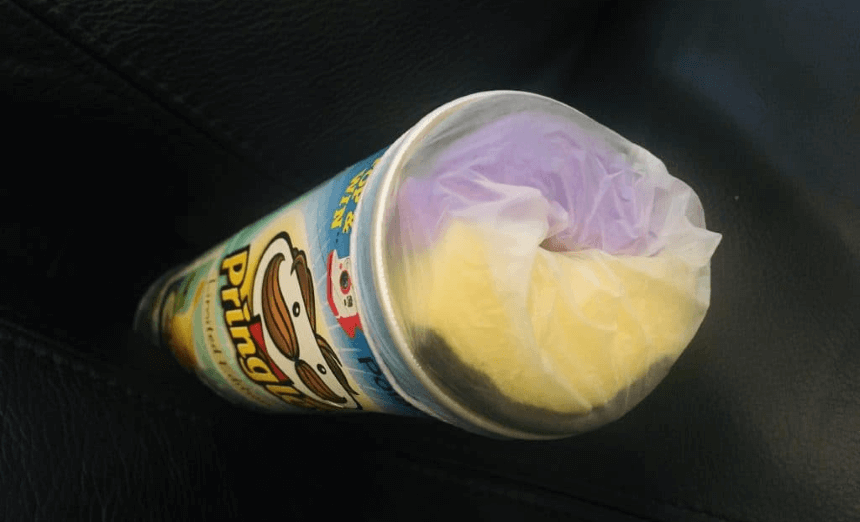 Pringles cans make for easy DIY Fleshlights. They are large enough to accommodate a variety of sponges and are long enough for 99% of men. Additionally, the outer diameter of the can is still a comfortable size to hold in your hand.
To make a DIY Pringles Fleshlight: Line the inside of the can with your sponge. This is where a thin layer of sponge can work well, as you simply cut it to size and wrap it inside. Then, place the glove through the hole in the middle. Finally, use a rubber band to secure the glove over the top.
Use plenty of lube inside the glove and add more or less sponge as needed.
Check out this video demonstrating a similar technique with a plastic drink cup, towel, and latex glove.
Nothing Beats the Real Thing!
While a homemade fleshlight can be great in a pinch, you'll enjoy using a real one more – we guarantee it. Check out our review of the best fleshlights, or step it up by reading our review about the latest high tech options in the world of automatic fleshlights.
How to Make a Plastic Bottle Fleshlight
Grab any plastic bottle making sure it is wide enough to fit your sponge. Carefully cut the top off and try to eliminate any sharp edges (ouch!). You can sand down the edges if you have sandpaper.
Add your sponge. Sponge pieces work better as you can pack them in, but you can also roll up a sponge as well. As before, leave a hole and place your latex glove in the middle. Secure it to the top with a rubber band.
Using bubble wrap in your DIY Fleshlight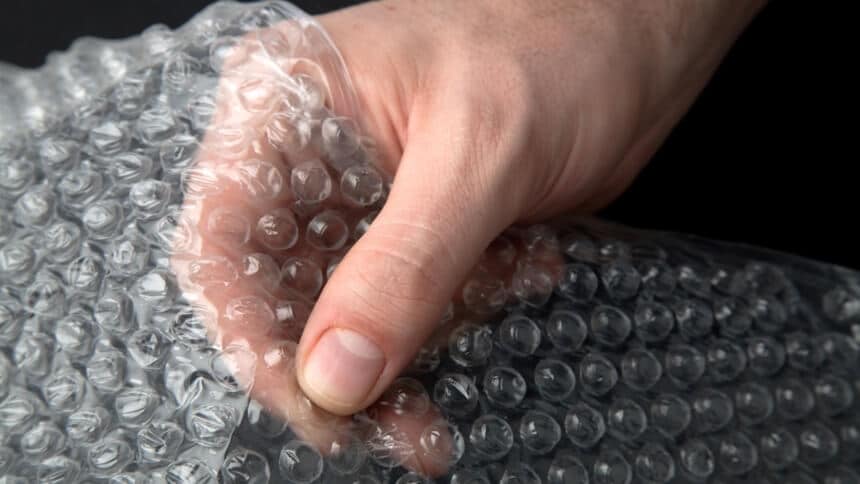 For a fluffier texture, you can add bubble wrap to your device. Take two pieces of foam and wrap them in bubble wrap. Then, place the two pieces inside a canister, such as a Pringles can or a bottle. You can also tape the two pieces together but it won't be as rigid. Add more duct tape if you want a better grip on the whole model.
Even though you have bubble wrap to protect you from the foam, you probably still want a latex glove in the middle. A condom also works well. Finally, don't forget the lube.
How to Make a Homemade Fifi
A Fifi is a masturbation device made from a towel, latex glove, and (optionally) a rubber band. 
Everyone has an extra towel lying around and latex gloves are easy to find. Combined, they make for a simple but effective homemade fleshlight. If you have any experience with store bought fleshlights, you'll know how realistic they look. While a towel certainly doesn't look like a vagina, it is still highly effective.
To make a Fifi, take a towel and wrap it up tightly. Place a latex glove on one end and press it into the hole made in the towel roll. Take the open end of the glove sticking out from the towel roll and flip it back over the end of the towel. Secure in place with a rubber band. 
We recommend that you use lube with your fifi, but you can try it without and see which sensation you like best.
You can also use a toilet paper roll instead of a rolled up towel. Start by removing the inner cardboard tube and place your latex glove inside of the roll.
How to Make a Pocket Pussy Without Latex or Gloves
What should you do if you're allergic to latex? For most of the homemade Fleshlights we've discussed you can swap latex gloves with nitrile gloves or plastic gloves. If you don't have any gloves around, but latex is fine, you can swap out gloves with condoms for the majority of these devices.
If you don't have any gloves or condoms around then you can make a DIY stroker from cornstarch.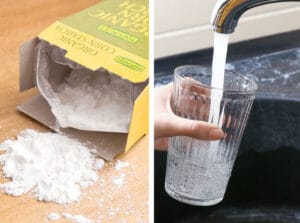 Start by mixing ¼ cup of cornstarch with 100 ml of warm water. Stir until it is dissolved into the water. Once fully dissolved add another 100 ml of water and give it a good mix. 
Place the mixture into the microwave for 1 minute. When you take it out, it should be a gel-like consistency. Gently hollow out a hole in the center of the mix. If the mixture is too runny you can put it back in the microwave for another 30 seconds. 
Place the cornstarch container into your fridge and leave for an hour. When you remove the cornstarch from the fridge it should be a solid mass with a rubbery feeling. 
Slide the mixture out of the jar. It should hold together. You can either use your cornstarch masturbator like this or place it into a ziplock bag for easier clean-up.
Tips and Tricks for Making a Fleshlight at Home
There are some people who love the challenge of crafting their own Fleshlight and then there are those that want to play it safe and simply purchase their own device. There is nothing wrong with either option as long as you put safety first. If you find our suggestions too overwhelming, there are plenty of male masturbators for purchase, such as the Riley Reid Quickshot (modeled after the famous porn star).
If you want to make your own Fleshlight be sure to follow a few basic safety practices.
Use freshly cleaned materials. If you're going to reuse your Fleshlight (and many of the designs in this article are reusable) wash it thoroughly every time. Replace the latex gloves frequently. 
Experiment with different textures for the "filling" in your Fleshlight. Always use plenty of lube!
To avoid chafing and burns, use lube. It's cheap and will dramatically improve your experiences.
Sex Toys Instead of a Homemade Fleshlight
We recommend that you always use an actual sex toy for masturbation, as they are made specifically for that purpose. And if you don't happen to own one yet, we highly suggest ordering one from any of our trusted partners, like Lovehoney, Hustler Hollywood, Shevibe, or The Enhanced Male. Or if you can't order online, find an adult product store nearby or check the hygiene aisle of your local pharmacy or big box store.
But if you absolutely cannot wait, please make note of the safety precautions that we mentioned in this article. Don't let your dick get ahead of you brain: if you decide to insert yourself into something – wear a condom, or at the very least make sure it's clean! Be mindful with what you use as lube. Crafting a homemade sex toy is a fun a creative way to enhance your own pleasure.
Final Thoughts
Masturbation is a completely normal activity Trusted Source Masturbation - Is Masturbation Normal or Harmful? Who Masturbates? Why Do People Masturbate? How common is masturbation, and how can it enhance sexuality? Find out more from WebMD. www.webmd.com and it makes sense that you want to experiment with different sensations. Whatever you decide on, always use clean materials. Also, lube is needed in most situations, and really, lube is always a good thing. Crafting a homemade Fleshlight can be fun and definitely rewarding. Find the material that works best for you and don't be afraid to play around.