Whether you're into a full BDSM relationship or just like to experiment, you're sure to be aware of the thrill that spanking brings to a relationship. While there are many ways to go about spanking, having a spanking bench can really ramp things up.
These devices allow you to enjoy different positions and experiment with bondage. You can certainly purchase a spanking bench but if you're a crafty person, you can actually create a DIY spanking bench on your own. There are many ways to create a homemade spanking bench and you most likely already have a bunch of tools and supplies just sitting in your home. We'll walk you through the different spanking bench designs and how to craft them. You'll be ready to bring your relationship to a whole new level in no time.
Types of Spanking Benches
Spanking is a normal part of consensual relationships, despite the fact it isn't often talked about Trusted Source Finding the Courage to Reveal a Fetish I was thunderstruck. For as long as I remember, I've been fairly obsessed with spanking. www.nytimes.com . However, if you want to add more kink to your relationship, know you aren't alone and it isn't anything to be ashamed of.
First, be aware that there are different types of spanking benches and not every type will work for you. You may want to think about what you have enjoyed in the past or what you want to experiment with before taking the time to make one.
Sawhorse

For those that like to stand and bend over while being spanked a sawhorse is a good idea. This way the height is appropriate although you may have to adjust it if you are on the shorter side. Furthermore, you will probably want to add padding, as sawhorses can have untreated wood that poses a splinter hazard.
With a sawhorse you can be bent over it or you can be strapped to the top with your legs and arms over each side. However, you will want to try a few positions as it may be too uncomfortable to withstand prolonged times on it.
Bench
This is perhaps the simplest spanking bench design, as it is quite literally a bench. Think a padded stool that is large enough for a person to drape themselves over. You can also consider height as you may want to be lying completely down while being spanked or merely standing and bending over. For inspiration, check out the PADDED SPANKING BENCH which comes complete with an area to hang up all your accessories.
Most people have benches at home, whether for storage for resting your feet, so it's an easy way to get into the world of spanking.
Reverse
A reverse spanking bench offers the option of the top being able to move. You can adjust the angle to whatever suits you. This possibility is beneficial if you want to keep your legs in the air and add a more exposed element to the process of spanking.
Birching Horse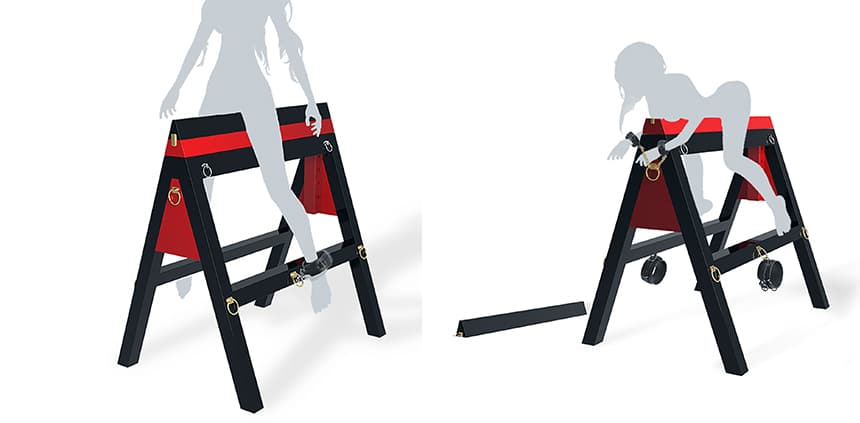 With a birching horse, the person being spanked is made to lie on top so that their legs dangle from either side. Think a sawhorse but with a narrower top. It is taller, so your legs may not be able to touch the ground, and its construction allows for arms or legs to be tied to the sides.
What You Need to Make a Whipping Bench
A whipping bench is an all-purpose tool and while you will want to adjust it to your standards, here are some basic instructions on how to craft one.
Materials
Here are some basic materials you will need, although you may find you need more as you go along.
2×4 pieces of wood
Thin wooden planks
Nails
Hammer
Saw
Padding
Upholstery fabric
Tools
Your spanking bench will be made primarily out of wood, so you will need a saw to cut your wood. If you don't have a table saw, a handsaw will be just fine.
Measurements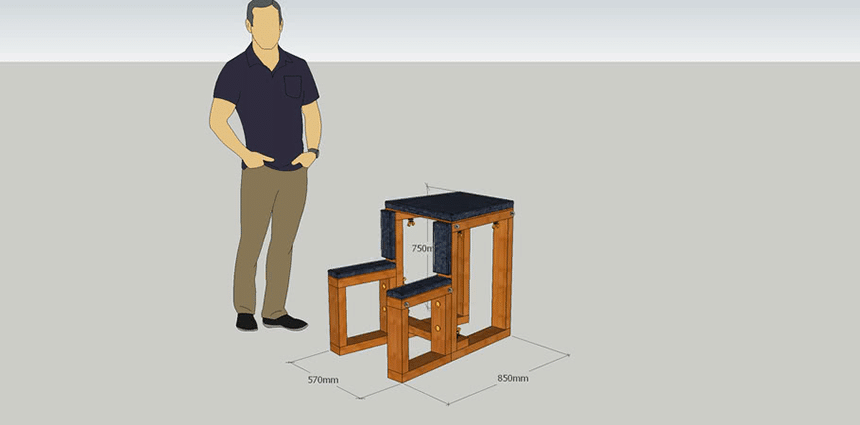 With your spanking bench, you will want to measure the length, width, and height. For length, think about if you want your subject spread over the entire top or just bent over it. For width, think about how comfortable you want your spanking subject to be. And finally, for height, think if you will be placing your bench on a separate sturdy surface or if you want it to stand alone on its own.
You may want to make a protype first out of cardboard to see how it will look. Don't forget to do your research and see what type of spanking benches there are. For example, the Master Series Obedience Extreme Sex Bench has areas to rest your arms and legs. While this is a more elaborate design, you if you are especially crafty you may want to try adding on to your DIY creation.
How to Make a Spanking Bench
The following are basic steps for your SIY spanking bench. They can be followed as-is or you can modify them more towards your needs. Everyone will be different, but this will give you a rough idea of the process.
Step 1. Preparation
Preparation is key, so start out with some solid plans. You can start by measuring the person who will be spanked. Taller people need more support, so be sure to add more length to any of the wooden pieces. Also, think about if one person or multiple people will be using this spanking bench. You don't want to design it for a short person only to want to use it again at a later time with a taller person.
Next, you want to plan what your spanking bench will look like. As discussed earlier, there are different design options, so pick one that is versatile enough for your needs.
Finally, make a list of all the materials you need. Search your home for what you already have and then head to the store for the rest. The more preparation you take, the easier it will be to build your bench.
Step 2. Make planks
Wooden planks will make the foundation of your spanking bench so be sure to spend some time on this step. Measure your planks, ensuring they are long enough for your needs. Make any necessary cuts and then don't forget to sand them down. You want to cause some pain through spanking, and now through wooden splinters.
Step 3. Make a frame
Your frame will hold the planks so you want solid wood, such as 2x4s. Again, measure and cut then according to the measurements you took. Your frame can be as tall as you want, so be sure to think about what will work for you.
You may want a short frame that can sit atop a bed or a table. Or, you may want a taller frame, more in the style of a bench, that can act as its own piece of furniture. Whatever the height is, be sure to craft a frame to these specifics.
Step 4. Add pads
Padding is important. The more comfortable your spanking bench, the longer a spanking bench can continue to be.
There are many types of materials you can use for padding. Memory foam works really well as it contours to the body. Old fashioned foam is also an option, and a cheaper one, too. If you have cushions or a thin mattress, you may be able to sue this, as well.
Just make sure nothing is lumpy. Your padding should be cut down to the size of the planks so that it fits well and looks good.
Once you have your pads, you will want to place a cover over all of them. Faux leather is a good option as it holds its shape and looks good, too. You can also use an upholstery fabric. Before you cut your fabric, measure and leave excess fabric, just in case. You will want to nail the fabric or leather to the underside of the wooden planks so that it is fully secure. Pull tight but not too tight or it could rip.
Step 5. Strengthen the frame
Your frame will benefit from extra bracing in the corners.
Add extra pieces of wood to ensure your frame doesn't collapse mid-session. This will be embarrassing and dangerous.
Step 6. Finishing touches
Your spanking bench is complete but you will want to add personal touches. Many benches have a place to hang accessories on the side so they are always in close proximity. You can add hooks for your favorite spanking paddles and whips.
What Can You Use to Substitute Spanking Bench?
Whether you just aren't the DIY kind of person Trusted Source Are You A DIY Type of Person? | Soar to Success Are you a DIY kind of person? I have always been strong-willed, do-it-yourself kind of person. Especially when it comes to saving money. I mean, who doesn't like a savings! I guess it started when I was young, learning much from my father who was a jack-of-all trades, master of many.  soartosuccess.eliteexpertsnetwork.com or you want to try out a few options first, there are many substitutions you can find right around your own home.
Coffee table
Most people have a coffee table and in a pinch, it can work as a spanking bench. There are two issues with this idea, though.
The first is that not all coffee tables are made to take the weight of a person. You may want to test out the weight first, as you don't want to hurt yourself by falling through the table. Second, coffee tables are usually made out of wood or glass, which can be quite uncomfortable to lie on. If you don't want to add discomfort to a good spanking, we suggest putting down a pillow or blanket to add some extra padding.
With proper cushioning you can have a discreet BDSM equipment standing right in the middle of the room. You can also make your own coffee table/spanking bench using a bit of a craftsmanship:

Massage table
A massage table is an excellent substitute for a real spanking bench as it already comes padded. You can lay down however is most comfortable and know you will be fully supported. Furthermore, most massage tables have face holes, which could add a fun element of sexual acts.
Inversion Table
Those that have back pain may have tried an inversion table. These devices work by strapping you in, both around the legs and the chest, and then flipping over so you hang upside down.
You can use an inversion table for spanking but instead of lying down so your back is at the table, lie down so you face the front.
You can then choose whether to remain upright or to use the inversion capability of the table and be flipped so you are upside down while being spanked.
The one caveat to watch out for is if you are facing towards the board, it will be harder to breathe. Move around a bit to find a comfortable position and be sure to use safe words if the momentum becomes too much.
However, if you are used to using ball gags, then having your mouth covered may be a fun part of the whole experience.
Sex swing
Sex swings are versatile pieces of equipment and can definitely be used for spanking. The problem, however, is that spanking requires force and with a sex swing, that force can be lost in the momentum of the swing.
For a proper spanking impact, you will need to brace the swing against something. Try strapping the swing to a table and if necessary, add some restraints. You might have to play around with your sex swing a bit but if you get it right, the whole apparatus will add a bit of suspension into your spanking sessions.
Final Thoughts
There are many ways to bring a bit of spiciness to a relationship and spanking is one of those. Whether you enjoy spanking as a form of punishment or as part of pleasure, the use of a spanking bench can bring the act to a whole new level. There are many ways to create your own spanking bench and many people simply use a coffee table or even a secured sex swing. However, if you want a device that is specific to your needs, crafting a DIY spanking bench may be what's best for your relationship. All you need is some wood, nails, padding, and fabric and you can create a spanking bench exactly how you always dreamt of. Take the next weekend off and craft your way to a more fulfilling life in the bedroom.