Ready to get kinky in the bedroom? A strap-on has a lot of uses and surprisingly, just about anyone can use some version of this toy. If you're wondering how to use a strap on or want to learn more about different strap-on techniques, then you've come to the right spot. We'll help you understand more about this toy and how to use it effectively. We'll also recommend some of our favorite products along the way so you know what is available. The world of kink offers many possibilities and our goal is to have you feel as comfortable and self-assured as possible.
Who Can Use a Strap-on?
First, you may be wondering if you are the ideal target for wearing a strap-on. The answer will almost always be yes. There is no shortage of
Lesbian couples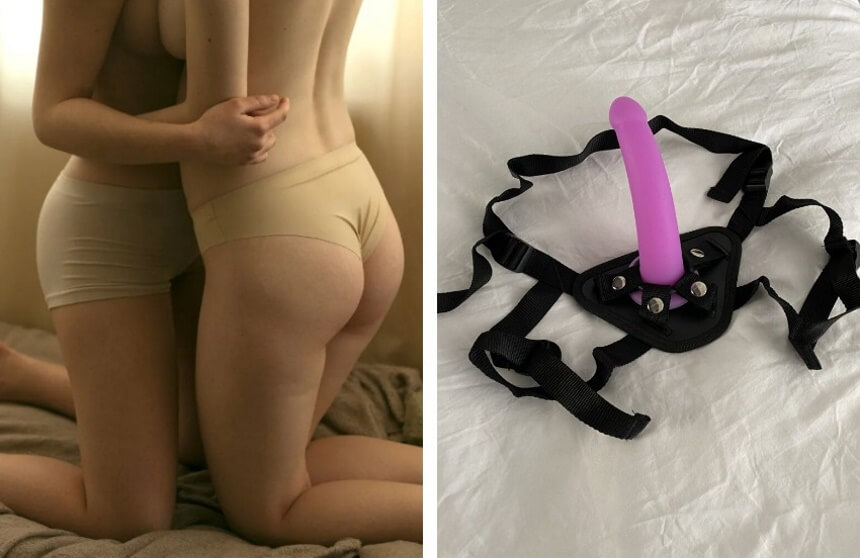 There's no limit as to what fun two women can have in the bedroom. In addition to a plethora of dildos and vibrators, you can add a strap-on for more fun. Wearing this, one woman can pleasure her partner, either vaginally or anally.
This list of the best lesbian strap-on options is a good place to start if you need to purchase one. They are comfortable to wear and won't cause any discomfort or chafing.
Strap-ons are also great toys for use by transgender people. If you have transitioned from female to male but either don't want surgery or haven't undergone it yet, using a strap-on can give you that confidence boost you want. It can also give you the power dynamic you are craving.
Pegging enthusiasts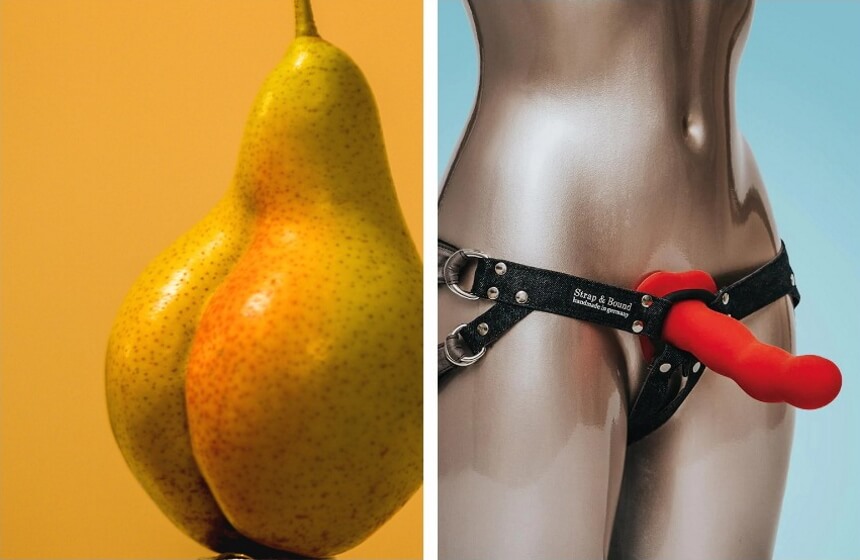 Ready to flip the switch in your relationship? Heterosexual couples that want to change up the power dynamics can use a strap-on to fulfill their pegging dreams. In this case, the woman will wear the strap-on and then use it to engage in anal sex with their partner.
Start by finding a strap-on that is a bit smaller, especially if you are new to anal sex. You should also make sure your male partner gradually works up to the end size so that there is no tearing or pain.
Gay couples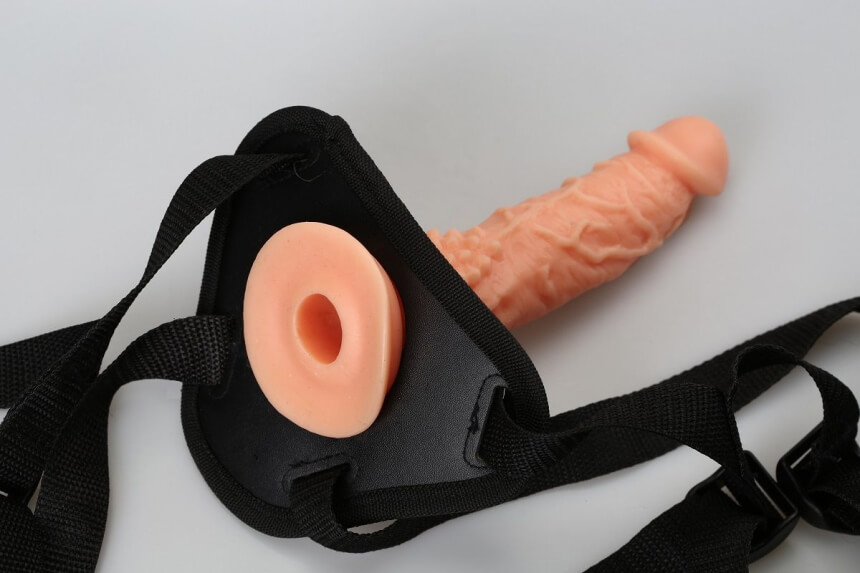 Yes, gay couples may both have penises but what if you want more girth than you are born with? There are many strap-on products that are actually hollow, which will allow you to fit them over your penis.
Learning how to use a hollow strap-on is quite easy. First, start by knowing what you want your new length and girth to be. Hollow strap-ons come in various sizes, so knowing what your end goal is will be beneficial.
Similar to a traditional strap-on, a hollow one has a series of straps to fit over yourself. Your penis should fit comfortably inside and you will get the same benefits of anal sex but your partner will have a more fulfilling sensation.
As always when engaging in anal sex, lube is of the utmost importance. We recommend the
Sliquid Sassy Water-Based Anal Lubricant for its thin texture and easy cleanup.
BDSM scenarios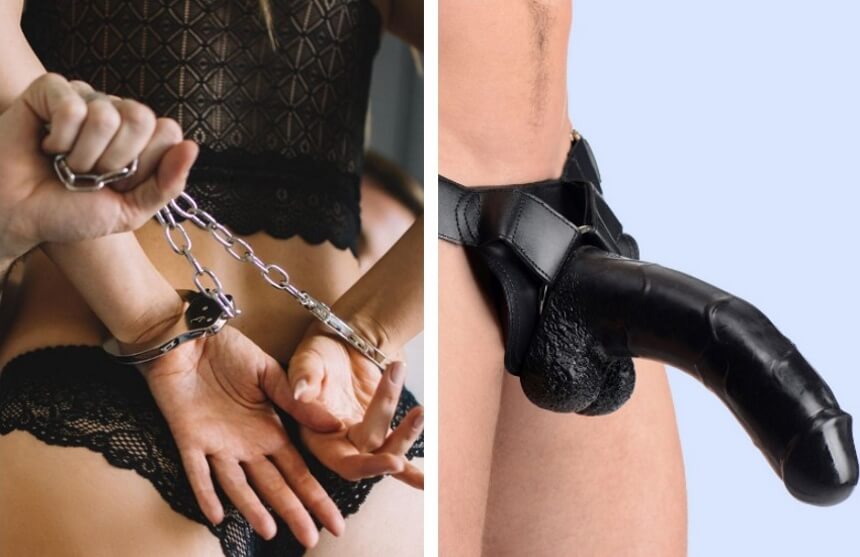 Perhaps one of the most well-known scenarios that includes the use of strap-ons is within a BDSM scenario. Both men and women can use a strap-on, depending on who is in the power position. For men, you can use a hollow strap-on, and for women, you can use one geared toward anal sex.
Strap-on Harness Types
There are two parts to a strap-on: the dildo and the harness. Choosing among these types will depend on your gender, physical limitations, and the types of sex you want to engage in.
Thong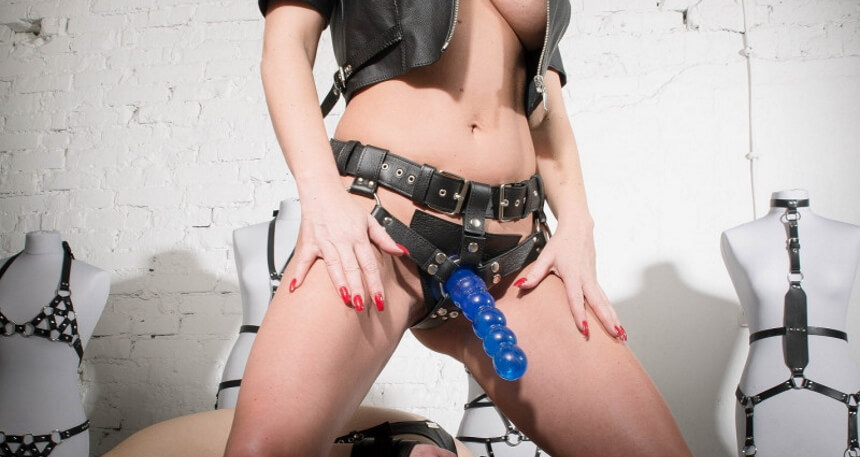 A thong harness works like thong underwear. The straps go around the waist and then between the butt cheeks. At the front you can then attach the dildo. This is a secure method of attaching a strap-on while still allowing it to be more natural to wear.
With a thong harness, you will want to decide how thick the straps are. The thicker they are, the more control you have over the dildo. However, with more material can come a less comfortable feeling. Everyone is different, so you will want to find the type of straps that will work best. For reference, you can think about thong underwear you have worn in the past and what has felt the most natural.
Jockstar
With a jockstar harness, you can think of it as a jockstrap. In this case, the harness goes around the waist and then around each leg. There is no strap between the butt cheeks.
The purpose of this type of harness is to keep the bum free for anything that can come up in the act of sex. You can move the straps around so they are secure and comfortable.
Underwear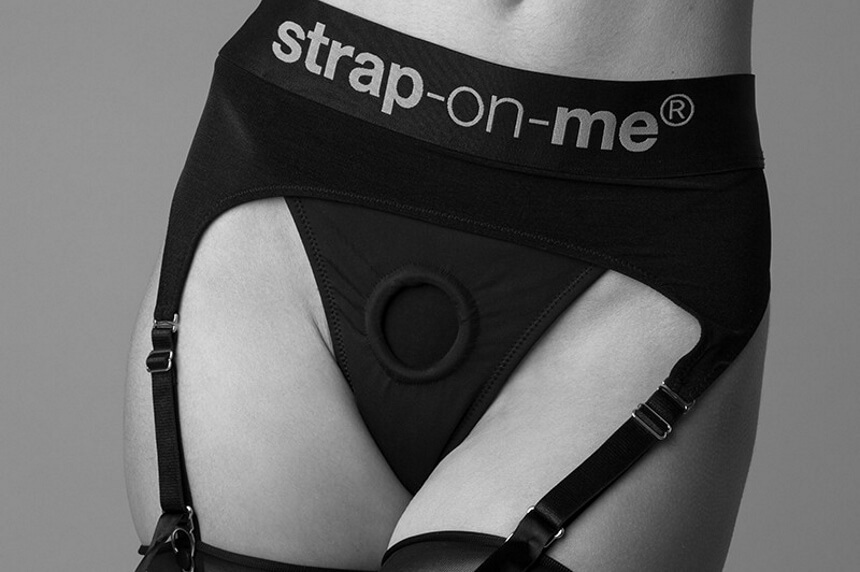 Those wanting more support with their strap-on will appreciate an underwear harness. This looks like regular underwear except there is an O-ring at the front to insert your dildo. The extra support of the underwear means you can be more confident in your thrusting abilities. However, it also means more fabric between you and your partner, which might dampen the experience. Still, most harness underwear is made to look and feel sexy, so it should add to the experience instead of taking away from it.
Rope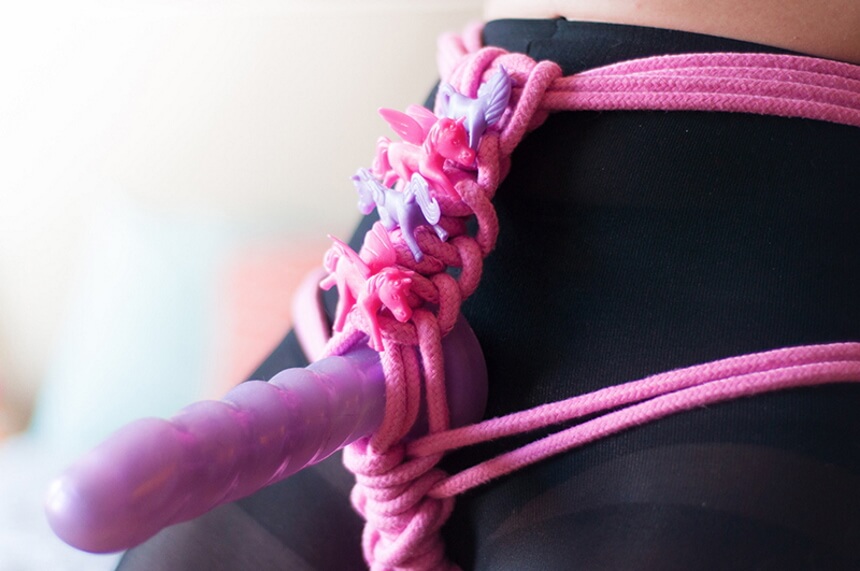 If you're into bondage, then you probably have some extra rope lying around. And, if you have a dildo, you can attach it via that rope. The problem is that tying with rope is not always simple and even if you get it set up, you don't have as much control over the dildo.
Rope can be a real turn-on, so if you want to use it as a harness, be sure to check out online video tutorials to help you learn more about it. Start by using a thin but sturdy piece of nylon rope. The material of the rope is important as you don't want it to cut into your skin or cause too much discomfort.
Wrap the rope around your torso, just above your belly button, and then angle the rope down so it also loops around your waist. From here you can make a loop to place the dildo in, just like an O-ring. Make sure everything is as tight as possible without cutting into your skin.
A rope harness won't work for every scenario as it just isn't secure enough. It is better for slow motions such as spooning or if your partner wants to take over in a cowgirl or cowboy position.
Strapless
Made specifically for women, a strapless harness has no straps. Instead, the dildo is inserted into a woman's vagina and then the outer part can be inserted into her partner.
The lack of straps means you have to hold onto the dildo only with your vaginal muscles, which can be quite difficult for some. However, there is a freeing motion when you don't have to deal with any straps. This leads to a more natural feel and can be great for transgender people.
Corset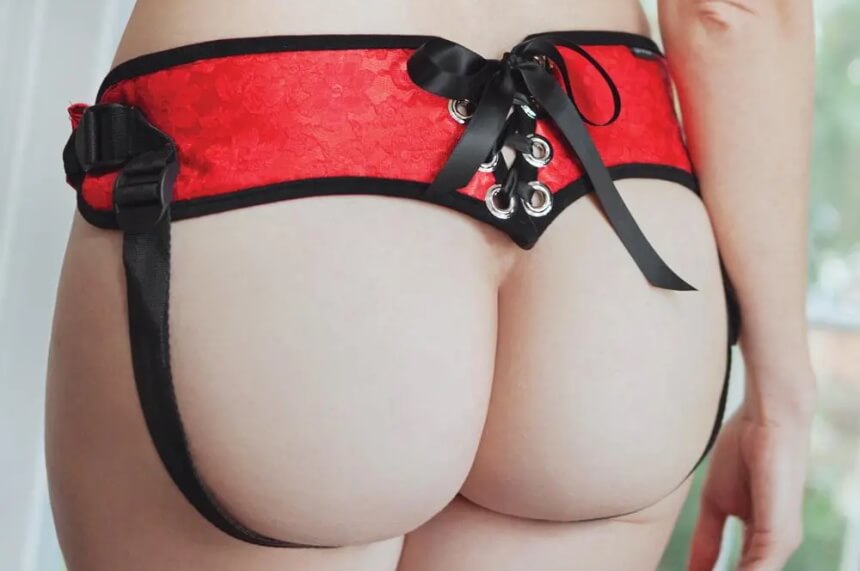 This is a fun style of harness that will give you an extra element of femineity. The harness loops around both legs for more support but then has a winder band that goes around the waist. Furthermore, there are ties on the side and usually a series of laces at the back. The result is a strap-on that has more security than other models. This is especially beneficial if a woman is wearing the strap-on as there won't be anything for the dildo to attach to.
Strap-on Dildos Types
There are many different types of strap-on dildos. You may be happy with just one type of strap-on, or you might want multiple types for different scenarios.
Double-ended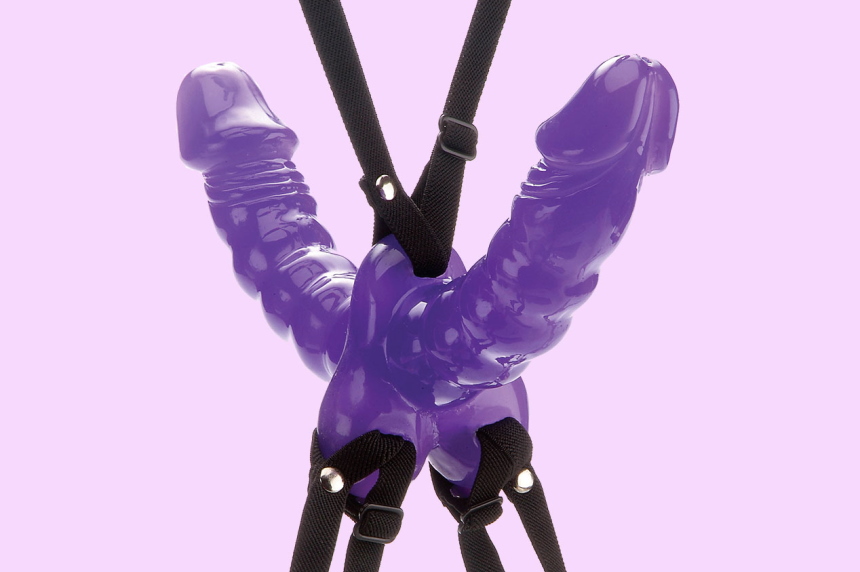 A double-ended strap-on can also be known as a strapless dildo. It has two ends, both of which are meant for insertion. Usually, a woman wears the strap-on and inserts it into her vagina. Then, the other end is used for penetration.
A double-ended strap-on is most often used by two women but can be used with a man and a woman. As there are no straps, you want to make sure each end is securely inserted and that both people have strong internal muscles.
Curved
A curved strap-on is merely a dildo that has a curve to it. This can be used for either vaginal or anal sex. The curved part of a dildo is meant to activate either the g-spot Trusted Source G-spot: Fact or Fiction?: A Systematic Review - PMC The G-spot, a putative erogenous area in the anterior vaginal wall, is a widely accepted concept in the mainstream media, but controversial in medical literature. www.ncbi.nlm.nih.gov or the p-spot so your partner has a more incredible experience.
Vibrating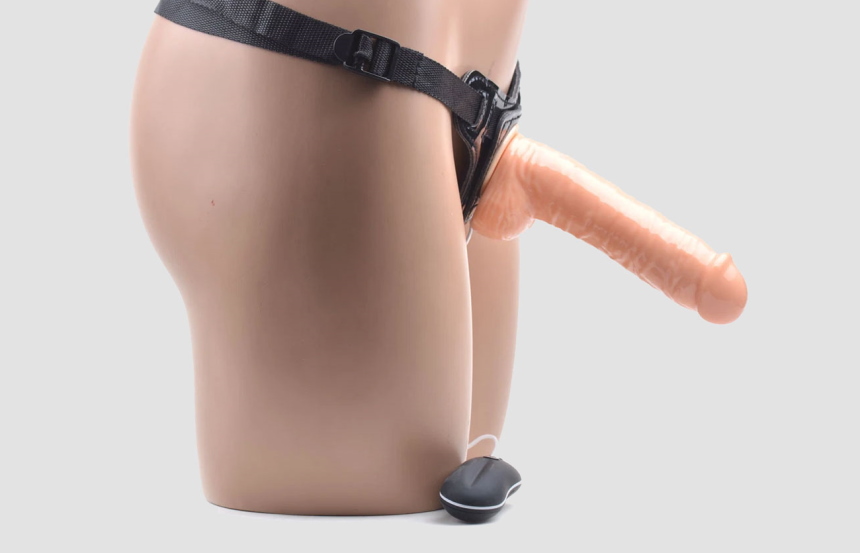 A vibrating strap-on takes the experience to a whole new level. With this model, the dildo has a vibrating function. Men or women can wear the harness and both will be able to benefit from the vibrations, although the person who has the dildo inserted into them will feel the vibrations more.
With a vibrating strap-on, look for how it is controlled. This is either a button on the dildo or through a remote control. A remote is the better option as either partner can easily control the settings.
Hollow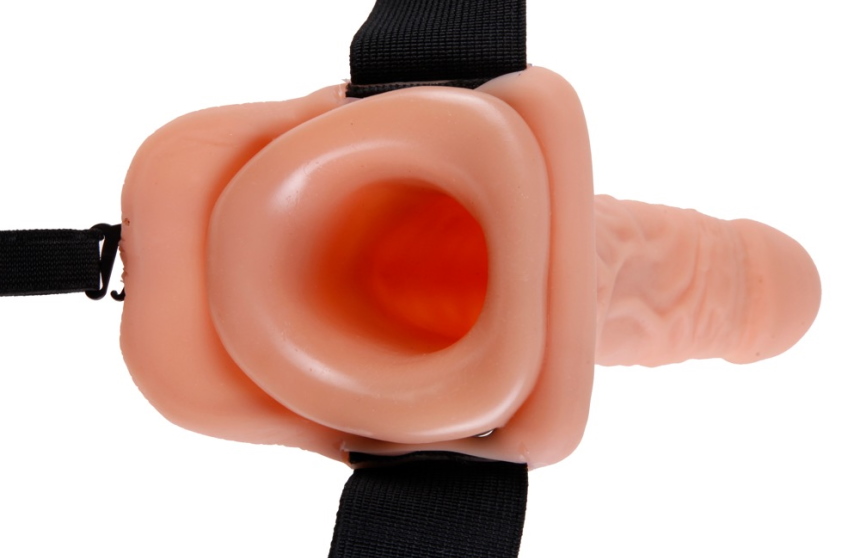 Men who want to experience how a larger penis feels will appreciate a hollow strap-on. This version has the strap-on fit around a man's penis. The sleeve will then benefit both people. Inside the sleeve is a pleasurable experience that has a textured feel to it. Then, the other partner will get to experience a fuller feel.
Pegging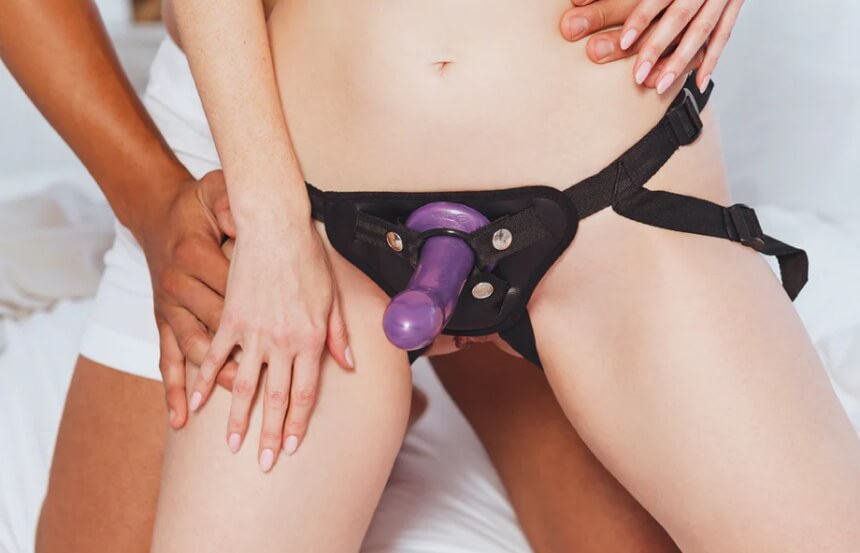 A pegging strap-on is usually used by women who want to experience a dominant experience with their male partner. It is usually made for anal sex and the harness can have a more feminine appearance to it.
How Strap-ons Work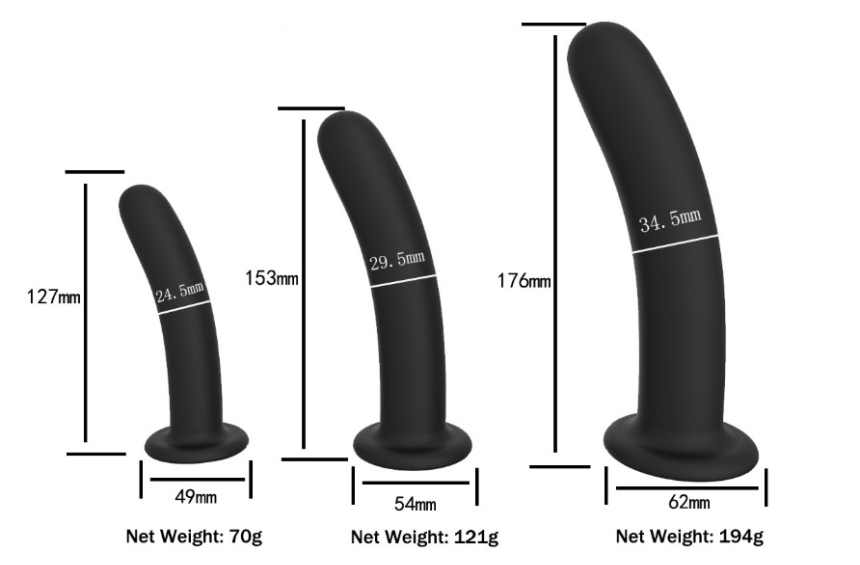 Strap-ons aren't too complicated until you get into specifics. A dildo is attached to a harness and you then use it how you want with your partner. The process of securing the harness and actually using the dildo on your partner can take a bit of practice. Here are some important features to be aware of when first using your new strap-on.
How to measure for harness?
As there are many types of harnesses and strap-ons, measuring can be a bit difficult. When ordering online, start by seeing what options are available as this will give you a frame of reference.
For harnesses that go around your waist, you will either get to choose the inches available or just a basic small, medium, or large size. This is not the time to type in your ideal size. Instead, be accurate. If you pick a harness that is too small it will be tight and not comfortable, so you won't actually use it.
For the dildo part, be sure to communicate with your partner about what they are comfortable with for insertion. Think about if you will use your dildo for vaginal or anal sex. Again, this comes down to comfortability and experience.
Generally, a smaller dildo is used for anal sex unless your partner has a lot of experience in this realm.
Finally, if you are purchasing a hollow strap-on, you will need to think about your current penis size. This will determine the inner size of the sleeve and how much room you have for your own member.
How to put it on?
There are different types of harnesses for strap-ons and each will require a different method to put it on. The straps should be pretty obvious as they will either go around your waist, hips, or legs.
There will be an area to attach the dildo, usually in the form of an O-ring. The dildo should rest comfortably between your legs or overtop of your penis if you are using a hollow strap-on.
Be sure to walk around a bit after putting your device on to see how comfortable it is. Make any necessary adjustments so you can use it with your expected force.
Tips for Using a Strap-On
Using a strap-on is not always a natural feeling, either for men or women. In fact, it can be downright difficult to maneuver. Here are some ways you can make the experience fun, easy, and comfortable.
Harness fit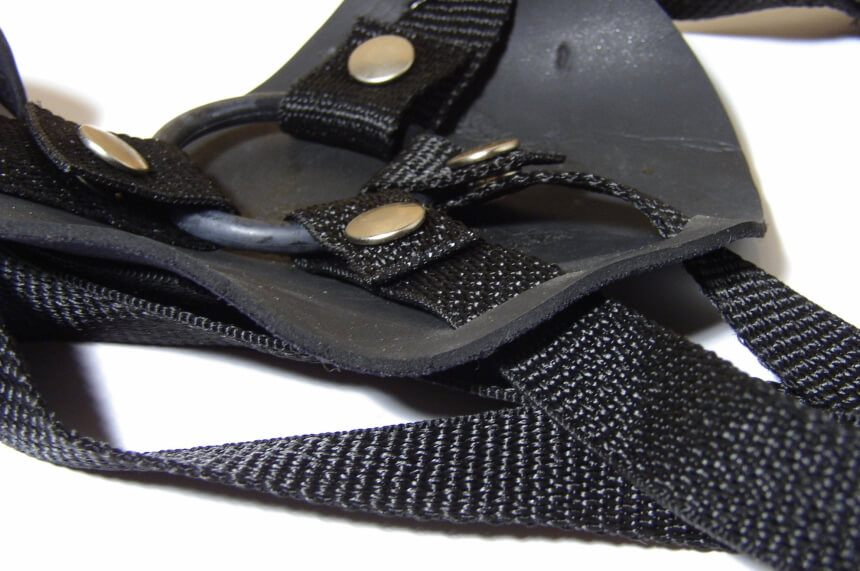 Some strap-ons will come as a complete package, which includes the dildo and the actual straps. However, some will come separately. There are man dildos that are compatible with straps, so you can use them on their own or purchase your own straps for more versatility. If this is the case, and you need to purchase a separate strap, we suggest this list of the best strap-on harness options. You can find one that works for your body type and size.
Even the best harnesses can feel uncomfortable at first. The straps can chafe and you might have a numb feeling in certain parts of your body. This is especially true if you are wearing a harness that fits over your penis.
Before you actually move to the bedroom, take the time to wear your harness. Yes, it might seem silly to do so on your own, but the more experience you have with your harness, the more comfortable you will be.
Take this time to adjust the straps and try different positions. This time is also important as many harnesses will come with a return policy, but only in the first few weeks after purchase. And, some companies won't allow you to return products if they've been worn during sex. Trying out your harness and ensuring it fits properly will allow you to decide if you need to return it or not.
Discuss with partner
There is a lot to discuss with your partner about the use of a strap-on. Obviously, the first discussion should be about whether you are both comfortable with the use of one. Not everyone wants to bring extra gear to the bedroom, and if your partner isn't comfortable either wearing one or using one, then you may need to think of other ideas to spice things up.
The next discussion is all about who will be wearing one. This might be obvious, such as heterosexual couples who enjoy pegging, but might not be as obvious, if both partners are women.
There is no right or wrong answer as to who will wear the strap-on. You might find that only one person in the relationship wants to wear one, or else realize that both people want to try it out.
If it's the case where both partners want to use a strap-on, you can then discuss whether you need one or two toys. As long as the strap-on dildo is thoroughly cleaned, you can use the same toy for each person.
However, everyone is built differently and one person may want a different size. Furthermore, larger dildos are normally used for vaginal sex while smaller ones are preferred for anal sex, so if you want to experience both, you may need different sizes of dildos.
Douche before anal sex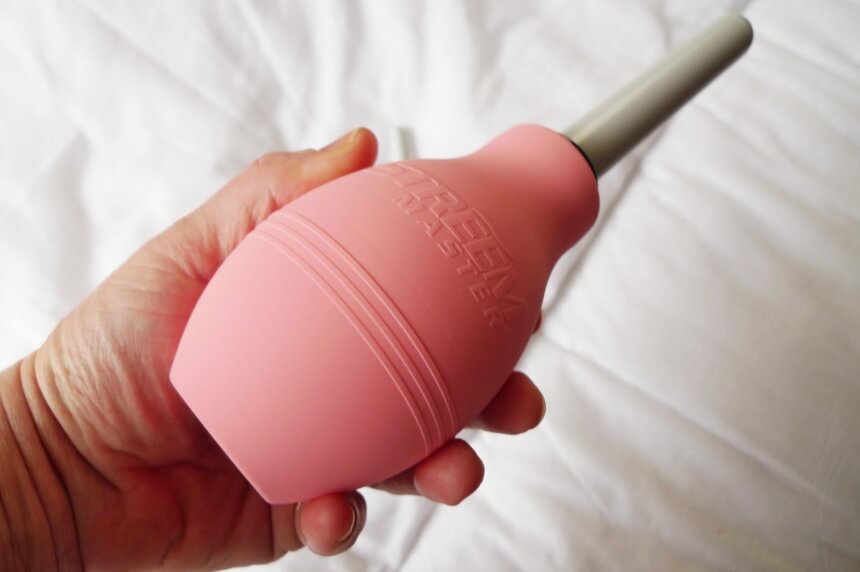 Douching is a personal choice and while many people will douche before anal sex Trusted Source Rectal Douching Associated with Receptive Anal Intercourse: A literature review To inform the development of HIV-prevention rectal douches, we reviewed the scientific literature and online instructional videos on rectal douching associated with receptive anal intercourse (RAI). Up to 88% of men who practice RAI ever have douched, while 43–64% have douched recently. www.ncbi.nlm.nih.gov , it is not a requirement. However, douching eliminates any fecal waste inside your rectum, which means less mess during anal sex.
If you choose to douche, be sure to do so in a safe manner. There are many products available at local pharmacies, or you can purchase product kits online for a more private experience.
The main takeaway if you douche is that you want a product that is built for this purpose, such as an enema. While homemade options may work, such as using a shower head, they are not recommended if you have little previous experience with the task.
By using actual douche products, you can ensure there is no rectal tearing or abrasions. Even tiny cuts inside your rectum can lead to infection, which you want to avoid at all costs.
Finally, know that your rectum is pretty good at keeping itself clean. If you've just had a bowel movement, a quick wash should be all that is needed. However, if you will feel more comfortable during anal sex knowing after douching, then it is definitely a step you should take.
Learn to insert
Men seem to learn pretty quickly how to insert their penis and start thrusting. But if you're a woman who is using a strap-on for the first time, the experience can be a bit weird. You're suddenly the one who is in more control and you want to be comfortable but assertive.
The trick is to go into your first experience and think of it as a time to learn. Have some fun and don't be afraid to laugh at the process. It will take time, and that's okay. With enough practice, you'll eventually get the hang of it.
Even for men, the process of inserting a dildo can take some practice. Using a hollow strap-on means more length than you are used to. For those who are using a double strap-on, it can likewise be difficult to find the right angle. Just go slowly and check in with your partner. They can tell you if anything needs to go faster or slower, or if the position isn't quite what it should be. As long as you don't expect to be proficient on the first use, you will be just fine.
Cleaning and lube

Like any sex toy, cleaning is essential when using a strap-on. While it is even more important if you are using your dildo for anal sex, any time you use your strap-on you will need to clean it properly.
Avoid perfumed soaps as they can cause irritation. Use a mild soap that is preferably natural. Then, either use a clean cloth to dry your strap-on or better yet, leave it to air dry completely before putting it away.
Cleaning a dildo may be straightforward but how do you clean the harness? Start by looking at the instructions that come with it. This will tell you if the straps are machine washable or not. If your harness can't be washed by machine, you will have to do so by hand. Again, use a mild soap and gently rub the material with your hands. Then, leave the harness to completely dry. Depending on the materials, the harness will be porous, which means bacteria can more easily get trapped in the bacteria if not cleaned and dried properly.
Finally, store your dildo and harness in a clean area. Don't simply throw them in your bathroom drawer, which is probably musty and a bit dirty. Hopefully, your strap-on will come with a storage bag. If not, you can purchase your own bag or box for storage. Place this all in a cool, dark area. As long as there is no moisture, bacteria and mold won't be able to grow, which will increase the longevity of your strap-on.
Have a first try
We've mentioned this a bit before but giving your strap-on a try before actually engaging in sex is highly recommended. Yes, it may seem odd or even embarrassing but the more comfortable you are in using your strap-on, the better sex will be.
Think about the different positions and scenarios for when you use your strap-on. Then, try to mime them on your own. It might help if you close your eyes or don't look in the mirror if you get easily embarrassed by such actions.
Again, this process is important as there may be a short window before you are able to return the product if need be. Take a look at the return policy so you know how much time you have and then make sure the strap on and the harness are comfortable for future use.
Using Different Strap-on Types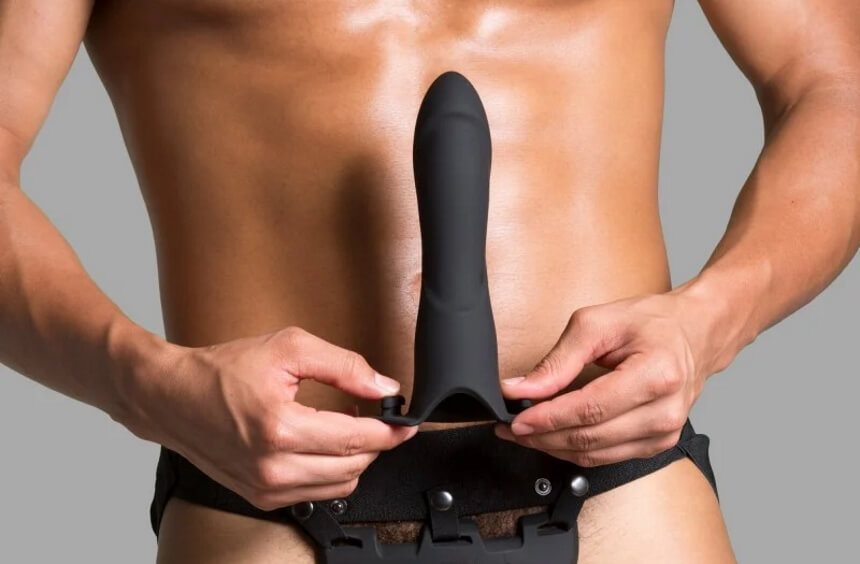 Now that you know more about the different types of strap-ons available, here's a more in-depth look at how to use them.
Strapless strap on
Normally, a strap-on dildo has a harness, which makes it easier to attach. However, how do you use a strapless strap-on? First of all, know that this version is meant for women. One end of the strap-on fits into your vagina while the other end is in the shape of a dildo.
Not all women can use this version. It requires very strong Kegel muscles and a secure pelvic floor. You might want to perform some internal muscle contractions before working up to a strapless strap-on.
Hollow strap-on
Yes, size does sometimes matter. While most couples can adjust settings and scenarios if a man's penis size isn't as large as desired, there are other options, including a hollow strap-on. With this device, a man uses it like an extra sleeve for their penis. Your appendage fits nicely inside and gives you the feeling that you are larger and wider than normal.
Both parties will benefit from a hollow strap-on. The person wearing it will feel more confident that they are fulfilling the needs of their partner and will also get pleasure out of it, as the inside sleeve normally has a unique texture to it. Then, the other partner will get that full feeling they desire.
Double strap-on
Being double penetrated might be a fantasy for some women but having another person in the bedroom involves a lot of trust. If you're not ready to engage in a threesome, you can still experience double penetration through the use of a double strap-on.
With this device, the dildo is added to a man's penis. Silicone straps are used to create something comfortable but also sturdy so it won't fall off. Usually, a double strap-on also fits around a man's testicles for a more secure addition.
With a double strap-on, it can take a few tries to maneuver it properly. You will want to adjust the dildo so it fits your partner and is comfortable.
For those wanting more information about the best double penetration strap-ons, check out this link. It will give you plenty of side and texture options.
On a man
While you might not think a man would use a strap-on, there are many ways to do so. As we've discussed, a hollow strap-on is perhaps the most obvious. This fits around a man's penis and gives it greater length and girth.
Furthermore, you a man can use a double strap-on, where the dildo is attached to the pan's penis, so he can engage in double penetration.
Strap on Positions
Just as there is with regular sex, there is a seemingly endless number of positions when using a strap-on.
Classic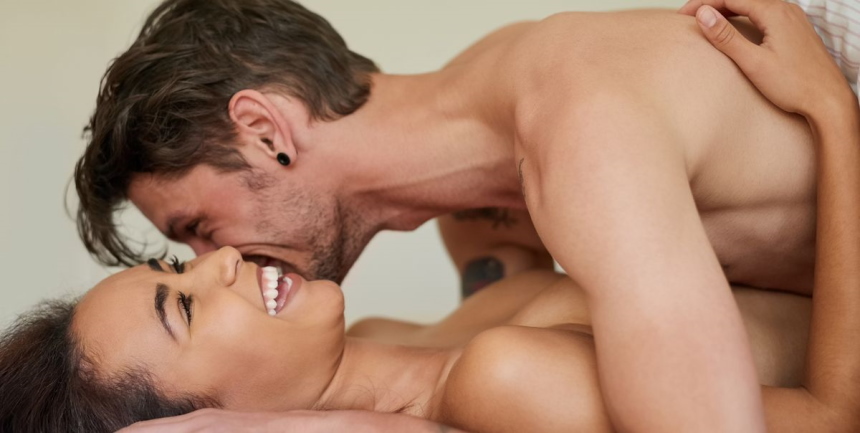 There's nothing wrong with a missionary position, and if that's how you want to use your strap-on, then go for it. Start by wearing your strap-on and make sure it is comfortable. Then, talk to your partner about how they want to lay down. You can set the pace however you want. And, if you want to mix things up, either in the same session or later, there are plenty of different positions to try.
Spooning
A sweet antithesis to some of the more expert positions that we'll soon look at, spooning with a strap-on gives you that intimacy you may be craving. Start by laying down together, with one person's back to the other person's front. It can take a bit to position yourself, so try different angles.
The goal of spooning is to go slowly. You can also easily use your hands to help with clitoral stimulation or penis stimulation on the partner in front.
Pegging joy
Whether you are into pegging or simply dominance, this position is all about power for the person wearing the strap-on. Have your partner bent over a surface, such as a table or counter. Their feet should still be on the ground so that they are relatively comfortable.
Then, insert your strap-on into your partner. You can press down on your partner, if they are willing, for a BDSM approach. The person wearing the strap-on sets the tempo and because of their body weight, has more control over the situation.
Seated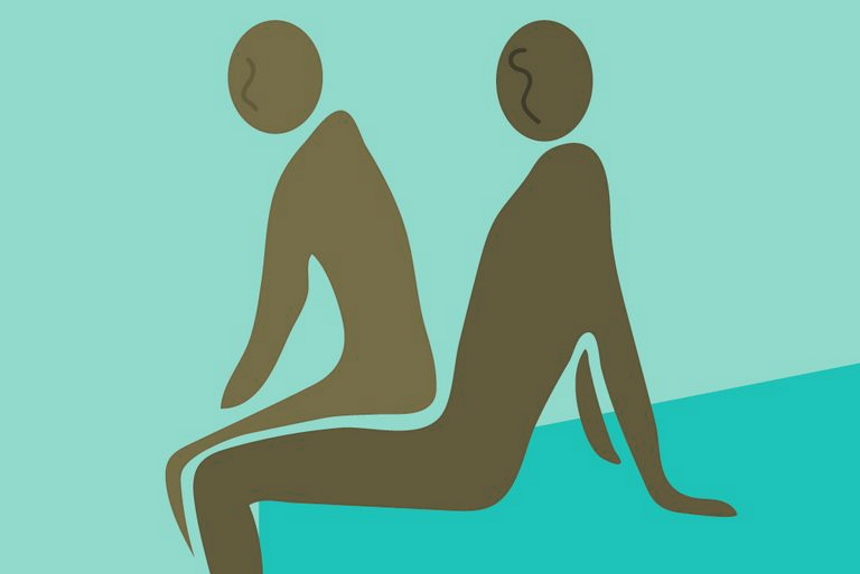 When wearing your strap-on, you can sit on a chair and then have your partner sit atop you. They can position the strap-on better and have more control, which is perfect if you are starting out. Furthermore, the person sitting atop the strap-on has more control over the speed and tempo, which may make them more comfortable.
Standing
In movies, you often see two people standing while having sex. While this can seem like a really sexy move, in real life there are a lot of variables that need to be accounted for.
First, height differences can impact how you position yourself with a strap-on. If your partner is a lot shorter than you, it can be hard to keep a bended knee position. Then, there is the sheer time that you may be in this position for. If you find your knees start to buckle, then it may be time to take a break or move into a different position.
Finally, you may want to simply pick your partner up for deeper access. However, weight can come into play here. Even if your partner is very light, you might not be able to hold them up for a long time.
Standing while using a strap-on is a hot option but one that can take a lot more physical exertion than you realize. Still, try it out and have fun.
Cowgirl/boy with reverse option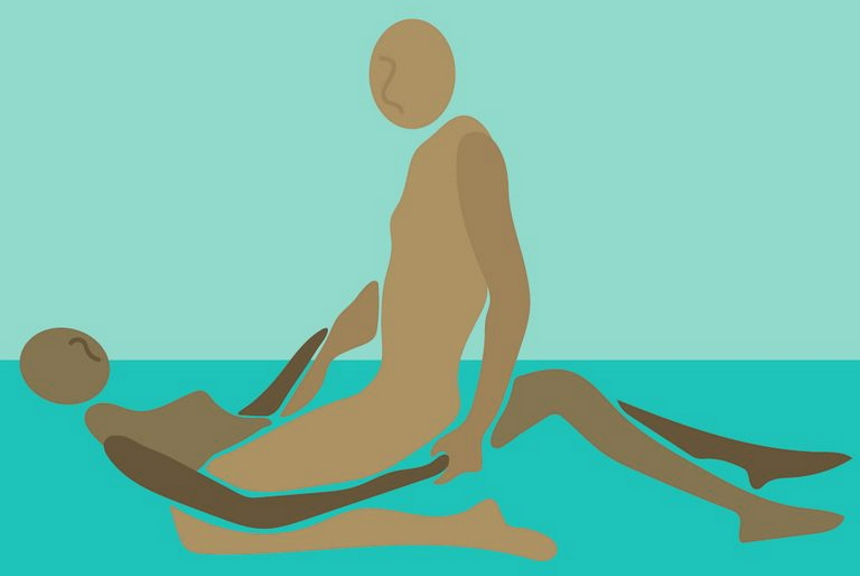 With a cowgirl or cowboy position, the person wearing the strap-on lies flat on the bed. Then, their partner sits atop them. Penetration can happen both vaginally or anally in this position. For an extra dimension, the person straddling their partner can face away for a reverse option.
Jockey
In the jockey sex position, one partner lays down on their stomach. Then, the other partner penetrates them from behind with their legs on either side of their partner's. It's similar to riding a horse, hence the name, although both partners lay down on the bed.
You can use your strap-on in the jockey position regardless of gender. It provides a deep feeling but can take a bit to get comfortable. Again, this is a position where you want to try out different angles to ensure everyone is comfortable.
Double trouble
While not really for beginners, those with some experience can take things to the next level with some double penetration fun. If you're uncomfortable bringing a third person into your bedroom, your partner can work both areas instead.
The Lovehoney Double Fun is a good example of how to use a double strap-on. It works by attaching a silicone ring around your penis and testicles. Your penis is free for insertion and you can also maneuver the strap-on's dildo for secondary insertion.
Using a double-penetration strap-on can take a bit of work to get used to. We recommend trying it out and seeing how it bends and moves. This way you will be able to use it more easily with your partner. Remember to always go slow with double penetration and don't be afraid if you need to pause or reposition yourself.
Aftercare
There are three stages to sexual intercourse and the last one is often forgotten. In addition to foreplay and the act of sex itself, proper time should be spent on aftercare. This is when you show your partner how much you care about them and attend to any of their needs.
Instead of immediately pulling out and getting back to real life, make sure your partner is satisfied. Attend to their needs, which can be both physical and emotional.
Check in to see how they feel. In-depth conversations, about what worked and what could be changed can happen at a later time but should still be discussed.
Finally, while you should always take the time to properly clean your strap-on and any other sex toys, you don't need to immediately jump up and attend to this task. You can wait a few minutes and take the time to reconnect with your partner.
Final Thoughts
Strap-ons can be an exciting addition to a bedroom. They are used by all sorts of partnerships, regardless of gender. There are strap-ons made specifically for anal or vaginal sex. There are also strap-ons made to enhance a man's smaller penis size. You can pair different types of harnesses with different dildos, although some will come as a complete package. If you're worried about how to use a strap on and are hesitant to purchase one, we hope we have given you the necessary knowledge to get started. This may be the way to spice up your sex life.