Though today's dildos, vibrators, and even vibrating strap-on devices maintain a similar shape, they have adopted modern features, including updated materials and motorized parts. Toy selections even include a variety of sex machines to increase our enjoyment.
One of these is the ride-on Monkey Rocker. These can be expensive, though, which has led to many DIY Monkey Rocker projects. Though these devices seem rather complicated to build, they are actually easier than you may think, providing you have the tools, materials, and skills to put them together. If you're interested in learning how to build a Monkey Rocker, check out our step-by-step instructions below for the proper method.
What is Monkey Rocker?
Though it may be hard to believe, there is some evidence that sex toys have been used for over 28,000 years. Those historical toys Trusted Source 'Sex toys' dating back 28,000 years made from stone and dried camel dung The Wellcome Collection in London currently has a number of ceremonial sculptures (6th century BC artefact pictured) as part of its Institute of Sexology exhibition. www.dailymail.co.uk were made of materials like stone, leather, wood Trusted Source 'Wood dust Wood dust can cause serious health problems. It can cause asthma, which carpenters and joiners are four times more likely to get compared with other UK workers. www.hse.gov.uk , or even camel dung and had very simplistic phallic designs.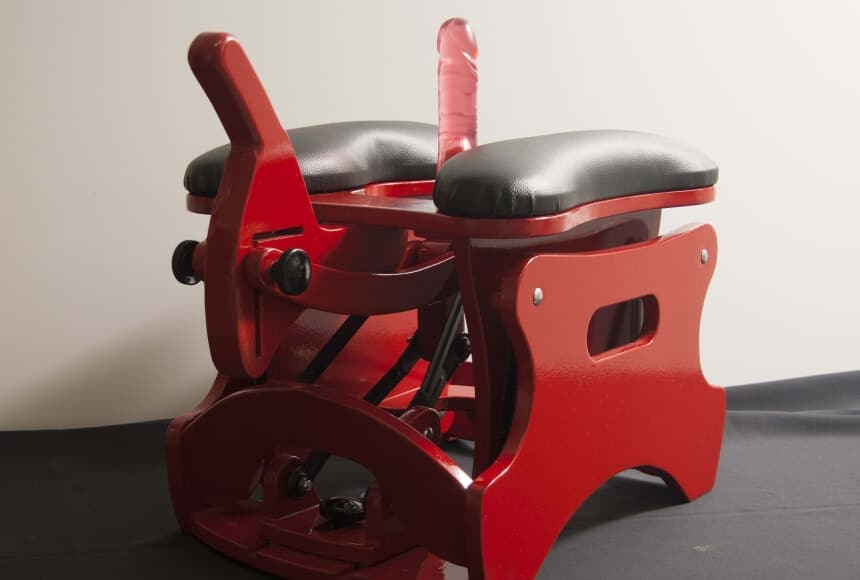 A Monkey Rocker is a type of sexual device that is made up of a moving seat area with a dildo in the middle of it. They are similar to the Sybian sex toys, though not identical since the Sybians are stationary with some motors and vibrations and a Monkey Rocker uses your own back and forth motion for stimulation.
There are several options available when it comes to Monkey Rockers, including the Cloud 9 F-Slider, which is well-built and includes a realistic dildo and a Vac-U-Lock adapter to swap this toy out for any other dildo that fits. Of course, these types of devices can be rather pricey, ranging from $500 to $1000, depending on which one of these products you choose. Luckily, you can build your own Monkey Rocker for a fraction of this cost, giving you the same results without breaking your budget.
How it works
A Monkey Rocker looks a bit intimidating but it is actually quite simple to use. All you do is sit down on the seat, positioning yourself so that the dildo can penetrate you, and then rock back and forth. It is almost like riding a rocking horse, though this device isn't for children.
What You Need to Build Funky Rocker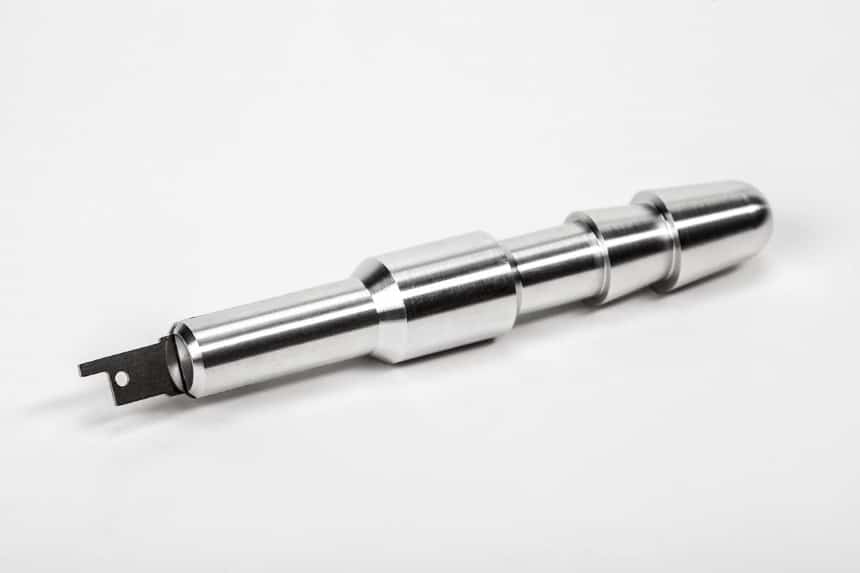 If you've decided to learn how to make a monkey rocker to keep in your home, there are a few essential items needed to create one of these devices. The first thing to look for is a good blueprint that shows you exactly how to build one of these items. You can find some fantastic Monkey Rocker plans online at sites like Funkyrocker.com or imgur.com.
Other items you'll need to collect include some medium-density fiberboard, a couple of coated steel bearing arms, some fasteners, and foam for the padding on the seat. You'll also need some sort of seat cover, like vinyl or leather, whichever you prefer and can afford. Don't use cloth for this covering since it isn't easy to wipe clean like the other materials we've mentioned. A Vac-U-Lock adapter is also a handy addition since this piece allows you to add any dildo you like that fits with this piece to the finished toy.
You'll also need a few tools to make your DIY sex rocker, like a jigsaw or other cutting tool for the fiberboard, a drill to make some holes, and scissors to cut the padding and cover material.
Build Your Own Monkey Rocker
Once you've located the sex rocker plans and all the materials and tools you need to build your Monkey Rocker, it's time to get started. This process is a bit time-consuming, so don't assume you'll be able to use your new toy right away, especially if you're skills aren't quite as honed as you think they are. Take your time with this process and double-check the love glider DIY plans often to be sure you are doing every step correctly.
Step 1. Preparation
The first thing to do is to prep your work area. Be sure you have the space to fit the tools and materials you have to work with. Lay everything out to be sure it is all close at hand when you need it to speed up the actual building process. A large table or work surface is a must to keep everything organized. Print your blueprints and make sure they are all sized properly before you get started. Trim away the excess to give you the right template for the pieces you need to build your DIY Monkey Rocker.
Step 2. Place the blueprints
Place the blueprints onto the fiberboard, leaving some space between them to ensure you have room to make the cuts. It may be a good idea to use some sort of adhesive, though not a permanent one since you'll need to remove the blueprints again when the pieces are cut and ready to be assembled. Be sure to leave some space on the fiberboard for any pieces that need to be double-thickness or that need left and right versions of the same piece but only include one template.
Step 3. Cut out details
Once your blueprints are secured to the fiberboard, it is time to cut them out. Take your time to ensure the cuts are as clean as possible. A proper cutting tool and work surface can speed up this process, though you can use whatever tools you have on hand to get the job done. Once the first set of pieces are cut, reapply the blueprints for any double-layer or inverted pieces and cut those as well.
Step 4. Sanding and painting
When you've cut all of the pieces needed for your DIY rocking device, sand all of the edges to ensure they are as smooth as possible. This is especially important for those parts that could rub against our skin as you use the toy. After they are sanded and smooth, you can paint the pieces whatever color you like. For the double-layer parts, it is a good idea to cut and sand them to be as identical as possible for a more finished look and feel. You may also want to glue them together before painting to save some time.
Step 5. Drill the holes
After you've given the paint on all the pieces you've cut time to dry, it is time to drill the holes. These won't necessarily be all the same size, so be sure to check your blueprints very carefully to ensure that you're making the right size hole in the proper place on each piece. Some of them also require different depths, so check this as well. Sand and repaint these areas if needed.
Step 6. Connect parts
Once you have all the pieces drilled and ready to go, you can start to connect them. Be sure to check the blueprints often to be sure everything is connected to the right piece and positioned the right way. You'll need to include the bearing arms, fasteners, and Vac-U-Lock adapter to the cut pieces during the assembly, so be sure these are close by when you begin this process.
After you've connected all the pieces, it may be a good idea to double-check the blueprints against the finished product and test the rocking motion to be sure it moves as smoothly as possible. If everything looks good and moves well, you can move on to the next step.
Step 7. Add padding
Add some padding to the seated areas. You can cut these as needed to fit, then attach them to the fiberboard to keep them in place. Sit down to check the comfort level and add, adjust, or trim the padding as needed.
Step 8. Attach coverings
When the padding is placed and secured to your liking, it is time to add the coverings. Be sure they cover the padding completely, folding the material beneath the seat and securing it in place with some heavy-duty staples. This will ensure that the coverings stay put when you put your Monkey Rocker to use.
Step 9. Final touches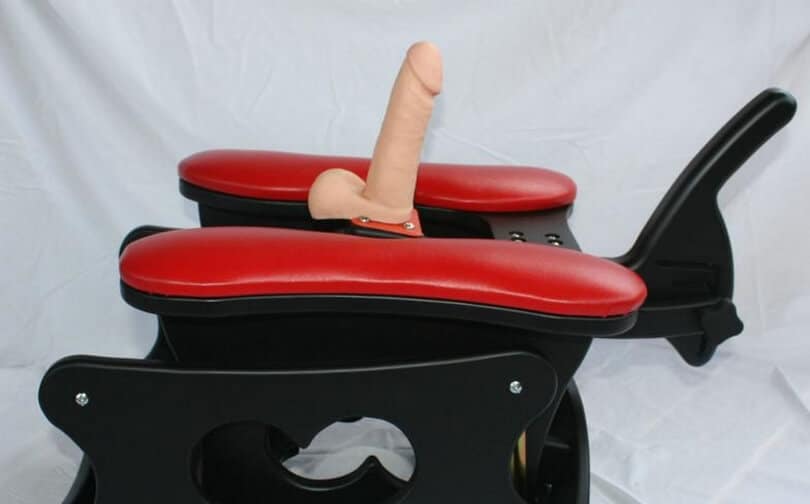 Now that your new DIY Monkey Rocker is built, it is time to add those finishing touches. This includes the dildo or vibrator of your choice. You can use any toy that you like that can be used with the Vac-U-Lock adapter that you installed earlier. Rock the machine back and forth a few times, keeping an eye on the thrust depth of the dildo you've added. It should have thrust between 4 and 7 inches to be as realistic as possible.
Step 10. Enjoy
Once you've chosen your dildo and added it to the Monkey Rocker, it's time to test it out for real. Climb on board and enjoy the fruits of your labor for as long as you like.
Alternatives
Though building a DIY Monkey Rocker looks easy on paper, it does take a bit of skill that not everyone is capable of. If you're interested in one of these types of devices but don't think you can accomplish the build we've discussed here, there are a few alternative options.
Other toys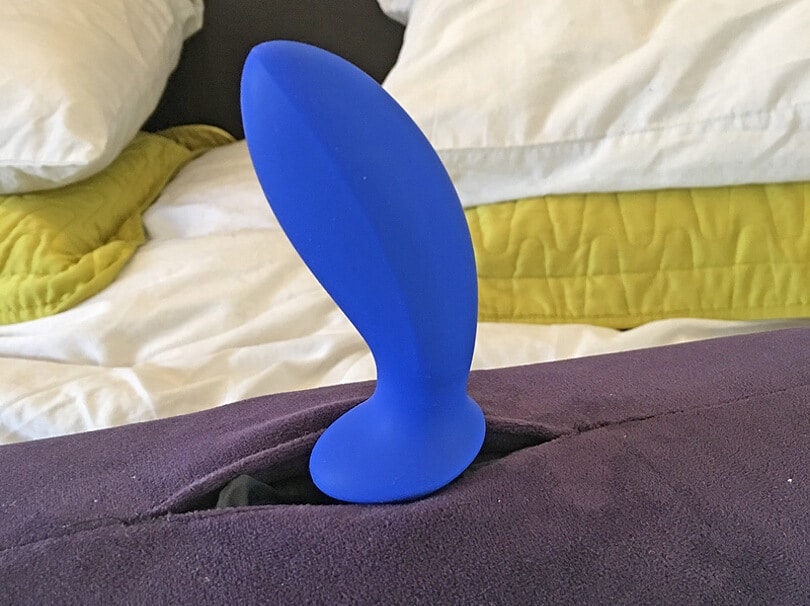 There are a few other toys that you can try out that are somewhat similar to the Monkey Rocker. The Liberator BonBon Toy Mount is a popular option, due to its inexpensive price, comfort, and versatility. It can be used with any dildo or vibrator, provided they don't have a flared base, thanks to the innovative toy slot that keeps your toy in place as you ride the cushion. You can also place a dildo between couch cushions or between your mattress and box spring for hands-free use.
Use old chair
You can turn almost any old chair into a DIY Monkey Rocker by cutting a slot in the seat and attaching a dildo or vibrator so it sticks up through this slot. This is an easy task that even the least handy person can accomplish.
Final Thoughts
A Monkey Rocker is a fun toy to have around if you're on your own and looking for some sexual stimulation that mimics the real thing. These sex devices are great for both women and men, offering hands-free pleasure whenever you like. The downside is that they are rather expensive, especially for those who are on a budget that pricey sex toys don't fit into.
Luckily, if you have the tools and the skills, you can make your own DIY Monkey Rocker. The blueprints are easy to find and cost almost nothing, though they can help you create the perfect toy for your enjoyment. Building your own love rocker also saves a great deal of money, helping you stick to your budget without sacrificing the pleasure one of these handy devices can offer.