There are a wide variety of vibrators to choose from. They come in several shapes and sizes, so you can choose a large model or one of the little bullet vibrators that fit into the palm of your hand. A favorite from the small models is the Lovehoney Mini Thrill, but we have a full rundown of the best vibrators of all sizes that you can reference.
Of course, you can save money by making a homemade vibrator instead of buying one. There are several different items you can use to give yourself the pleasure you desire, many of which you likely already have in your home. If you want to learn how to make a homemade vibrator, check out the information we've compiled below to get started.
What to Use as a Vibrator?
There are many options to choose from when deciding what to use for your makeshift vibrators. Some of these items may be something you've already heard about while others may be brand new to you. You can pick the option you like best or try out a few to see which one best suits your physical needs.
Personal massager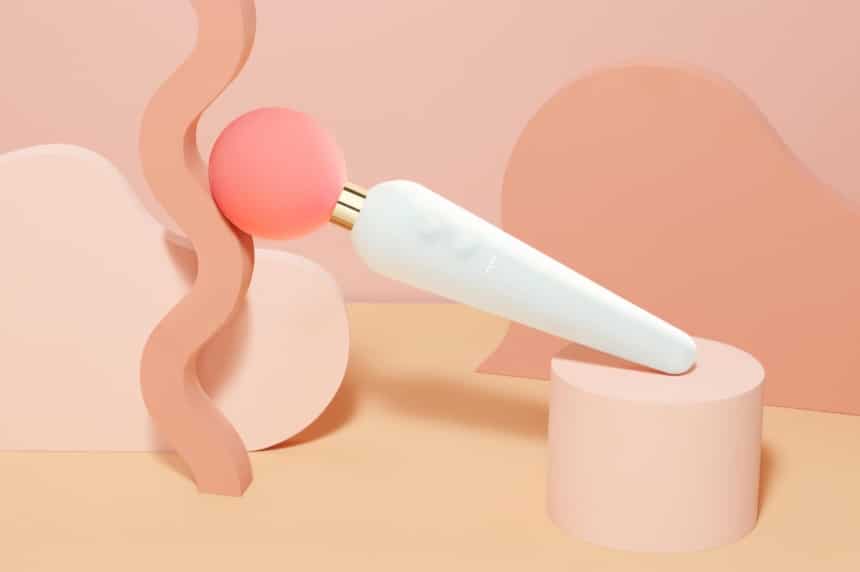 Personal massagers may not be designed strictly for use as a vibrator but they do include some of the same functions, which makes them an obvious choice. A popular model is the Magic Wand Rechargeable Extra Powerful Cordless Vibrator, which offers 4 speeds and 4 patterns to choose from, as well as a soft silicone head and a flexible neck. Aside from how well they work, a personal massager is also discreet since no one will question why you have one if they discover it in your home.
Electric razor/epilator
Though an electric razor's main function is to remove unwanted hair, these devices have a powerful motor that makes them a great option as a homemade sex vibrator. They also come in a variety of sizes, so you can get one that fits nicely internally or you can stick with external stimulation. Be sure to remove the razor head to avoid injury. You may also want to put a condom over the handle of the razor for hygienic reasons. Then insert the handle, turn it on, and enjoy those vibrations.
Washing machine/dryer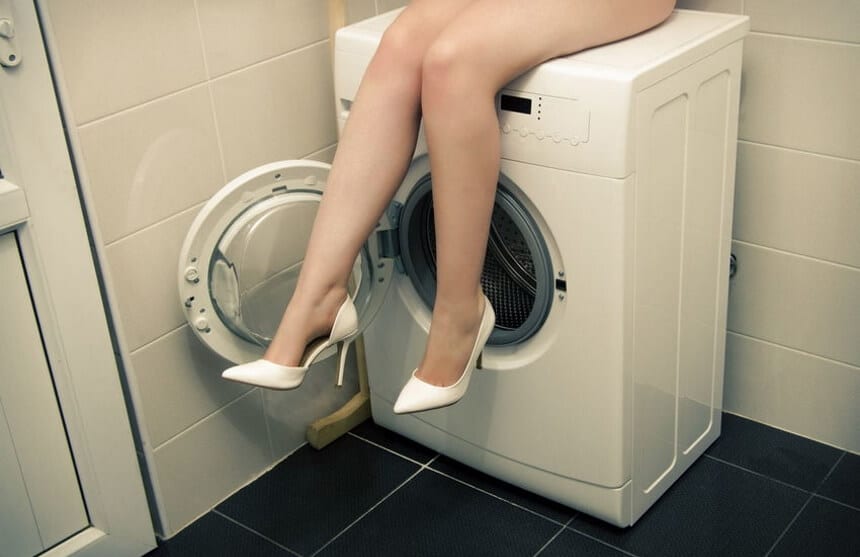 Almost every household has a washer and a dryer, which are the old-fashioned methods of personal pleasure that are still a favorite among women today. Whether you're using an unbalanced load to give you the pleasure you want or just riding the spin cycle to orgasm is up to you. An empty house is best to avoid any interruptions in the laundry room.
Powerful showerhead
A powerful showerhead that isn't fixed to the wall is another great option for a DIY vibrator. Many shower heads offer varying pulses to pick from, so you can try out them all to find the one that offers the most pleasure. Of course, you do need to be careful when using a showerhead in this way since getting water into your vagina could wash the helpful bacteria Trusted Source What are Vaginal Flora? Bacteria that live in the vagina. The vaginal flora are the bacteria that live inside the vagina. Having healthy vaginal flora is important for good reproductive health. www.verywellhealth.com out of this area, leading to some health conditions. It's best to use caution with this one, though it doesn't necessarily take it out of the running.
Electric cleaning brush
Though a face cleaning brush shouldn't be used internally, it can be quite handy to stimulate your clitoris for amazing orgasms. The soft heads combined with the vibrating motors can give you the pleasure you're looking for. Before you get started, it is a good idea to clean the brush head well. You may want to have a dedicated one for this purpose and a separate one for your face, just to be extra safe.
Electric toothbrush
An electric toothbrush is one of the best homemade cock vibrator options for a few reasons. They are slim, so you can easily and comfortably insert one into your vagina, plus they can be used for clitoral stimulation, giving you a few ways to use them to meet your needs. They also vibrate the same way an actual vibrator would do, so you're getting almost the same type of stimulation in a much cheaper and more discreet object.
Cellphone
Though a smartphone may not be the proper shape to insert, it can be used for clitoral stimulation. You can choose an app that creates some pleasurable vibrations for you to enjoy. Of course, for internal stimulation, you can also use an old flip phone since these have a more compact shape that fits this area better. Either way, be sure to clean the phone thoroughly before you begin since phones are covered with bacteria Trusted Source Your Cell Phone Is 10 Times Dirtier Than a Toilet Seat | Time Your cell phone picks up bacteria everywhere it goes. Here's how to clean a screen and avoid some of the grossest germs. time.com . You may also want to place a condom over the phone to keep the mess to a minimum.
Kids toys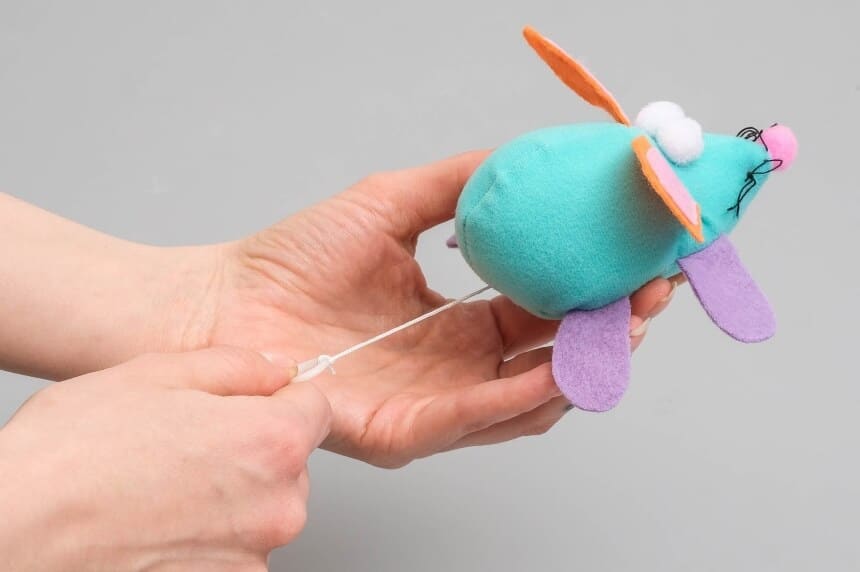 There are a ton of kid's toys that include built-in motors that vibrate in the most pleasurable ways. Depending on the toy you choose, you may be able to use them internally and externally as you see fit. Of course, it may be best to avoid the toys your child uses regularly for sanitary reasons. Your little one may also notice if the toy goes missing if it's one they still like to play with.
Safety tips
Now that you know all of the items that you can use to make a homemade penis vibrator, it's a good idea to cover all of the safety tips to ensure you're maintaining your health while enjoying yourself.
Keep it clean
Whether you're using a store-bought toy or a homemade male vibrator, hygiene is one of the most important steps to maintain your health. Clean and disinfect your item before and after each use, preferably with an antibacterial cleaner. This helps to remove any bacteria on the toy that could cause an infection in your most delicate areas. Your vagina is extra-sensitive, so take care of it as best you can to ensure it is healthy and clean at all times.
Use protection
As we stated in several of the toy descriptions above, it is a good idea to put a condom on your chosen device before you begin whenever possible. Though a good cleaning can remove the majority of the bacteria on the item you're using to pleasure yourself, you may miss some. A condom will prevent that bacteria from getting inside you. It also helps to keep the toy cleaner when you're using it, which means a quicker and easier cleanup when you're finished. Using a condom may create some friction, so it's a good idea to use a bit of lubricant as well for those homemade dildo vibrators.
Nothing sharp
Though this may seem obvious, it is never a good idea to put anything sharp on or inside your genital area. This could cause injuries that may require medical attention. Not only would this lead to an embarrassing discussion with your doctor, but it could also cause permanent damage to your privates, which is never something you want to deal with.
Not for butt
You may assume that any of the devices above that can fit into your vagina could also be used as a homemade prostate vibrator. This isn't necessarily a good idea, though, since most of the items we've described that can be inserted don't have the flared base needed to prevent it from getting sucked into your anal cavity. For this reason, it is best to stick to vaginal and clitoral stimulation with the methods we've described above. If you're interested in trying anal stimulation, look into anal vibrators for the safest options.
How to Make a Vibrator
All of the items we've described above make great homemade vibrators but not everyone wants to use their household items in that way. For those people, learning how to make a vibrator is a good alternative.
Use Clone-a-Willy kit
The Clone-a-Willy kit allows you to take a cast of a specific man's penis to create a mold that can be used to create a vibrating dildo. This is perfect for those who only want their partner's member inside of them but may not have access to it as often as they like. The kit includes everything you need, including the molding tube, molding powder, silicone mix, single-speed vibrator, thermometer, and stirring stick, as well as full instructions to ensure you're doing everything right.
Use personal fan
A compact personal fan can be altered to create your handheld vibrator. These are cheap options that you can find at any hardware, big box, or dollar store. To make a vibrator with one of these, remove all but one of the fan blades, ensuring that there are no sharp edges left behind that could cause injury. Place the remaining fan blade over your clitoris and turn it on to enjoy the low vibrations.
Toothbrush alteration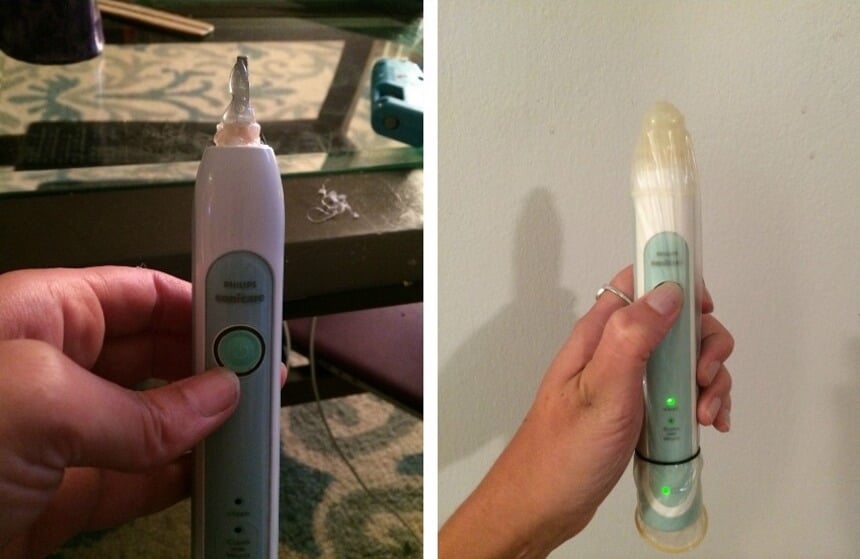 You can alter an electric toothbrush to create a more permanent vibrator. First, remove the brush head and clean the handle. Take a hot glue gun and apply layers of glue over the metal area until you have the size and shape you want, which could require a few layers of glue. Once it hardens, cover it with a condom and try it out.
Crafty skills
If you're feeling crafty and have the mechanical skills for it, you can use the wired motor out of another item and create a vibrator by attaching a nut, switch, battery, battery cap, and whatever item you like to create the dildo of your dreams. You can also combine some of the items we've discussed above, like a toothbrush and an electric shaver or cell phone.  Use some masking tape to bind them together, add a condom, and put it to use.
Final Thoughts
There are a ton of different vibrator models on the market, with varying sizes, shapes, and functions to choose from. Unfortunately, not everyone wants to have these types of toys in their home or can afford them if they do. That's why so many people are choosing to make their own homemade vibrator to give them the pleasure they want without costing them a fortune or limiting their privacy.
As we've described above, there are a wide variety of items that you likely already own that can be used for one of these pleasurable toys. They are safe to use as long as you maintain the proper hygiene with them, plus they offer a great deal of variety to meet your needs.