Bondage is hot. Tying someone up is a sensual and sexy experience. Whether you're rigger (the one who ties) or a rope-bottom (the one who's tied up) it's fun for everyone.
Bondage can heighten the sexual atmosphere. Positions range from beginner to advanced players. You'll do yourself a favor to find which ones suit you best. This article will provide you with everything you need to know about the effective and safe practice of the best bondage positions.
Once you're finished reading check out our reviews of the best ropes, 12 best bondage restraints, and best bondage ticklers to find everything you need to begin playing.
Before you start
We're not going to sugarcoat this: bondage play can be extremely risky.
We don't deny the fact that it provides an excellent chance to achieve a stronger connection with your partner while enjoying more powerful orgasms.
However, you must be incredibly careful when engaging in bondage play or you get yourself and your partner in trouble. You don't want to turn a fun night into a panic time. As Dr. Stephanie Hunter Jones, a certified sex therapist told Time Magazine, Trusted Source How to Introduce BDSM Into Your Relationship | Time Find out how sex therapist Dr. Stephanie Jones thinks you organically introduce BDSM into your relationship. time.com it's not traditional BDSM play if someone is hurting their partner.
Therefore, you must have a comprehensive discussion with your partner before you embark on the bondage journey. Below, we'll discuss the important talking points for such a discussion:
Develop a safe word and a safe gesture — After you and your partner have agreed to engage in bondage play, the next thing you should talk about is setting a safe word as well as a safe gesture. A submissive can mention this word at any sign of trouble so that the dominant can release them immediately.
If a safe word won't work—in case of gagging—both parties should develop a gesture that signals the withdrawal of consent. You probably know that trust and respect form the bedrock of bondage, so the safe word and safe gesture must be respected always for fun and safe play.
Talk about your preferred bondage position(s) — No doubt, most bondage positions require that you tie your partner up and that can be a tricky thing to do, especially if you're not skilled at doing it. Hence, you and your partner should talk about choosing only the position(s) that you find safe.
Although your partner's kink might influence your willingness to explore limits according to a 2019 study by researchers De Neef N, Coppens V, Huys W, et al, Trusted Source Bondage-Discipline, Dominance-Submission and Sadomasochism (BDSM) From an Integrative Biopsychosocial Perspective: A Systematic Review - PubMed From this biopsychosocial perspective, we offer a dimensional approach while integrating the factors driving the onset and evolution of BDSM interests. De Neef N, Coppens V, Huys W, et al. Bondage-Discipline, Dominance-Submission and Sadomasochism (BDSM) From an Integrative Biopsychosocial Perspecti … pubmed.ncbi.nlm.nih.gov you shouldn't go beyond your limit.
Choose gear
After having a comprehensive discussion regarding your preferred bondage position(s), the next action should be choosing the necessary bondage restraints. Rest assured, there are several types of bondage ties to choose from. Your bondage gear should include every tool that you need for your chosen position.
Safety advice
We can't emphasize enough the importance of prioritizing safety during bondage play. Of course, this is not to discourage you from engaging in the kinky experience but to ensure that your safety is not compromised. Below, we'll provide vital safety advice to help you achieve a trouble-free bondage experience:

Always anticipate, respect, and obey the safe word or safe gesture during bondage play.
Always tie the rope properly to prevent friction burns or nerve and circulatory damage.
Only use cuffs or silk scarves that fasten with Velcro.
Always leave a one-finger gap between the sub's skin and the restraint.
Always avoid restraining the end of the sub's ankles or wrists to prevent circulatory or nerve issues.
Experiment first
Like everything tricky, experimenting with a bondage position first is always the safest move. When you tie someone—a prevalent move in bondage play—they risk suffering injuries such as friction burns, limited blood circulation, nerve damage, etc.
You can help your partner by trying any rope or restraint on yourself before you use it on them. With this action, you can easily tell how tight you need to tie the rope or whether the restraint is abrasive. You also get to learn about other hidden surprises, thus providing you with the right level of awareness to protect your partner. Besides, you should be a good rigger before applying rope bondage.
Self-Bondage Positions
Remember that we told you numerous bondage positions can be explored. Below, we'll discuss self-bondage positions that you can try alone without help:
1.      Handcuffed victim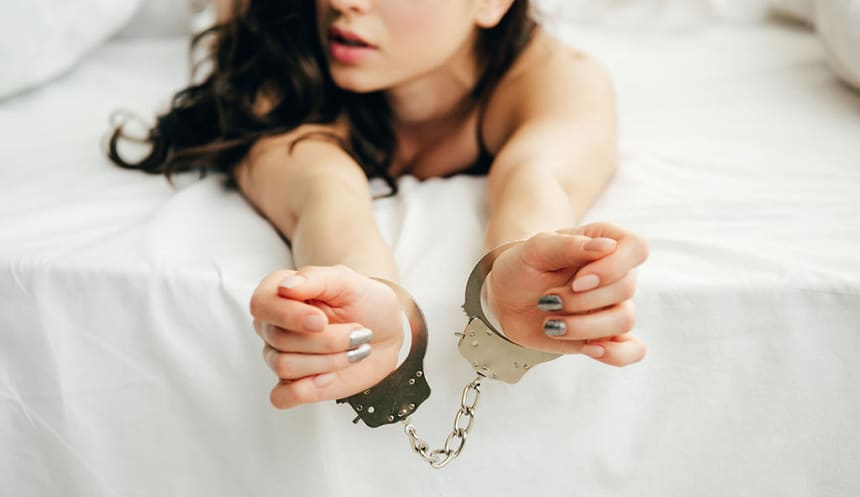 The name of this position—The handcuffed victim—gives it away. As you might have probably thought, you're the victim here. In this position, you stand or sit on a chair. Then, you get your cuffs and restrain your wrists. While restrained with the cuffs, you can walk around your home and feel like a victim who has been subjected to restraint.
There are various tools you can use to cuff your wrists. A good example is the high-quality DOMINIX Deluxe Leather Collar and Wrist Restraint Harness which is highly rated by users. The kinky leather harness features an adjustable collar and cuffs. Plus, it can be used with other restraints, making it a cool addition to your gear.
Besides, if you want to be penetrated with your hands tied and no help from a partner, you can opt for a top sex machine such as the Motorbunny Sex Machine to get the job done. According to most reviews, this ride-on-top sex machine delivers top performance thanks to its intense internal rotation (twirl) and external vibration (buzz). Plus, the machine comes with four different TPE attachments to ride on. And there's a Bluetooth wireless controller that provides great ease of use.
2.      Frog tie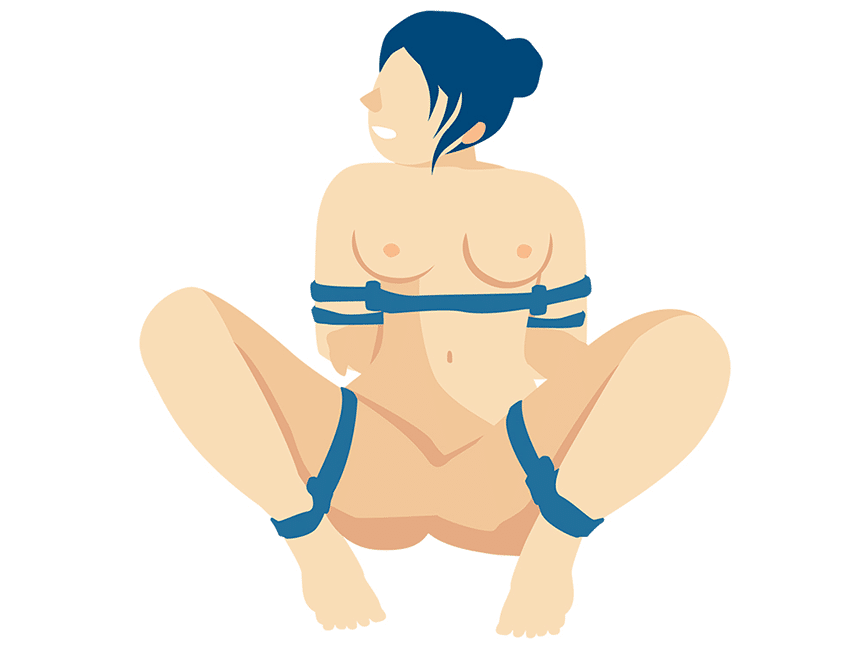 The frog tie position is another exciting self-bondage position you won't want to miss out on. It involves bending your leg fully at the knee, and tying just below your knee and just above your ankle to your thigh. This technique ensures that there's significant variation in mobility and pose. Plus, this position restricts you from standing up.
3.      Yoke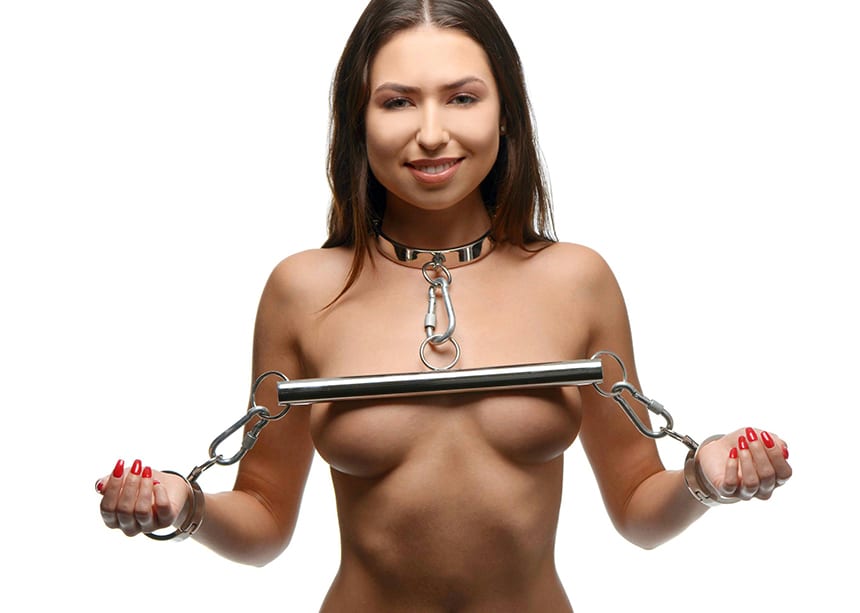 If you watched the BDSM-themed film "The Secretary", you already know what the yoke self-bondage position looks like. Here, your fingers are not restricted in any way, so that you can write, prepare food, wash dishes, and do all kinds of other domestic tasks.
However, you won't be able to get your hands near your mouth, thus stopping you from eating comfortably. This position requires an implement known as "the yoke" to restrict the movement of the hands and legs. The implement features a neck region that wraps around the neck and both hands are stretched apart to be caged in the tool. Heavy leg chains can be added for further restriction.
4.      Rope web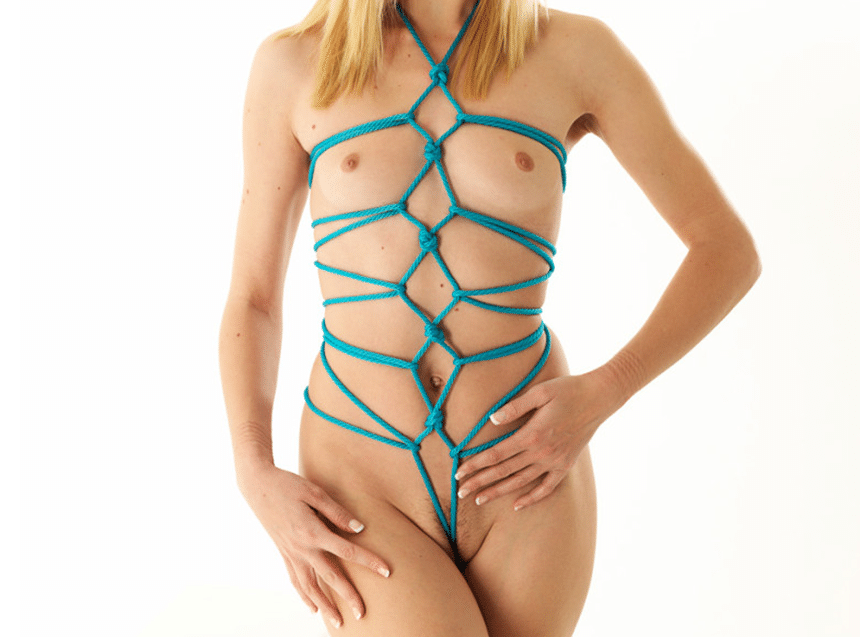 The rope web position is exactly what you thought it is. You'll need a rope to tie various parts of your body, creating a web. Specifically, this self-bondage position involves tying the rope around your body in a complex web-like manner. It typically requires multiple passes of rope from the front to the back around the body and back to the front continuously to build up the desired pattern.
Besides, the rope web self-bondage position aims to apply pressure over the bound areas. However, you must be careful to ensure that the rope is not tied too tightly. No doubt, this position is among the top rope bondage positions.
Beginner Bondage Positions
If you're looking to begin a journey in bondage or you're still new to the practice, there are some positions you shouldn't consider to ensure your safety. However, some positions are pretty safe for you as you eye the advanced positions. Below, we'll discuss some exciting beginner bondage positions:
1.      Chair prisoner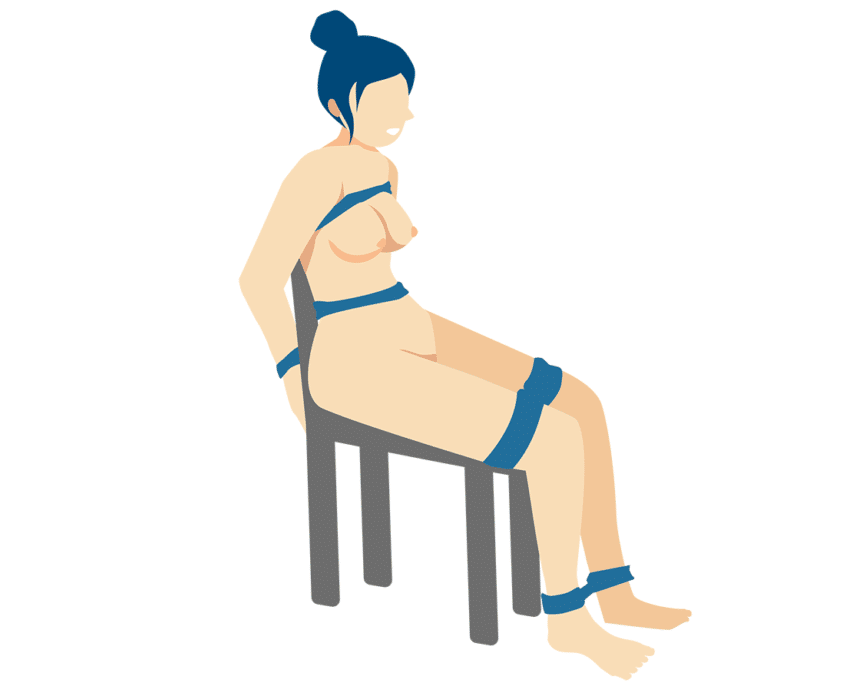 The name of this position—chair prisoner—gives it away, doesn't it? The position is exactly what you've pictured: a prisoner being bound to a chair, most preferably, an inflatable sex chair with ankle and wrist restraints. Even though this bondage position is restrictive, the sub remains comfortably safe.
However, you must use a sturdy chair for this bondage play and ensure that it's close to a wall to prevent a catastrophic fall. In the chair prisoner position, the sub sits on the chair with their feet on the floor and their arms on the armrests. Then, you tie their ankles to the chair legs and their wrists to the armrests. You can use a blindfold to enhance the 'prisoner's' experience of helplessness.
When bound in the chair prisoner position, the sub can be interrogated and promised a reward if they tell the truth.
2.      Crab
The crab position is another relatively safe bondage position for beginners. This position is all about being completely vulnerable but in a sexy way. It provides the dom complete access to the sub's body. So, if you're thinking about the ideal position for oral sex, vaginal, or anal sex, the crab position is a reliable one to look at.
In this position, you need to bend the sub's leg and tie their ankle and thigh together with an easy-release two-column tie. Repeat the same process for the other leg. Then, the wrists can be tied to the sub's ankles although some tie them to the thighs. You should opt for the option your sub considers more convenient.
Moreover, the crab position is greatly restrictive while allowing the opening and closing of the legs. You get to give or receive any type of sex in an exciting bondage position.
3.      Bed rest
The bed rest position is also pretty explanatory. It requires the sub to lie on their back and have their hands and legs stretched to the corners. In this position, your left hand stretches to the top left corner of the bed while your right hand moves to the top right corner of the bed. Also, the left leg goes to the bottom left corner of the bed while the right leg stretches to the bottom right corner.
Essentially, the bed rest position requires the sub to be tied to all four corners of the bed. You can either use cuffs or ropes to bind the sub in this position. Besides, it's a perfect position for wild sex, leaving the sub at the mercy of the dom. The pose also makes the missionary style (for men) and the cowgirl position (for women) more exciting and hotter. It works well for incredible oral sex too.
Additionally, you can count the bed rest position among both female and male bondage positions.
4.      The Mark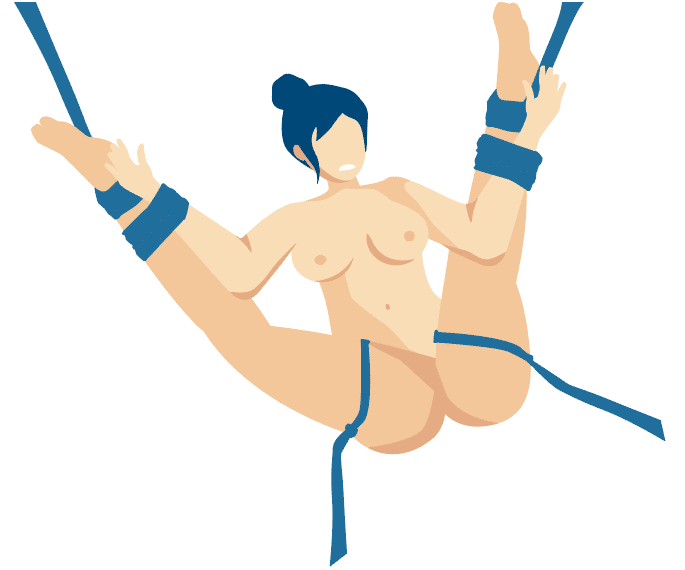 If you're a beginner, the mark position is another hot option to consider. It basically leaves your sub at your mercy to do anything you want with them. The position requires the sub to lay on their back and open their legs to be humiliated. Then, their arms should go under their knees while their hands go outside their ankles in such a way that you can bind their wrists to their ankles.
You can do the binding with bondage tape or a rope although we recommend the former because it's safer. We must also mention that this position is traditionally a guy being the dom but it can be flipped to make the dude watch as you play with yourself. No doubt, the mark pose is among the most exciting bondage tape positions.
5.      Against wall/column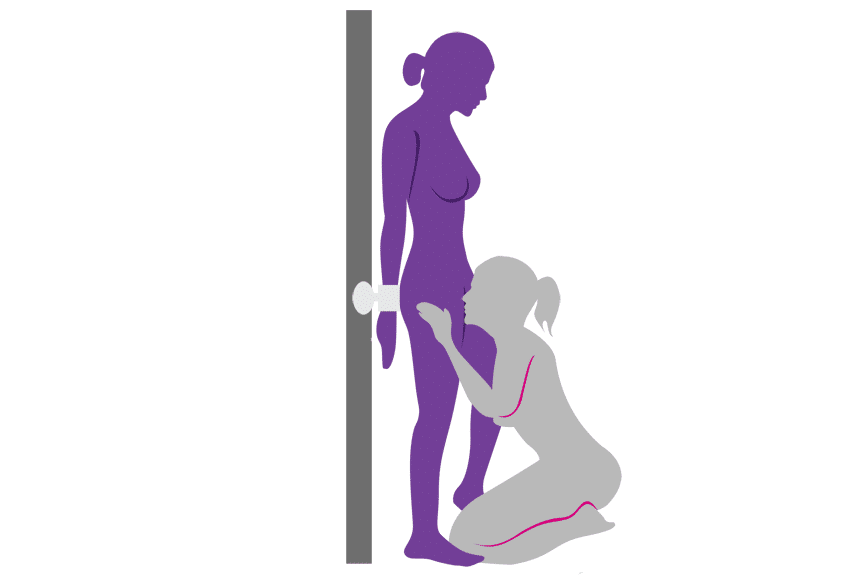 The against wall/column position—as you might have guessed—requires the sub to be in a standing position. The sub leans against a wall or column with their back while their hands and legs are tied to it. This position is quite similar to the bed rest position, except that, in this case, the sub is standing.
While against the wall or column, the sub is vulnerable to all kinds of play, including oral, penile, and vaginal sex. Besides, this position is best when both players have the same height.
Light Bondage Positions
Away from beginner bondage positions, let's discuss some light bondage positions for players that are not yet at the advanced level and want less pressure towards their body:
1.      Spreader bar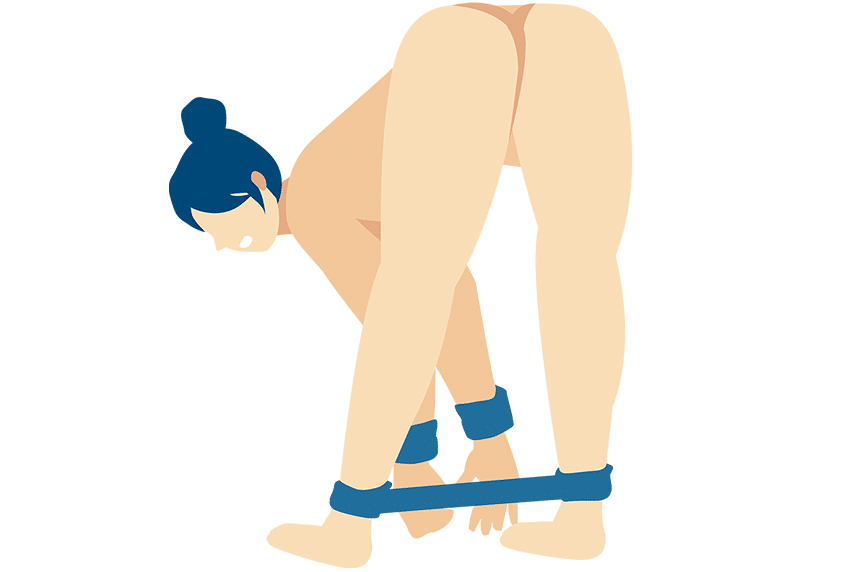 Before we explain this position, let's tell you what a spreader bar is. It is a piece of bondage equipment featuring metal or wooden bar, with attachment points for bondage cuffs or ropes at each end, that can be fastened to ankles, knees, or wrists, to keep them apart.
Essentially, the spreader bar keeps the arms spread away from the sub's body when tied to the wrists. And the tool immobilizes the sub and keeps their legs spread when applied to their ankles. However, the tie should be loose enough to allow wriggling and consequently prevent loss of blood circulation. As you can now tell, the spreader bar position provides full access to penetrate all the orifices.
2.      Damsel in distress
As you might have guessed, the damsel-in-distress bondage position is traditionally for women. It requires the woman's elbows to be tied, touching together behind her back. That's not all: the wrists are tied and the legs are also tied together below the knees and at the ankles. With the elbows bound together, the subject is forced into an involuntary display of her breasts which can be a sexy sight.
However, the damsel-in-distress bondage position doesn't accommodate any sexual activity due to the bound legs. Notwithstanding, the position is ideal for tease and discipline. So, if your bondage play is all about punishing your disobedient sub, this bondage position can come in handy. We must also mention the damsel-in-distress position can be a rather uncomfortable one but it's glamorous for kinky lovers.
3.      Legs up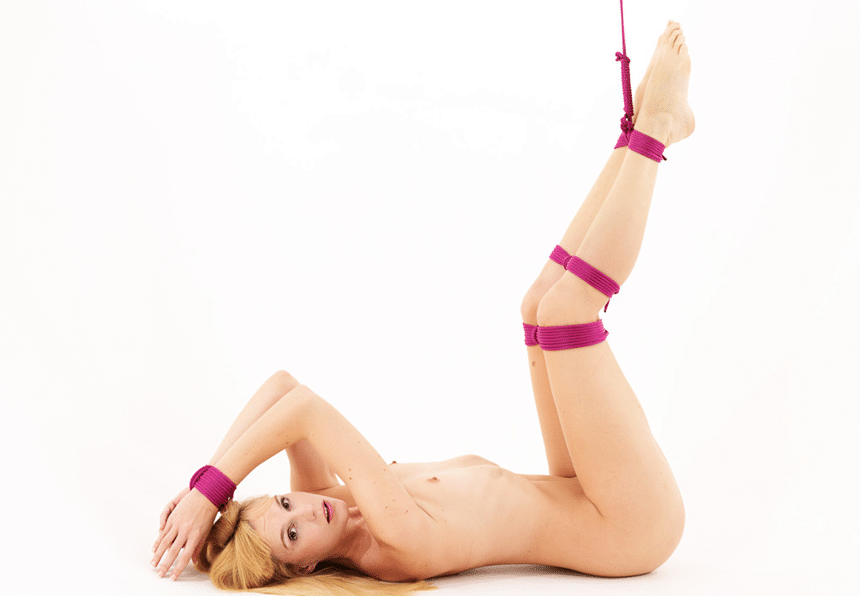 You can trust the legs up position to put a damsel in distress. As the name suggests, it requires the subject to push their legs up. In this position, a spreader bar works wonders to restrain the sub. This bondage tool can be used to spread the subject's ankles apart and keep them that way. The hands are then tied around the knees with a rope, thus allowing the legs to stay up.
However, the rope should not be raised too high to avoid putting the back of the neck under undue pressure. Like the damsel-in-distress position, the legs up pose is also not exactly comfortable and it projects the subject as completely helpless. In this position, the sub has a lot of freedom to struggle and reach multiple positions without the chance to escape.
Even though the legs up position gives the sense of a damsel in distress, it's ideal for any gender.
4.      Waitress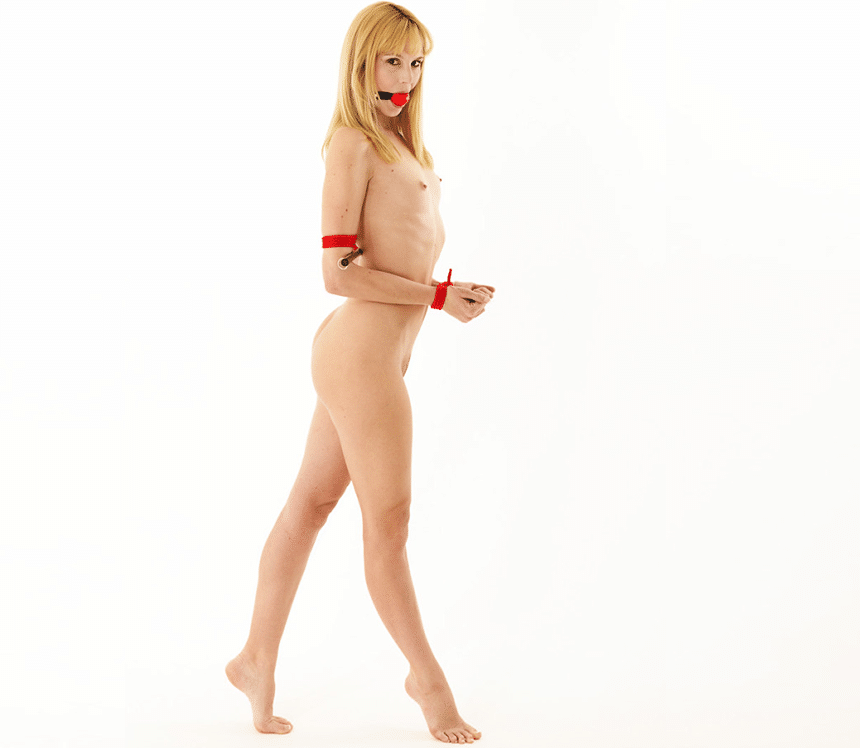 Have you ever seen a waitress serving food or drinks? If you have, you must have seen their elbows shooting backward and their wrists in the front with the foods or drinks tray. The waitress's bondage position mimics the pose of that waitress you once saw at the restaurant.
In this bondage position, the slave girl gets her elbows constrained behind her back while her wrists are constrained in the front, using a rope or cuffs. Even with the wrists constrained, the subject can still carry a drinks tray to serve you as the waitress she is but can't easily do other things besides that.
You can enhance the experience by asking the sub to serve you foods and drinks in that position for as long as they can go. Trust us, there are not many bondage positions more humiliating than the waitress pose.
5.      Over the pit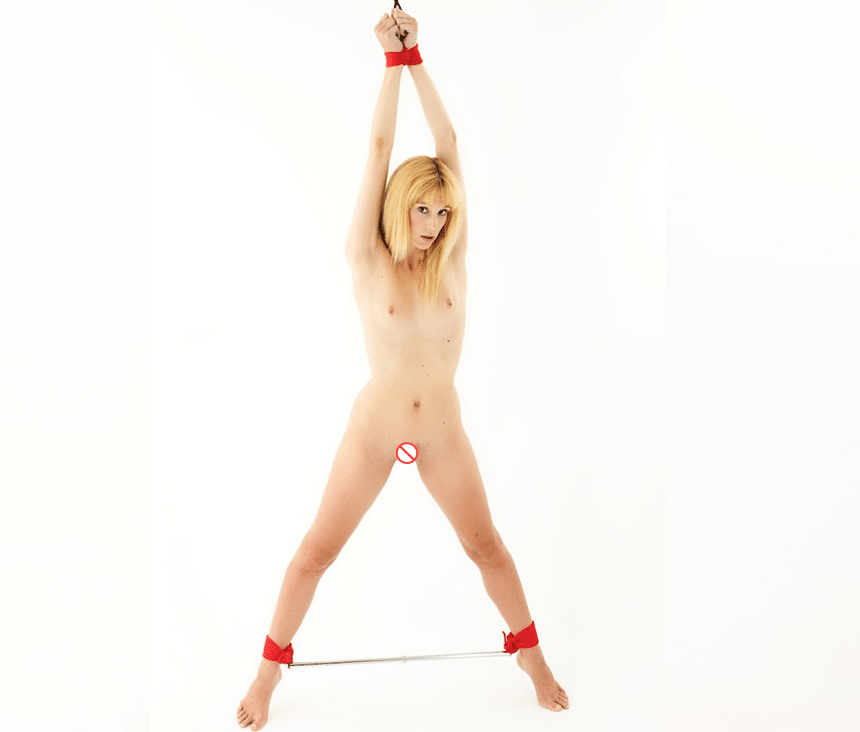 The over the pit bondage position is basically tying the subject's hands above their head with their ankles spread. Specifically, in this position, you tie the wrists of the sub together and pull them above their head. Then, use a spreader bar to keep the subject's ankles distant from each other.
As you might have imagined, the over the pit position is one of incredible vulnerability as the sub is made unable to protect their modesty or sensitive areas from unwelcome advances. Since this position requires that the sub's hands are raised above their head, we advise that it's not maintained for too long to protect your partner from blood circulation problems.
Also, always try to avoid excessive pressure by using suitable pieces of equipment such as padded suspension cuffs.
6.      Bottoms-up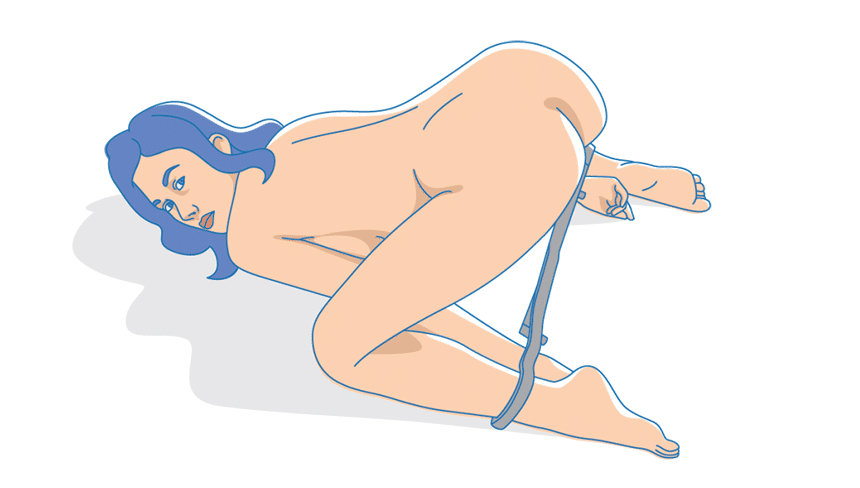 Not many bondage poses provide more exposure than the bottoms-up position. It's traditionally a woman's position, allowing her to put her merchandise on full display. There are different variants for this pose. In this position, you can order the subject to kneel, tie her wrists together, and keep her legs apart by applying a spreader bar to her ankles. The wrists should be between the ankles.
Another variant can involve a crotch harness that's secured to the ceiling. Here, the subject's wrists and ankles are tied apart to a sofa with the crotch harness holding on to the sub. While the first variant exposes the bare behind for unhindered sexual activities, the latter doesn't, no thanks to the rope used for the crotch section. However, sexual access can still be achieved if a simple paired rope is used.
For the second variant, a bondage bench is an ideal option as it's typically crafted with leather straps to keep the subject in place.
7.      Box tie
The box tie is preferred by a lot of bondage players thanks to its uniqueness: it restricts the subject without triggering discomfort or affecting blood flow. In this position, you order the subject to place their hands behind their back. The right hand goes to the left side while the left hand goes to the right side. Then, tie both hands together behind their back and extend the rope to their upper arms.
Specifically, the rope should be tied around the body in such a way that the upper arms are tied to both sides and the rope passes around the chest (below the breasts and over them) to the back. Time to move below: get the subject in a kneeling position and tie their right leg to their right thigh. Repeat the same process for the left side.
Besides, sexual access is still possible in the box tie position but the sub must be flexible enough to face down and rest their head and shoulder on a sofa. This pose is best done by a woman as it exposes their two orifices for sexual activities. Alternatively, sitting down provides full frontal access to the subject's breasts.
8.      Spread eagle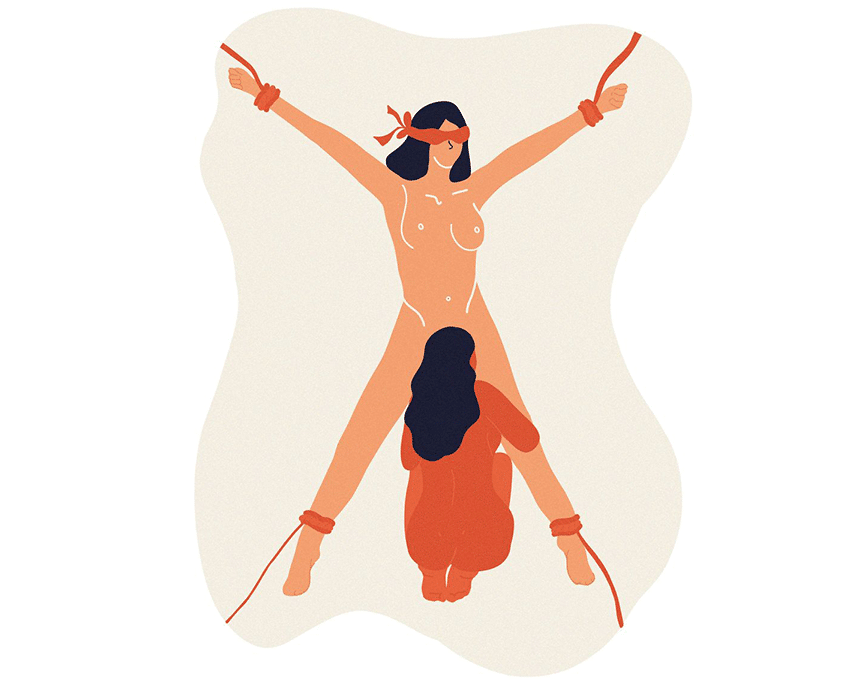 The spread eagle bondage position is quite similar to the bed rest pose. It requires the subject to spread over their bed. The bed should have corner posts or frames. If your bed doesn't have them, you can acquire a bed restraint kit. In this position, make your sub lie on their back on the bed and spread their arms and legs wide apart. Then, secure their arms and legs to the corners nearest to them.
Besides, you can add to the experience by blindfolding the subject to leave them wondering what you're about to do to their body. You can even gag them while you explore their body in the wildest ways possible. Trust us, the spread eagle position has exciting potentials for great fun and ranks among the best bed bondage positions.
9.      Reverse chair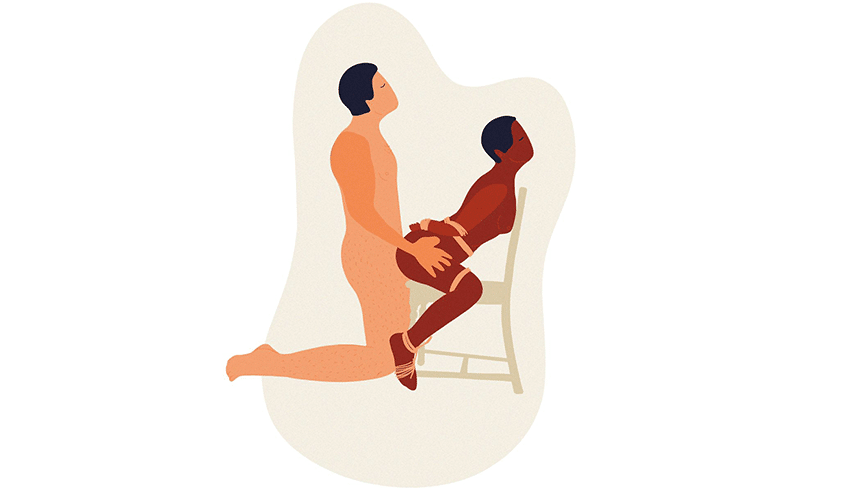 The reverse chair position is another exciting light bondage position. All you need here are a chair (without armrests) and a restraint kit. In this position, get your partner to partner to straddle the chair in such a way that their butt is barely off the edge of the seat and their chest is resting on the back of the seat. Then, tie their wrists at their back and their ankles to the legs of the chair.
If your sub is not comfortable with having their wrists tied at their back, you can tie both wrists to the chair; the right wrist on the right side of the chair and the left wrist on the left side of the chair. Without any doubt, the reverse chair position is the bondage pose you adopt when you want the best option for anal play. You can add an anal hook to the bondage play to heighten the fun.
In case you didn't know, the hook is designed to hit all the right places inside the anus of both men and women. You can trust the best anal hook to fit comfortably and be angled perfectly for the right level of stimulation.
An important tip: Ensure that the chair is leaning against a wall or bed during the play. You don't want the chair to topple over while playing with your partner's butt.
Advanced Bondage Positions
If the basic bondage positions don't cut it for you, then it's time to consider advanced options. Below, we'll discuss some very exciting advanced bondage restraint positions you can consider for fulfilled bondage sessions:
1.      Hogtie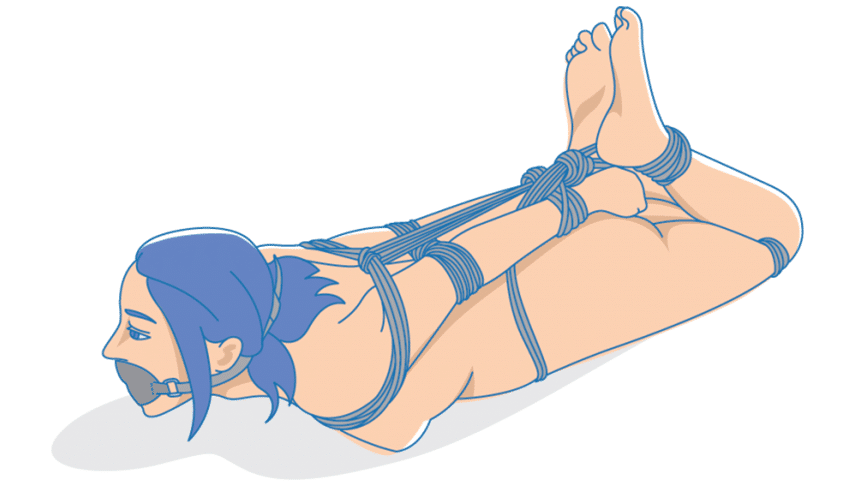 The hogtie position is ideal for only advanced bondage players due to its complicated nature. If you and your partner are ready for advanced bondage play, get on with it. This position requires your partner to lie on their stomach before you get around to restraining them which is pretty tricky.
So, how do you go about the hogtie? Tie your partner's wrists together at their back using a basic wrist tie. Also, tie their ankles together at their back using the same tie you used for the wrists. Then, tie the rope around the upper arms as well as the shoulder. Ensure that it's not too tight to not compromise your partner's safety.
Although the hogtie position is not the best option for penetration, it's perfect for oral play. If you're just about restraining the subject, you can put a ball gag in their mouth. Remember that this position puts heavy stress on the subject's backs and shoulders, so ensure that there's a quick exit plan before embarking on the bondage plan. Also, check in regularly.
2.      Tiptoe submission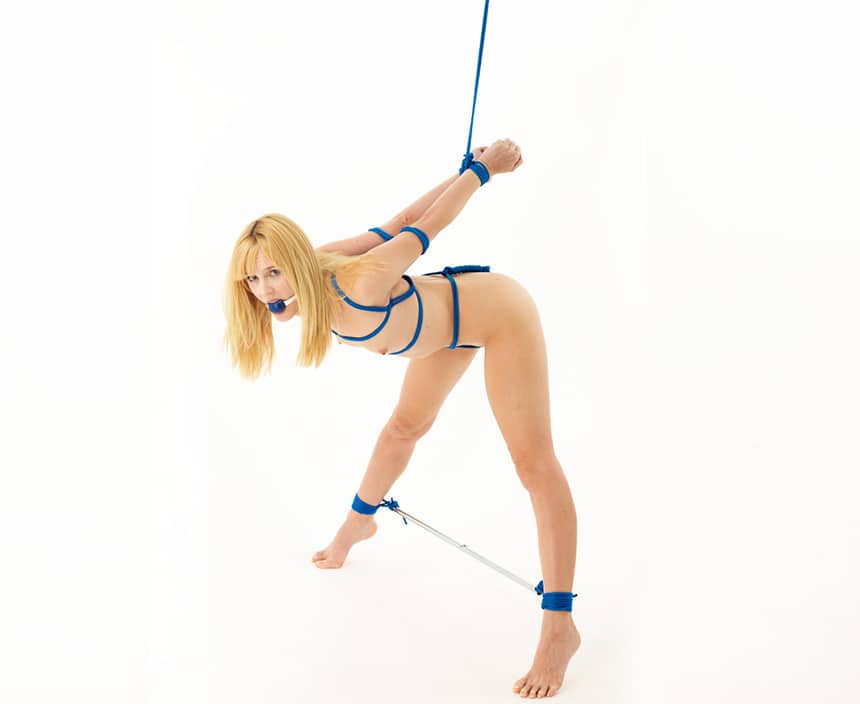 The tiptoe submission position is another top bondage position for advanced players. In this position, the subject's hands are bound together behind their back and elevated. Yes, this is a difficult pose and it requires great flexibility. If your partner is up to it, you can go ahead with it. After binding the hands, bind both ankles to a spreader bar that keeps them far apart.
Also, bind the subject's elbows together behind their back in such a way that the rope goes around their body. Once you've gotten the sub's hands, elbows, and ankles bound, you can order them to be on their tiptoes and remain there. Then, hoist their arms to a stout suspension point that comes from the ceiling. The rope used for this pose should have considerable stretch to protect the sub in case they slip.
Besides, the tiptoe submission position provides access for rearward penetration of your partner and is also a great bondage pose to display their merchandise.
3.      Reverse prayer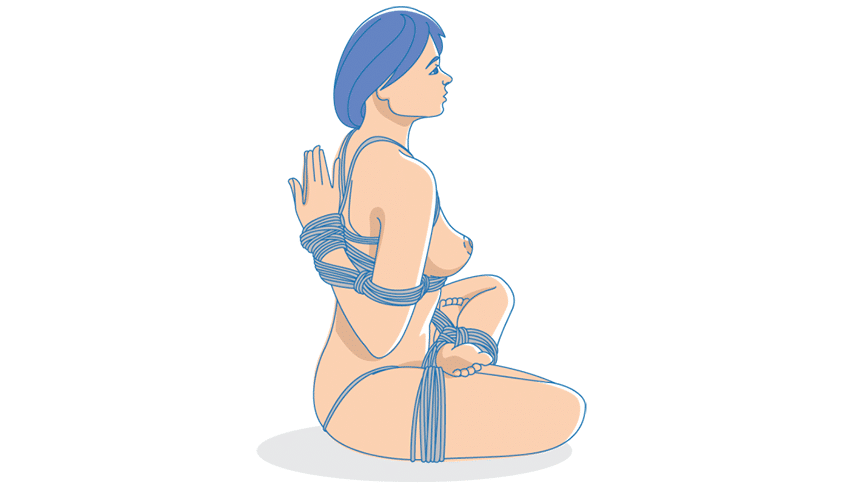 If you've prayed before or seen someone pray, then you know how the hands of the person praying are positioned: the palms are typically joined together in supplication. In reverse prayer bondage position, the prayer pose is required, but behind the subject. Specifically, the sub puts their arms behind their back and joins their palms together to strike the prayer pose.
Like most other advanced BDSM positions, the reverse prayer requires great flexibility. You'll need to tie the subject's wrists together while their palms are still together behind their back. Then, get the rope to go around the sub, tying their arms to their body. You can add to the experience by binding the subject's legs: tie their left leg to their left thigh and their right leg to their right thigh.
Also, you can introduce nipple clamps to the play as a display and punishment measure. A ball gag can also work wonders!
4.      Double V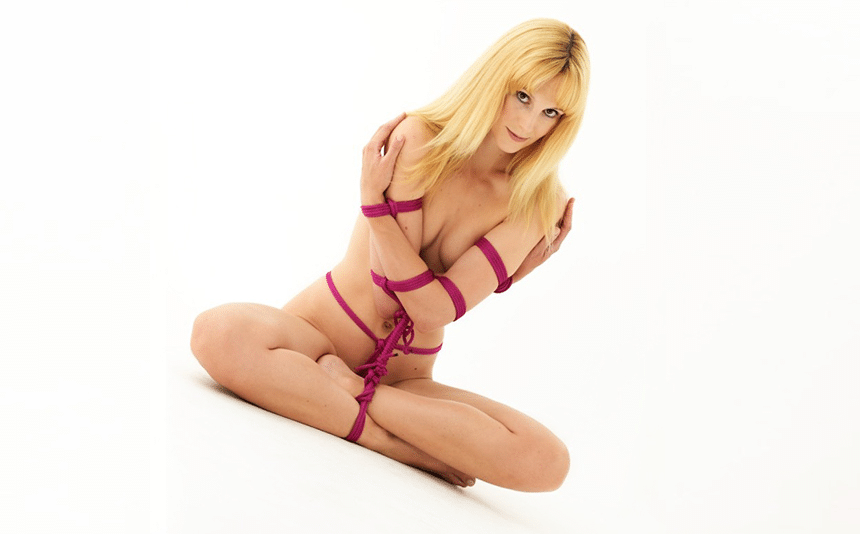 The double V position requires forming two Vs while restrained. Also, this position allows a woman to protect her modesty by covering her breasts with her hands. For this pose, order your partner to fold one arm to form a V and fold the other to form another V in such a way that both arms combine to create a single V.
Then, tie the sub's left wrist to their right arm and their right wrist to their left arm. Also, tie the left elbow to the right elbow. After you're done securing the first V shape, you can proceed to form the second one. Order the sub to intertwine their legs to form a V while sitting. Then, tie the ankles together and tie the same rope around their waist. There, you have a double V!
5.      Rope cocoon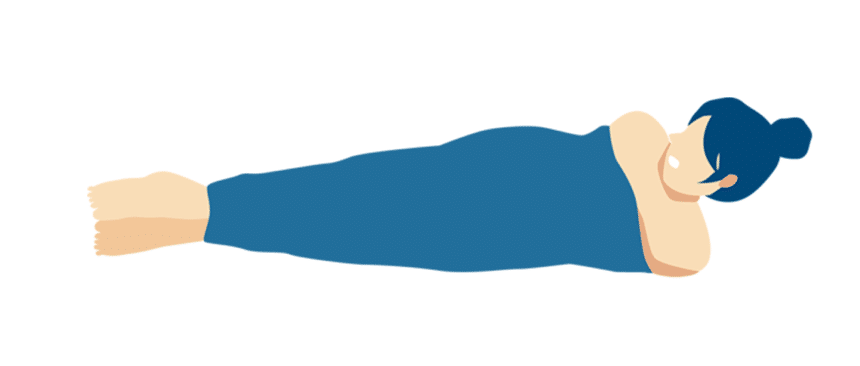 Rope cocoon is all about tying the full length of your partner's body. This is a bit similar to the rope web position, except that it runs throughout the length of the body. To put your partner in the rope cocoon position, you'll have to start by tying their ankles together and move up gradually, tying their body parts up to their shoulder.
Ensure that the rope is not tied too tightly to prevent any safety issues. And don't hesitate to release your partner from the bondage in case the safe word is said or the safe gesture is signaled.
6.      Ebi
The ebi bondage position is a pretty tricky pose and can be very uncomfortable. Little wonder that it's for only advanced players. In this position, the subject's hands are tied behind their back. Then, the same rope is used to tie their arms around their body. While a section passes just below their breasts and across their lower arms, the other section passes just above their boobs and across their upper arms.
After you're done with the hands, you can proceed to tie the sub's legs. Order them to cross their legs together and tie just above their ankles together. Then, pass the rope along to their neck. Get the rope around their neck and leave them. Of course, this is a pretty uncomfortable position as we hinted earlier. Nonetheless, it's practicable and can be a very exciting way to be restrained.
Moreover, ensure that the rope is secured to the box tie to protect your partner's neck. Regardless of your efforts to minimize the pain, the Ebi bondage position gets agonizingly painful every minute and hour, so it's best to discuss a timeframe for the exercise before embarking on it. Alternatively, get the rope off your partner's neck once they signal that they can no longer continue in that position.
7.      Spider web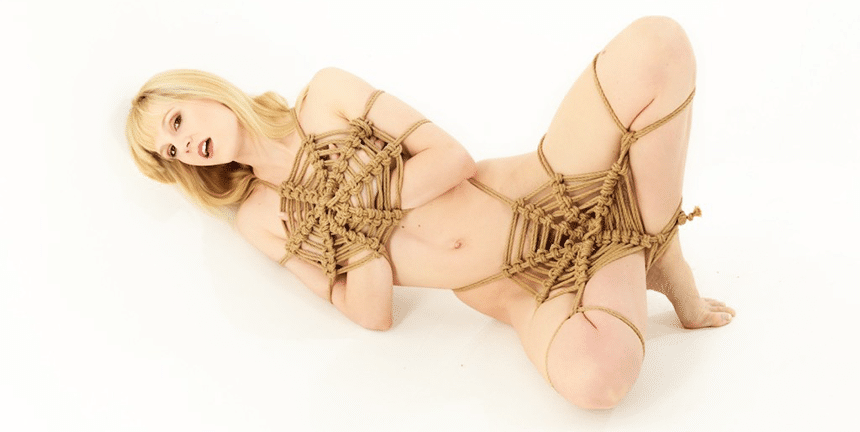 We guess that you know how a spider web looks. Getting your partner in the spider web bondage position requires having the spider web bondage kit. There are various types but they all have the semblance of a spider web. A typical spider web bondage kit features restraint materials to secure certain parts of your sub's body.
Get your partner in the spider web position by ordering them to lie on their back. Then, attach the restraints to the necessary parts of their body. If you don't have the luxury of a spider web restraint kit, you can use a rope to create a spider web shape on your partner's body although it's pretty tricky but not impossible.
8.      Hammerlock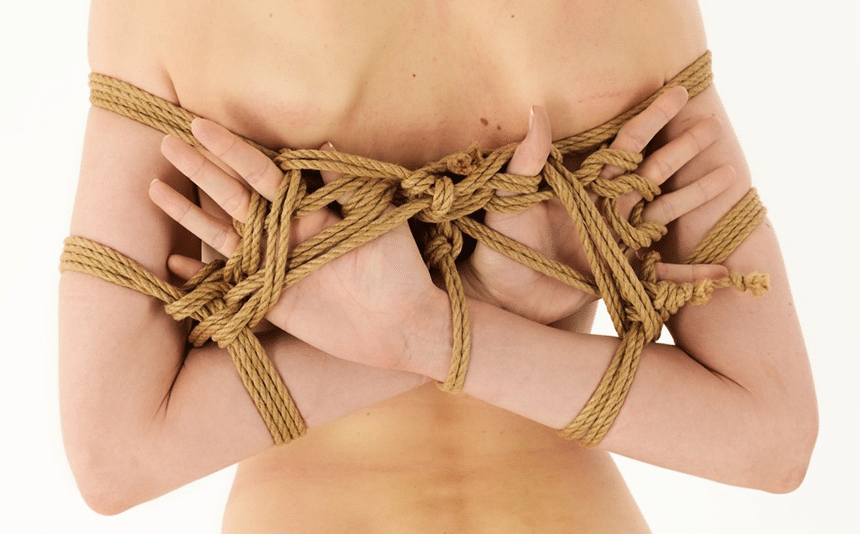 The hammerlock bondage position is pretty similar to the reverse prayer pose except that it doesn't require putting palms together. Instead, it involves crossing one wrist against the other at the back and tying them together.
Furthermore, you can tie the legs together by tying both thighs and ankles together. Plus, you can intensity the position by adding nipple clamps and a ball gag to the action.
9.      Crossbow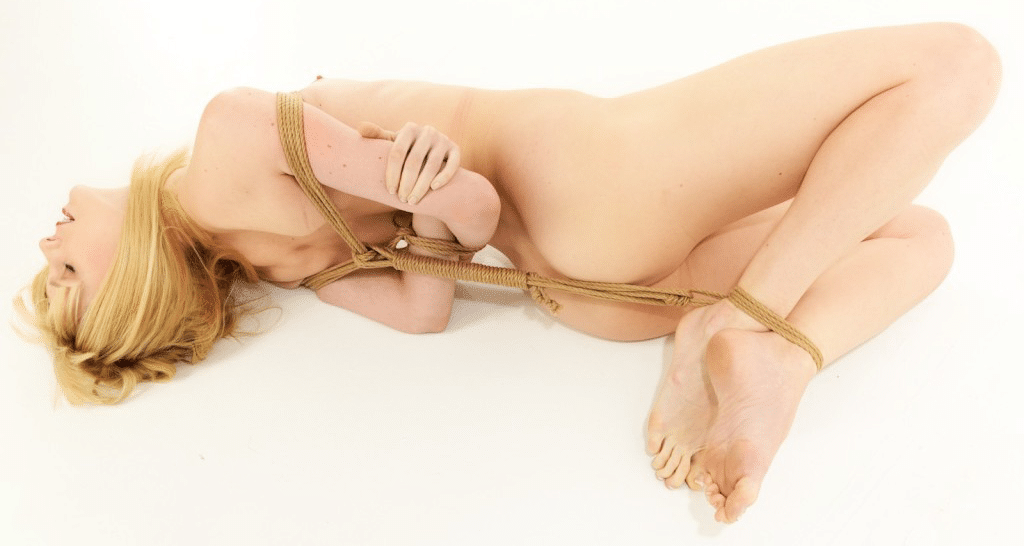 The crossbow bondage position is the Japanese version of the hogtie pose. Like the hogtie position, the crossbow requires you to tie your partner's wrists behind their back while they lie on their stomach. Instead of the legs-together position of the hogtie pose, the crossbow requires the subject to cross their legs in such a way that one ankle stays on top of the other.
Then, the ankles are tied together and the rope is run through to the neck of the sub. The crossbow position is less punishing than the hogtie position, so choosing between the two should be a matter of preference for you and your partner.
10.  Beetle ball tie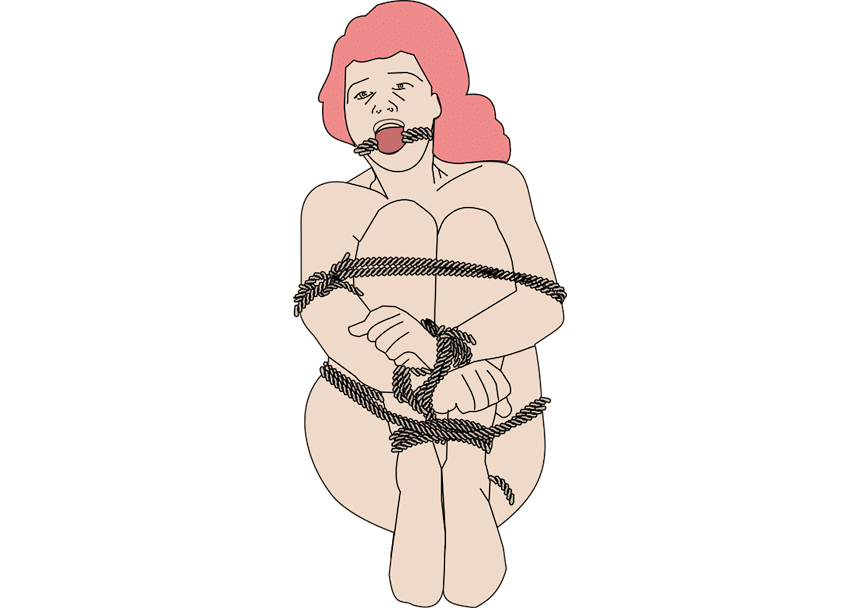 The beetle ball tie is another pretty exciting bondage position for advanced bondage players. This position makes the subject helpless because it binds both legs and both hands while they sit. To put your partner in the beetle ball tie position, begin by get getting the rope between the first and second toes of both legs. Then, move to the ankles and tie them together.
Furthermore, work your way up, tying your partner's legs and thighs together. Order your sub to put their hands on their knees: the right hand on the right knee and the left hand on the left knee. Then, tie the hands to your partner's knees and continue to tie the rope around their body all the way up. The beetle ball tie bondage position leaves your partner feeling like a beetle that is stuck on its back, helplessly.
Bondage Sex Positions
As you might have noticed, only a few among the light and advanced bondage positions offer easy sexp access. Hence, we'll discuss some bondage sex positions you can explore below:
1.      Naughty dog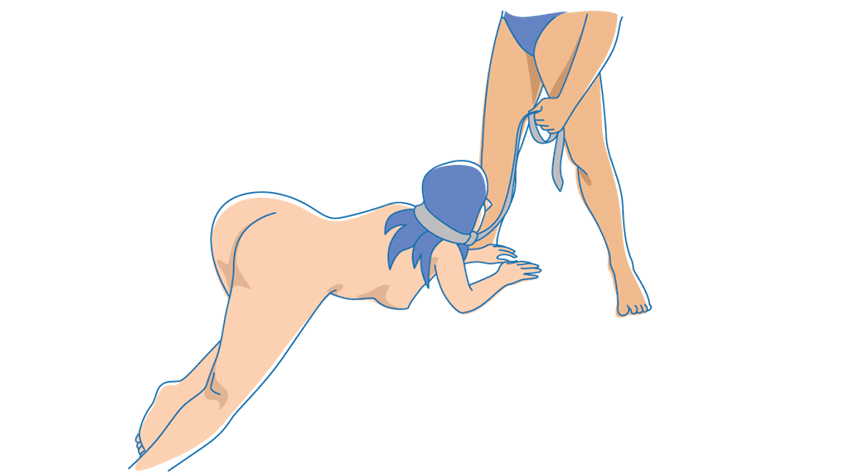 The naughty dog bondage sex position has various variants. Every variant requires the subject to be on their knees their behind in the air and their chest flat on the floor, bed, couch, etc. You can decide to tie your partner's wrists together behind their back to their ankles. You can also ask them to put their hands in front of them and tie their wrists together.
That means the sub won't have their chest lying down for the second variant; instead, the elbows will support their body.  Then, use a spreader bar to keep their legs apart. Both variants are perfect for anal and vaginal penetration although the second variant is more suited for oral sex.
2.      Group tie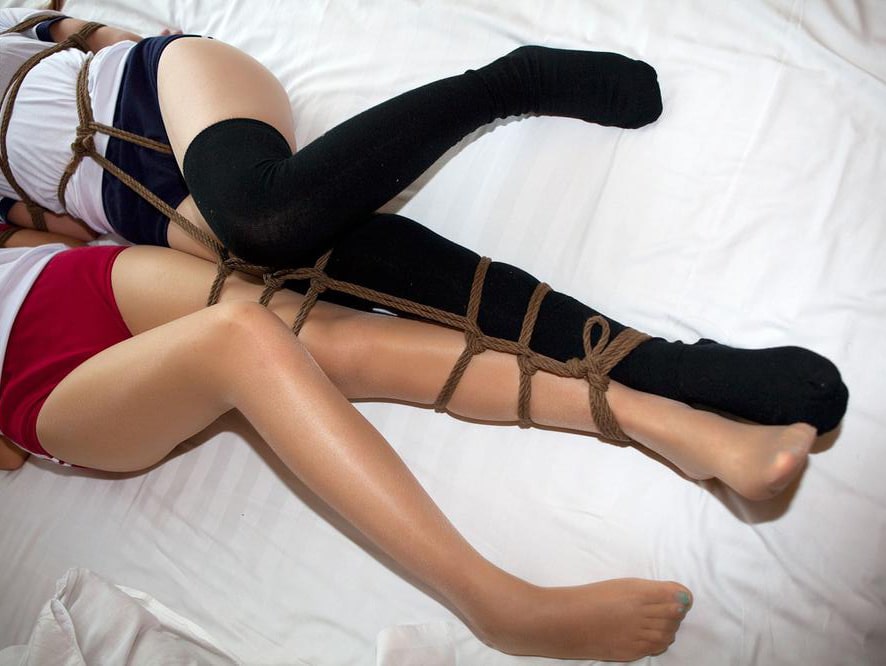 The group tie bondage sex position is just as you've imagined: there's more than one sub involved. Specifically, it's a threesome where two subs are tied together with the sole aim of pleasing the dom. If you want oral action, tie the right wrist of one sub to the left wrist of the other sub and the right ankle of one sub to the left ankle of the other sub. Then, order them to play with your penis, vagina, or butthole.
If the subs are males, this variant is still a great position to ride them alternately. However, if you want penetrative sex and your subs are females, let the subs face each other with their arms wrapped around each other. Then, tie both partners' wrists behind the back of the other in such a way that both bodies as re stuck together. This way, you have both bodies to penetrate.
3.      Restrained spoon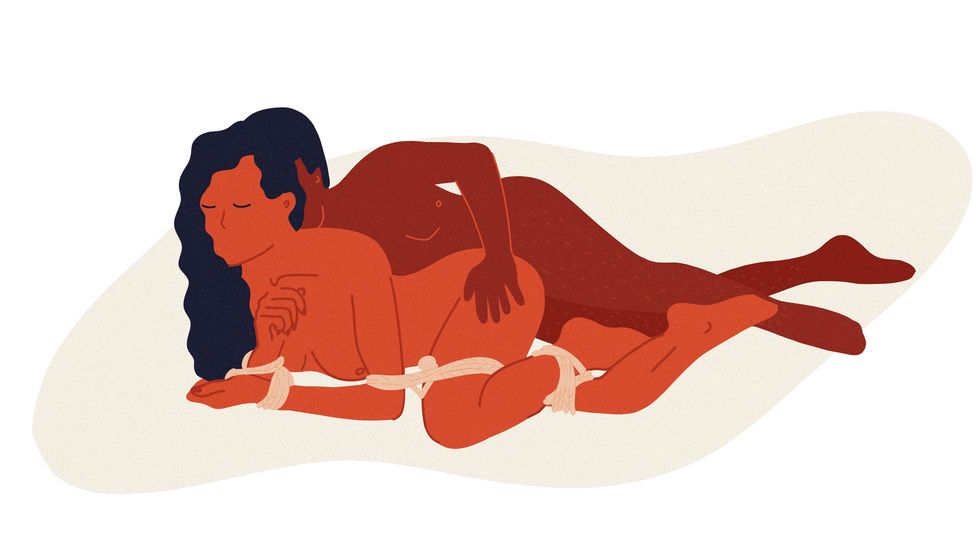 You probably know the spoon sex position. It's a form of rear-entry position with one partner lying on one side with knees bent and the other partner lying with their front pressed against their partner's back. The restrained spoon bandage sex position requires the partner underneath to be tied. Tie your partner's right ankle to their left knee and tie their right thigh to their right arm.
Meanwhile, your partner's wrists should be tied together. Ensure that they're well-positioned to be safe throughout the sex. You can then go ahead to penetrate their vagina or anus from the back.
4.      Adoration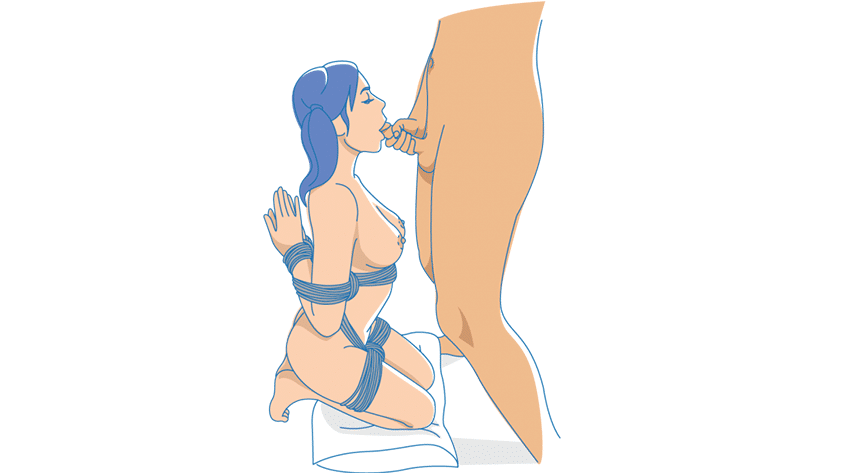 The adoration bondage sex position is simply the reverse prayer position in action. The sub stands on their knees with their arms tied behind them and their palms joined together. This position is perfect for them to give oral pleasure to the dom. If the dom is female, the sub can eat their vagina. However, if the dom is male, the sub can suck their penis until they climax.
5.      Swing-away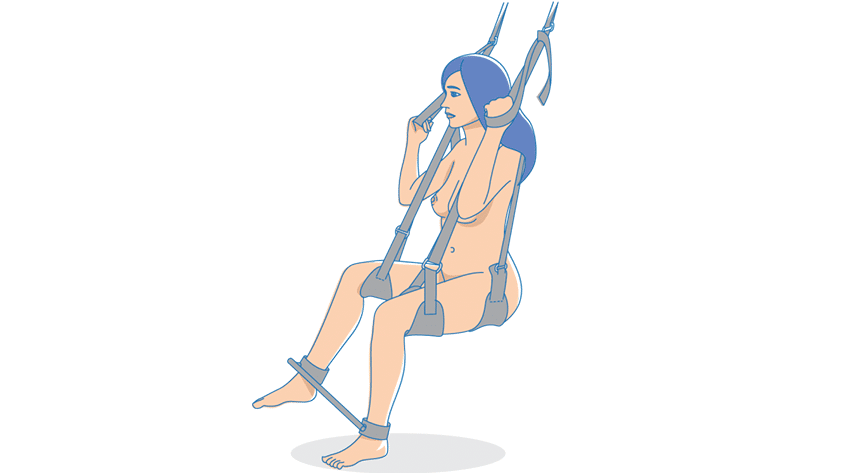 The swing-away bondage sex position requires strapping your sub on a sex swing while you penetrate them. This position is best when a man is a dom. He gets great access to penetrate the sub vaginally and anally while they're restrained on the sing. Here, you don't need to worry about bondage items because the best sex swings feature clips, straps, and other items for complete restraint.
Final Thoughts
As you now know, bondage positions abound: there are self-bondage positions, light bondage positions, advanced bondage positions, and bondage sex positions. Each position is designed to enhance your bondage experience. You and your partner will have plenty of time to choose your preferred positions. And safety is crucial when it comes to bondage play.
As we mentioned at the beginning of this article, bondage play can be risky but obeying the vital safety procedures can reduce the risks significantly. We strongly advise that you only opt for the bondage positions that feel safe for you or your partner. If you have any doubt about a position, you should ignore it and opt for a safer option.