Different areas of woman's body need to be stimulated for pleasure and among these are nipples. Unfortunately, they can be overlooked but spend any time on them and you will certainly see how great they feel.
If you are riding solo or just want to give your partner a hand, creating a homemade nipple sucker can really up your bedroom game. We'll walk you through the ways to create DIY nipple pumps using common objects around your home. Read on to find out how.
Are Nipple Suckers Good for You?
Nipple suckers are not meant to create harsh stimulation. Instead, they are meant to mimic the feeling of having your partner suck on them. As with any homemade toy, be sure to try it out beforehand and go slowly once you use it.
Nipple suckers are different than traditional nipple clamps, which simply add pressure. Suckers, on the other hand, involve a back and forth sensation, as if someone were actually sucking on your nipples.
How to use it
The good news is that using a nipple sucker is relatively easy. It's all about pressure and you get to control the amount. While homemade nipple suckers are different than professional toys, the idea is the same.
Place your nipple into the device. Then, simply press a button. For example, the Kink by Doc Johnson Automatic Vibrating Nipple Suckers is very easy to use and has two suckers attached to the control for maximum pleasure.
Homemade Nipple Suction
To create a homemade nipple sucker, you just need a few items around your home. Follow these steps and play around with the sensation. The way it works is by using different temperatures that create a sucking sensation.
What you'll need
To create a homemade nipple pump, you will need a towel and a glass bottle. While lube is optional, it is highly recommended. You may also want to pair the nipple sucker with extra stimulation, such as an egg vibrator. These small devices can be placed anywhere on your body and can really add to the whole experience.
Refrigerate cloth
Take your cloth and place it in the fridge. It does not have to be freezing but it's best if it is left inside for at least 30 minutes. If you find that you love this sensation, you may want to leave your towel in the fridge so it's ready whenever you are.
Heat bottle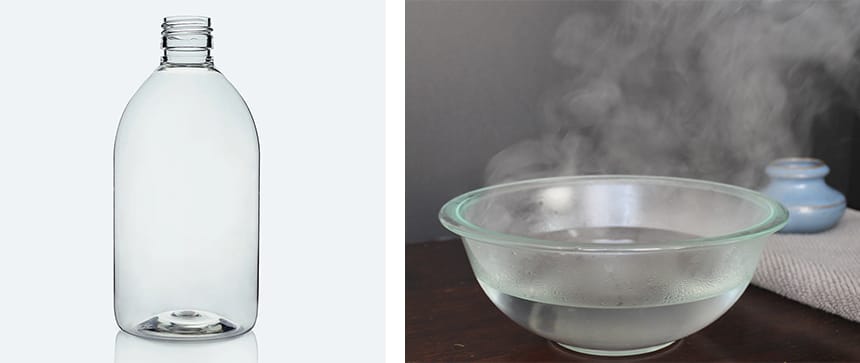 Once your towel is nearing the desired temperature, you can take your glass bottle and place it in a bowl of hot water. The water shouldn't be boiling, but it should be close to.
While you may want to substitute a plastic bottle, it, unfortunately, won't have the same effect. The bottle needs to be glass so that it can hold the temperature.
Lube
Although this step is optional, lube has never been a bad idea. Lube your nipples up to create a stronger sensation. This also adds a layer of foreplay that you will appreciate.
An alternative to lube is a nipple balm. Our favorite is the Sensuva Ice Cube Strawberry Mint Flavoured Cooling Nipple Balm which gives you a unique feeling and a tasty flavor for your partner.

Test
We strongly suggest testing out your homemade nipple sucker on your finger before using your nipple. Nipples have tons of nerve endings Trusted Source Breast Anatomy Understanding the anatomy of the breast is important in understanding how it makes milk. www.news-medical.net and are very sensitive. Use your pinky finger to make sure the temperature is right and to be aware of the sensation.
Enjoy
Finally, it's time for the main event. Once your bottle is at the right temperature, place the opening over your nipple. Then, add the cold cloth over the bottle. The change in temperature will cause a sucking feeling. You can then repeat as wanted.
If you absolutely love the feeling, you will want to check out other sucking toys. There are many pumps that work on your vagina, too, and closely mimic the feeling of oral sex.
Safety Advice
As we mentioned earlier, it's important to test your nipple sucker out on your finger, first. This way you know if the bottle is too hot.
Furthermore, you never want to boil a glass bottle as it could break off and broken glass is extremely dangerous.
Final Thoughts
There are many areas of our bodies that crave attention and unfortunately, nipples are often overlooked. However, most women crave nipple play and want more attention given to this area. Nipple suckers are an excellent way to enhance your experience. You can use them with a partner but are especially useful for solo play Trusted Source This Is How Often Women Masturbate | HuffPost Communities While masturbation is a normal, healthy and (definitely) enjoyable experience, it looks like we have yet to shake the taboo surrounding women and masturbation. Perhaps unsurprisingly, men masturbate far more frequently than women do. www.huffpost.com . You can even make a homemade nipple sucker using just a towel and a glass bottle. Whether you have a partner to help you out or are flying solo, there are many ways to create the pleasurable situation you deserve.