Sex dolls come in all sizes and variations and while you can find affordable ones, other more sophisticated devices cost quite a lot. You won't buy a new doll once you're tired of the previous one, but there are ways to upgrade the looks and abilities, as well as make it last and surprise you longer.
So not to waste the sum for a couple of months of fun, it's best to know how to use a sex doll and get the most out of it. At the end of the day, ultimate pleasure is the goal. Read on to learn how sex dolls can become better than real people.
Choose Your Type
There are different types of sex dolls and what you choose will depend on your preferences and your budget. If you want something simple and inexpensive to start with, you may want to choose an inflatable sex doll. While they are not as lifelike as other models, you can still get a good amount of pleasure from them.
The other option is a rubber or silicone model. These are much more lifelike and you can better manipulate them and position them.
Orifices
What sort of sex do you want to have with your sex doll? This may seem an unnecessary question, but after you purchase your doll, you can't alter it. You may want all the options, including vaginal, anal, and oral, but this will cost more than just a doll with a vagina.
Think about your favorite sex positions and what you want to recreate with your doll. While it may cost extra, whatever you are in the mood for is available.
Material
If you have decided on a realistic sex doll, the next choice is between rubber and silicone. Silicone sex dolls are the more high-end option. The skin feels more life-like and you can get a more responsive experience. Those that like to feel women's breasts will have a better time with silicone as it moves slightly under pressure.
Rubber is another option and thanks to ever-evolving technology, it usually works pretty well. You can still have very pleasurable experiences with a rubber sex doll.
Unboxing
Unlike other, simpler sex toys, there are a few crucial steps you should take once your sex doll arrives. The one good thing is that all sex toy manufacturers are really good at shipping sex dolls. In fact, more and more sex dolls are being shipped around the world, so this once taboo purchase is a lot more common Trusted Source Sex Doll Sales Surge In Quarantine, But It's Not Just About Loneliness Sex doll sales have surged since quarantine began, to the extent that one company are looking to take on new staff to keep up with demand. www.forbes.com than you may imagine.
Your new toy will be shipped in a nondescript brown box. There will be no labels or identifying marks on the box. This creates a much sought-after level of anonymity and you don't have to feel embarrassed at the thought of your neighbors knowing what goes on in your bedroom.
Parcel dimensions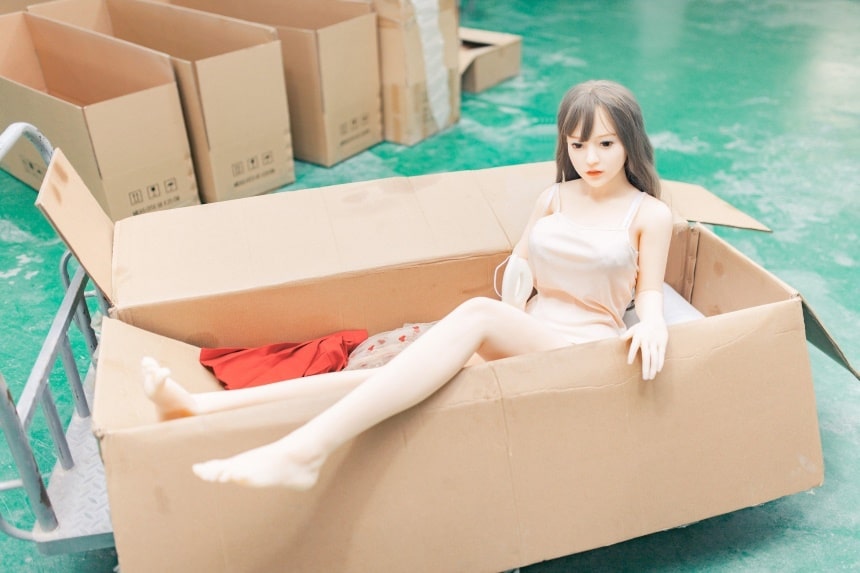 Even though sex dolls are made to real-life standards, for the purpose of shipping, the parts may be disassembled. This means you won't have a large box with coffin-like dimensions. Still, the box may be quite large so make sure you are able to move it around.
Another aspect to consider is the weight of the box. If you opt for a realistic sex doll, it will have a lot of weight to it. You can expect the contents of your box to weigh between 50 and 80 pounds. This can be a lot to manage on your own. The good thing is that if you have to ask a friend to help you maneuver the box, it won't be marked so you don't have to explain the contents.
Finally, remember that you will need to move the box from your doorstep to your room. Lift with your legs and not your back, and be careful if you have to move the box on an elevator.
1.  Open box
Once your sex doll has arrived, it's time to see what's inside. This can feel almost like Christmas, and the moment can be a bit exciting. You will want to move the box to a raised area, such as a table or your bed. While the bed might be ok, it is better to have a flat surface to keep everything organized.
Gently use a pair of scissors or a knife to cut the box open. Do not cut too deep as this could inadvertently cut through actual parts of your doll. Instead, cut just through the tape and be careful if you meet any resistance.
2.  Use gloves
Unlike unboxing other toys, you want your sex doll to remain in her pristine condition. Many people use gloves at this stage but if you don't have any, or don't want to wear them, at the very least wash your hands. Even if you don't think your hands are dirty, they will have oil and grime on them and this can leave marks on the skin of your sex doll.
3.  Take out the parts
Unfortunately, sex dolls rarely come assembled. This is mainly due to shipping but it can come as a bit of a shock for people when they open their package and find different parts and not the whole body.
As excited as you may be, don't start assembling yet. Instead, take out all of the parts and lay them on your table. Try to organize them as you go through them and be sure to look for an instruction manual.
Even if the assembly seems straightforward, always take time to look and read through the instruction manual for the best way forward. You may find tips you hadn't thought of before.
4.  Wipe with cloth
The individual parts of your sex doll will usually be wrapped in foam or plastic to prevent them from baking. Take a cloth and wipe the parts down to get rid of any residue. A simple dry cloth should be fine as the parts will have gone into the box unmarked.
5.  Assemble parts
For this step, be sure to check with your instruction manual. You will have to attach the head of your doll onto her body, as well as her limbs. Go step by step and don't rush the process. If something doesn't fit, take a step back and see why. Sex dolls are made to be easily assembled so if you have any problems, be sure to contact the manufacturer right away.
Accessories to Have Sex with Love Doll
If you really want to have sex with a sex doll, start by thinking why you purchased her in the first place. There are many masturbation devices and while they are effective, they do not give you the full experience that a sex doll can. This is more than a tool to jack you off. It is a way to immerse yourself in the presence of someone else.
Even though you now have your sex doll, there are many accessories that can make the experience that much more amazing. Thanks to the global pandemic, there has been a surge in demand for sex dolls Trusted Source COVID-19 Lockdowns Have Led to a Huge Spike in Sex Doll Sales Some sex doll companies have doubled sales since coronavirus lockdowns came into effect—with many dolls going to married couples. www.vice.com and accompanying accessories. You can find options anywhere, which means you can tailor the experience to your wildest fantasies.
Lube
There is never a wrong time to have lube. Lube is made to make everything more comfortable, including with your sex doll. If you have had sex with a woman before and not used lube, this is possible because of the natural secretions a woman has during sex. However, your sex doll will not have this same ability.
While you can rely a bit on precum, lube is a much better alternative. Be sure to find a water-based lube as this will make it much easier to clean up afterwards.
Condom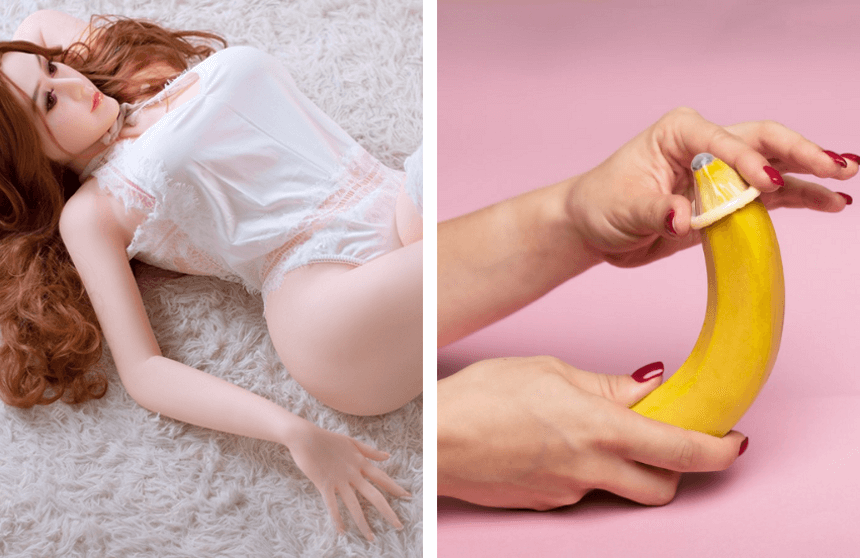 Do you need to use a condom? No. Should you use a condom? Probably. The point of using a condom with your sex doll is so that cleanup is much easier. There is less mess and seeing as how your sex doll needs to be cleaned after each use for better longevity, this will save you some effort afterwards.
However, we know how annoying condoms can be, so this is not necessary. It might be worthwhile trying with a condom to see how the sensation is, and if it doesn't feel right, go on and skip it.
Perfume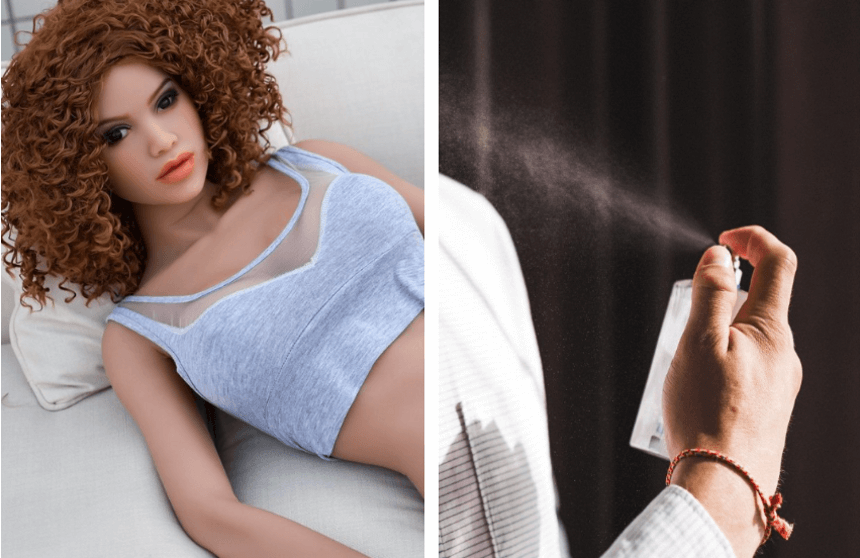 Because your sex doll is made out of synthetic materials, like rubber or silicone, and packaged in plastic, it might have a lingering odor. Be sure to unbox and air out your doll for a few days so that the smell can dissipate.
After this, you may want to make your sex doll seem more feminine and life-like. Perfume is the perfect way to achieve this. You can think about your favorite smells, either floral or earthy, and search for a perfume with the perfect scent.
You can also think about smells and their associations from your past. Perhaps you want to imagine your new doll as an expert baker. In this case, a warm vanilla sugar scent will help set the scene.
If you want your doll to be a high-class socialite, Chanel is a classic perfume to try. The nice thing about perfume is that it will eventually fade so you can try different scents and create different scenarios.
Costumes and wigs
Similar to the idea of perfume, you can transform your doll into anyone you want her to be. If you can, think layers. Part of the fun of having a doll is that you can interact with it. Instead of focusing solely on the sex part, don't forget foreplay.
Have your doll dressed as a casual, fun girl, or a sexy vixen on her way to the nightclub. Then, under this outfit, have her in the perfect lingerie. You can really play around and have your doll dressed as a prim school teacher with a naughty side underneath.
Wigs are also a great way to add new dimensions to your sex doll. You may be in the mood for a beach blonde one night and a mysterious brunette another night. The more costume changes, the more diverse your experiences will be.
You can certainly try to use normal clothes but a better option may be clothes made especially for the dimensions of a sex doll. There are lots to choose from, including this Jasmine's Sexy Hoodie. It has plunging neckline and an area around the crotch for easy access. Be sure to spend some time finding the outfits of your dreams.
Anal Sex Tips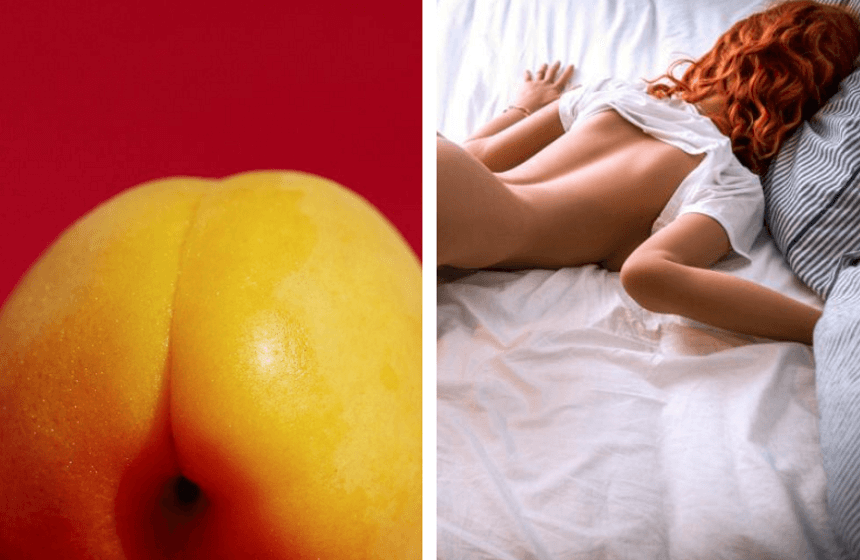 Sex dolls are made to be fully functional, and that includes using her for anal sex. Her anus should be crafted differently than her vagina, as with real women they are quite different. Expect a tighter fit that may take some getting used to.
With anal sex, be sure to use plenty of lube. The tightness means you will need more lube than vaginal sex, as this should be a bit more accommodating.
If you are interested in having your sex doll perform anal sex on you, this is possible but you will need to purchase a Transsexual/Penis Insert for Sex Doll. The insert costs more but can be inserted into the vaginal opening of your sex doll. It may look a bit odd but once you get used to it, you will quickly experience plenty of enjoyment.
Positions
Those that want to perform anal sex on their doll can do so in a variety of positions. The most common is angling the doll face down on a bed or over a chair. Then, you would place yourself behind her. You can also have the doll facing up; you just need to angle a bit more.
If it's not as comfortable as you hope, stop and adjust. Sometimes you just need to place a pillow underneath for a better angle.
As for having your sex doll perform anal sex on you, you will need to use a bit of imagination as your doll can't move on its own. Start by placing the doll face up with the penis angled upwards. Be sure to use a lot of lube at this point. If you have never engaged in anal sex before, it's better to train yourself with butt plugs or thin dildos. It can be bard and overwhelming to start with a sex doll right away.
Gently lower yourself so that you are impaling your anus on the sex doll. Again, angles are important so go slowly until you find what fits right. Once the position is comfortable, you will have to do the movements. Slowly move up and down, making sure it feels good. If you want to go faster, you may need to grab a hold of your sex doll so that you don't slip out.
Vaginal Sex Tips
Perhaps the most classic way to use a sex doll, how to fuck a sex doll in her vagina is relatively simple. We do, however, recommend some sort of foreplay. If all you do is quickly masturbate into your sex doll, it is honestly a waste of money. Pretend you are on a date and take things slowly by undressing her.
As you work through her body, be sure to pay attention to your own. There are many toys you can use to enhance your experience, such as butt plugs and vibrating cock rings. The more immersive you are in the lead-up, the better the experience will be.
Positions
There are so many vaginal sex positions to choose from and we recommend trying all of them. Start with the classic missionary, which is always a winner. You can then try from behind, either having her lay down flat or bent over the side of the bed with you standing. You can also position your doll so she is sitting and try that way.
The positions that may be hard are the ones where the woman is traditionally on top, such as cowgirl. However, you can definitely try them. You just may need to hold on tight to get the best movements and the most amount of friction possible.
Oral Sex tips
Your sex doll will most likely have a mouth opening, but not all dolls are created the same, so be sure to check for this function before purchasing.
While you can definitely try oral sex with your doll, you may be left a little wanting. One of the perks of having real oral sex is that a woman can use her tongue along with her lips. With a sex doll, you don't get this active participation.
Instead, it will be similar to vaginal sex but from a different perspective. As long as you start with this understanding, you won't be disappointed.
Positions
When getting into position for oral sex with your sex doll, make sure you are comfortable. You can either stand, or if you have weak legs, sitting is also good. Bend your doll at the knees so she is at the right height. If it's not quite perfect, find a taller chair or add a stool for her to kneel on.
You will have to grip the head of your sex doll tight as you will be penetrating her mouth hard. You don' have to worry about a gag reflex, however, so you can go as hard as you need to.
Male Sex Doll Tips
While not as common, there are many male sex dolls on the market These are similar to female sex dolls in that their measurements resemble real-life people. The chests of male sex dolls will be muscular and you can choose different hair styles.
The biggest difference, obviously, is with the anatomy. Male sex dolls will have a penis and this is usually attachable. Sometimes you might want the full experience of a doll and other times you might be content with just a dildo. It's always nice to have options.
Male sex dolls will also have an anus you can penetrate so they can be used by both men and women.
Positions
For anal sex where you are penetrating the doll, you can use a male sex doll similar to a female sex doll. Place him on the bed or bend him over a chair. Men can then make use of their male sex doll however they would like.
As for anal sex or vaginal sex where you are being penetrated, you may want to start by detaching the doll's penis. This will allow you to better experiment with the feel of the material. You also won't have to worry about manipulating a life-size doll right away.
Once you are ready for the whole experience, think about positions where you are in control as the doll won't be able to move. Cowgirl and reverse cowgirl are the best options. Lay your sex doll on the bed, use plenty of lube, and position yourself however comfortable you can make it. Again, don't be afraid to stop and reposition or use pillows for more comfort.
Cleaning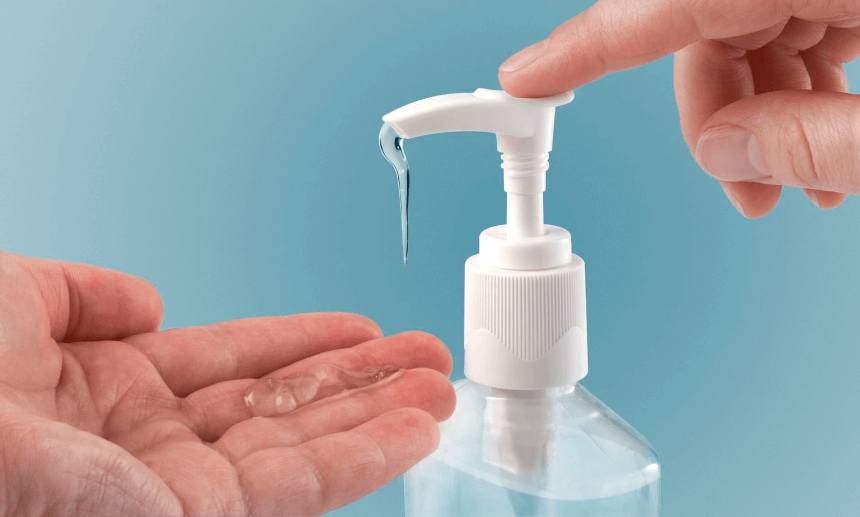 Sex dolls are not cheap. They are an investment and you want your purchase to last as long as possible. Cleaning your sex doll after every use is paramount. If bodily fluids are left on your doll, they can turn crusty and gross. Worse, they can invite bacteria to grow. If your sex doll grows mold, it can easily cause an infection in your own body and most experts recommend throwing out moldy sex toys rather than trying to clean and reuse them.
Even if you are tired, be sure to get in the habit of cleaning your sex doll after every use. Use either mild soap or a specific sex toy cleanser. Rinse with warm water and use a soft, clean cloth to clean it.
Be careful with orifices as you want to fully clean them but not damage them in the process. Never use brushes as this can scrap the soft material which both makes it too right to use and causes scratches where bacteria can live.
Instead, gently clean any orifices with your fingers. You can feel around for any bumps or indentations and clean better than a cloth.
Once your sex doll is clean, leave it to air dry. Try to position your doll in a way that water can drain from different orifices. While you may be tempted to dry your doll with a cloth, it is actually more hygienic to leave it to air dry.
Storage
After all the time spend assembling your sex doll, you want to keep it in a decent place where it is all in one piece. Furthermore, you probably don't want it lying around in case friends come over and you have to awkwardly explain her away.
A storage case, like the Hard Storage Case is the perfect way to go. You can easily store your sex doll together and with a hardcover, you don't have to worry about anything squishing your doll. You also don't have to worry about cleaning her again as she won't be exposed to any dust or dirt.
Final Thoughts
We hope that our sex doll guide has given you plenty of useful information. The world of sex dolls can be a bit overwhelming as there are simply so many options to choose from. You can start with a more basic inflatable device or go for a realistic silicone model. Figure out what orifices you want on your doll and don't be afraid to dress her up in sexy outfits and aromatic perfume. The more time you spend with your sex doll, the better the experience will be. How to use a sex doll may feel scary at first but the more you experiment, the easier and more enjoyable it gets. Take your time, play around, and remember to have fun.